What's Your Wish for 2022? How about a Better Planet?
7
-min read
In our previous story, Sunway Centre for Planetary Health (SCPH) has identified five pitfalls shaping a major impact on planetary health.

These pitfalls include climate change, pandemic, human rights and food security among the myriad problems that confront us on a global scale.

This story focuses on what actions SCPH will take on a micro-level to ameliorate planetary health.
While humanity's challenges are well-documented, the solutions sometimes feel like they are shrouded in mystery.
Hence, we feel somewhat powerless, questioning "what should we do?" or "where do we start?" in the face of the ever-growing crises and increasing sense of urgency on one hand, and the lack of initiatives or tangible actions initiated by world leaders on the other, leading to a sense that the political machinery is somehow falling short, as we witnessed following COP26.
With 17 global goals and 169 targets, the United Nations Sustainable Development Goals (UN-SDGs) broadly represent humanity's concerted effort to address challenges conceptualised in 2015 when the UN-SDGs negotiations began.
With rapid deterioration happening before our eyes, in addition to the derailment caused by the COVID-19 pandemic, it is clear that the emergence of planetary health can augment the discourse. Planetary health is the "what's next" and a fundamental for sustainable development, with the approach expanding the already visionary UN-SDGs. Beyond meeting our short-term needs, this approach ensures the long-term integrity of the planet for ourselves and future generations.
Previously, the Sunway Centre for Planetary Health (SCPH) identified five key issues that bring about negative impact towards planetary health. To combat this, SCPH will employ a two-pronged approach – knowledge and learning, as well as engagement and influencing.
The Two-Pronged Approach
Knowledge and Learning
The number one rule in the warfare playbook is that "knowing is half the battle".
With a heavy emphasis on education and research, this initiative will look into reorientating the Sunway ecosystem, our nation and, ultimately, the world at large, to live and breathe planetary health.
Engagement and Influencing
It is one thing to know planetary health, it is another thing to have the people embrace it.
This is where we step in – through engagement and influencing, the Centre will focus on getting the word out through people-facing advocacy. These efforts aim to diffuse the ideals of Centre's policy research across the populace, and making them available and understandable to citizens of our planet. SCPH also  alongside young people, connect with others through high-value partnerships, and lobby those in power to push harder and faster for changes which will restore our planet back to a healthy state.
What's Next?
The Sunway Ecosystem
Sunway University is where SCPH will start its journey, as the advancement of education by training future leaders based on the planetary health framework is of the essence.
Empowering our youth is the smartest and most progressive method to buttress planetary health for the long term. To do so, SCPH will reinvent the wheel – redesigning general studies subjects (mata pelajaran umum), a mandatory course for undergraduate students and amalgamate it with content on planetary health. By introducing it to our students at Sunway University alongside other similar institutions supported by the Jeffrey Cheah Foundation – Malaysia's largest education-focused social enterprise – globally. This effectively demonstrates to our youth across the world that planetary health is not some arbitrary and abstract concept, but something that they can apply to make it their way of life, and to help them recognise the connection between the health of people and planet.
The Centre also acknowledges the power of research, and will work alongside with different schools at Sunway University to collaborate on projects, aiming to unearth new findings such as the links between business and planetary health.
This research will be presented in accessible languages and forms so that everyone can benefit from it.
The only way forward is upwards. Moving onto the corporate levels and various business divisions of the Sunway ecosystem. Through engaging Tan Sri Sir Jeffrey Cheah and the Sunway community, SCPH will inculcate a planetary health approach across the Group. SCPH is also one step ahead, working closely alongside Sunway Medical Centre and Sunway iLabs to demonstrate planetary health proof of concept, working on possible initiatives such as enhancing climate-smart healthcare and pilot planetary health farming.
Across the Nation
The subsequent move is to make planetary health approaches mainstream across the nation. With haste, discussions are already underway with the government through the Malaysian Climate Action Council (MyCAC) and the Ministry of Environment and Water (KASA). These discussions will support the development of a National Planetary Health Strategy that will power the 12th Malaysia Plan, tackling appropriate mechanisms to inject planetary health principles into planning, followed by execution across all levels.
On an International Level
Taking account the potential vulnerability and severity of impacts of climate change and other planetary health challenge, it is no surprise that the Asia and the Pacific regions are where we set things in motion.
Our first stop? To work with regional and international partners, starting with ASEAN and the Pacific Islands Forum. We need to leverage ASEAN's convening power under ASEAN centrality to get Planetary Health onto the regional agenda.
From there, SCPH has also made inroads to take planetary health onto the global stage. We are in talks with the UN to harness the extensive experience and expertise of executive directors and partnership advisers in the regional and international systems to maximise the reach of planetary health across the globe.
These are Lofty Ambitions – But What Can We, The People, Do?
Planetary health and sustainability are not the sole prerogative of NGOs, governments and corporations alone. We, the citizens of earth, also have a massive part to play to make our planet a healthier place to live.
Here are some meaningful, yet simple ways you can contribute to the health of our planet.
Consume consciously
Be mindful of the source of your food and whether your consumption is good for the planet.
Lowering your meat consumption is a good start! Did you know that the production of one kilogram of beef emits an equivalent of 60 kilograms of greenhouse gases? While consuming around 10,000 litres of water as well.
Plant-based meat alternatives, on the other hand, emits only 30 to 90 percent less greenhouse gas than conventional meat, making it a gentler diet choice for the planet, and is a big step towards saving our planet.
Take action on what you buy, especially online
"Just a click and it's yours".
We complain that we have too much stuff. But what may go unnoticed is that all of that stuff comes from the planet – every single bit of it. Most arrive wrapped in metres of single-use plastic. Our consumption patterns are more than what the planet can sustainably accommodate. Thus, we should think about how our purchases and consumptions are impacting the planet. If we stop buying, producers will stop producing and change their strategy.
Use reusable bags
Reusing is a no-brainer. It is a well-known fact that single-use plastic causes massive damage to our planet. Though its durability allows it to be used for our convenience, the mere few minutes of ease does not make up for the effect it has on our planet as plastic takes more than 400 years to degrade in addition to its ubiquitous nature.
It is high time for us to stop using them and practice the 3Rs (reuse, reduce and recycle) in our daily lives.
Trace and track your footprint, figuratively
Take responsibility for your carbon footprint. Install the Capture app and track your carbon emissions, understand how you can reduce them and pay small credits to negate your carbon footprint.
Planetary health and sustainability efforts has a place in this increasingly digital world. Let us start today!
Recognise that everything is finite
There is only so much clean water, hectares of rainforest, and wildlife in the sea and on land to utilise before we realise that the earth has its limits. Learn about them – and learn to respect them.
With every tree that we preserve or items that we reuse, as well as reducing our daily consumption, our collective efforts will create a snowball effect that leads to a healthier planet.
Synchronising Ourselves with Planet Earth
Amidst pandemics, climate changes and all that is in between, let us understand that the greatest threat to our planet is the belief that someone else will save it.
No matter who we are or what we are, this planet is our common denominator. It is our collective and individual duty and responsibility to preserve and tend to this blue and green rock in which we all inhabit.
Whilst SCPH is will lead the frontlines to protect our planet, we need your help. As the Intergovernmental Panel on Climate Change report has told us very starkly – it is code red for humanity.
The best time to act was 20 years ago, the second time is now.
This is part two of our two-part Sunway Stories series on the future plans of Sunway Centre for Planetary Health. This series deep dives into the Centre's future plans, initiatives and tactics, and how these collective efforts will contribute to planetary health, further advancing our commitment to the United Nations Sustainable Development Goals.
 The Sunway Centre for Planetary Health at Sunway University is a leading contributor to the advancement of planetary health. The Centre aims to alleviate the impact of planetary health challenges in this part of the world through quality education, world-class research and impactful engagement with people across the Asia and Pacific regions.
< Previous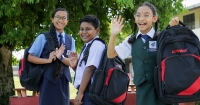 Empowering the Youths of Malaysia
Next >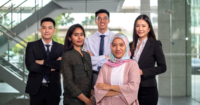 Workplace Inclusiveness and Diversity: A People-First Approach