Sunway Brings Light and Hope to Single Parents This Deepavali
Deepavali Cheer aims to reach underserved single-income households over a three-month period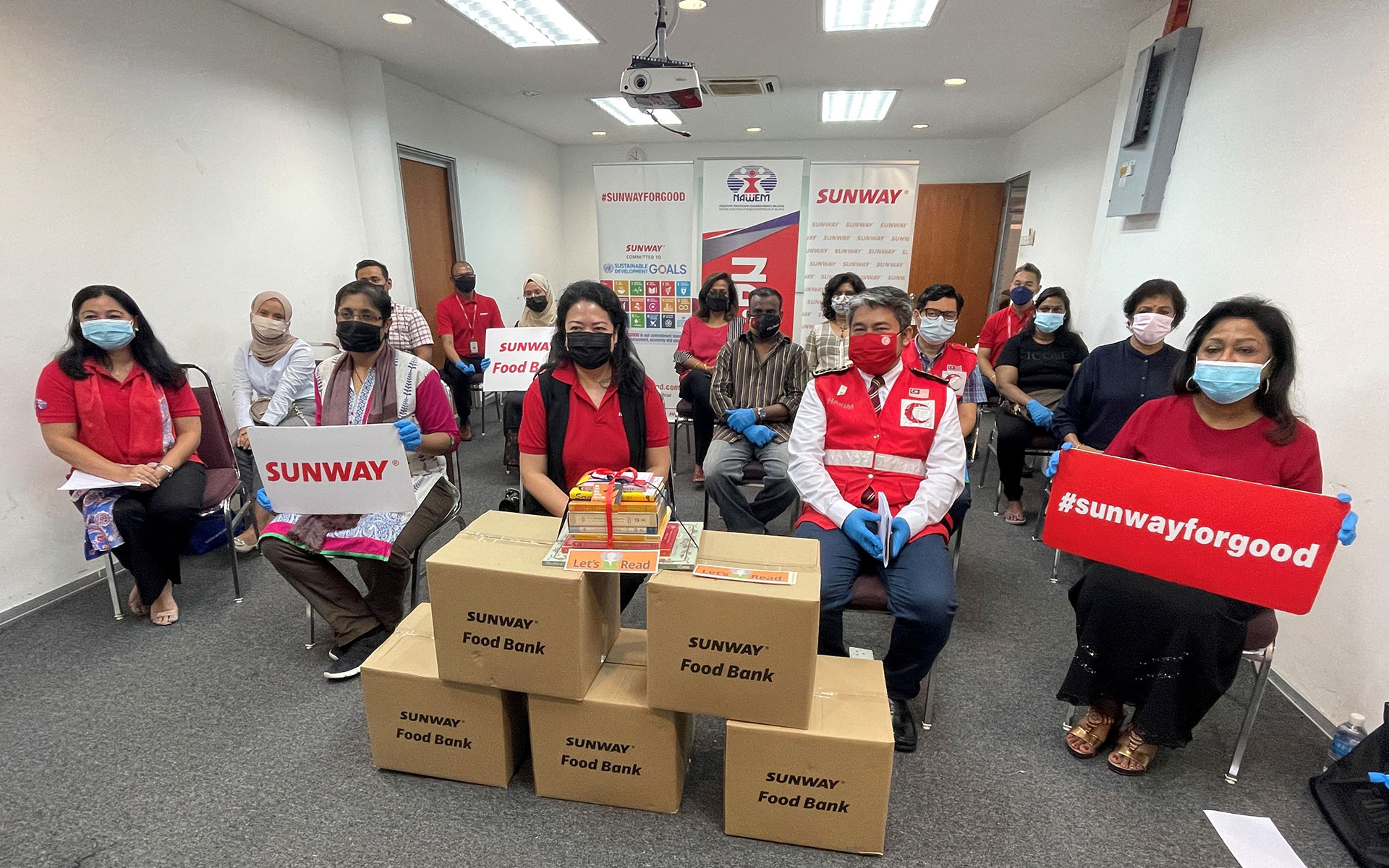 Sunway City Kuala Lumpur,28 October 2021
Sunway Group is reaching out to B40 families this Deepavali by providing close to 30,000 kilogrammes of essential groceries and nutritious food worth more than RM170,000 to a total of 863 families for three consecutive months, starting in October, through the #SunwayforGood Food Bank initiative.
With a focus on underserved single-parent and single-income households, this Deepavali Cheer will reach beneficiaries across Johor, Kuala Lumpur, Selangor, Perak, Penang and Kedah, and aims to ensure safe and nutritious food is accessible to families deprived of much needed assistance due to the prolonged movement control orders.
This initiative is part of the #SunwayforGood umbrella that pledges to promote sustainability and social responsibility efforts through three areas namely education, healthcare, and community enrichment, aligned with Sunway's commitment to the 17 United Nations Sustainable Development Goals as well as Environmental, Social and Governance (ESG) targets. Since its inception, #SunwayforGood has touched the lives of over half a million beneficiaries, and aims to positively impact millions of Malaysians by 2030.
Sunway is working with the National Association of Women Entrepreneurs of Malaysia (NAWEM), the Development of Human Resources for Rural Areas (DHRRA) as well as the Malaysian Red Crescent (MRC) to identify families requiring urgent assistance and to distribute more than 900 boxes of groceries across five states and Kuala Lumpur.
In addition, all beneficiaries will receive groceries with a bookmark by The Asia Foundation's Let's Read programme which allows unlimited and free access to an interactive online library. To further inculcate the habit of reading and learning, Red Readerhood, the CSR arm of Big Bad Wolf Books, is donating 1,200 books to the children in these families.
Each grocery box in the Klang Valley and Perak will also include sachets of instant coffee sponsored by SUPER Coffee.
"We hope that our contribution will bring a "light of hope" to families who are experiencing food shortages and the brunt of the learning losses caused by the pandemic. We are grateful to all our NGO partners and sponsors who are joining us in this effort and will continue dedicating our support by placing community first at the core of every initiative," said Sunway Group Brand Marketing & Communications Senior General Manager Ms. Nik Tasha Nik Kamaruddin.
Seven premises – Sekolah Jenis Kebangsaan Tamil (SJKT) Saraswathi in Kedah, Taman Free School Flat and Klinik Gigi Sentosa Bukit Mertajam in Penang, SJKT Ladang Sin Wah and SJKT St Theresa Convent in Perak, NAWEM headquarters and a NAWEM member's home in Taman Desa Kuala Lumpur – were offered for free to organise the collection of groceries before distribution.
NAWEM's President, Sarojini Ruth Rajahser explained, "Single mothers in the B40 groups struggled the most during this pandemic as they have to lower their working hours to care for their children who are at home. This drastically reduces their ability to earn a stable income to support their families. The donations will help greatly to ease their burden."
Treasurer of DHRRA Malaysia, Deveshi Vaani Vellian said, "The pandemic has disproportionately affected the lowest income families in Malaysia. These families are making do with less healthy dietary choices which may cause malnutrition in children. As they are likely to face challenges in home-based learning. Sunway's initiative to provide food and learning materials is not only timely but necessary."
MRC's Secretary General, YBHG Tuan Haji Hakim Bin Haji Hamzah said, "This pandemic has brought about multiple challenges to each and every one in Malaysia, with the most affected being B40 communities which experienced a great loss in their household income, leading to daily struggles to put food on their tables. Together with Sunway and other partners, MRC is glad that our collective efforts are ensuring that no one goes hungry for want of a simple meal."
Notice
Please do not alter, sell or redistribute the pictures. All pictures here belong to the Sunway Group.
Contact us for permission