Being the Light of Hope this Deepavali
5
-min read
Many single parents and single-income homes are struggling to put food on the table and care for their children, most especially during the height of the pandemic, and are still feeling the ill-effects of it today.

To ease their burdens, Sunway has reached out to provide aid and necessities, alleviating their worries on providing for their families this festive season.
"We are all in the same storm, but not in the same boat."
So goes a line in a poem written in the height of the pandemic last year. Whilst we may all be facing the same battle against COVID-19, we have been impacted in different ways.
Some, however, more than others.
No matter how rough the circumstances may be, kindness and empathy will shine a light even in the most trying times. As we come to the end of another pandemic-ridden year, Sunway is doing its part in reaching out to B40 families this Deepavali, providing safe and nutritious food to families deprived of much needed aid due to the prolonged movement control orders.
With a focus on underserved single-parents and single-income households who have been struggling to keep afloat, Sunway will be providing close to 30,000 kilogrammes of essential groceries and nutritious food worth more than RM170,000 to some 860 families for three consecutive months in conjunction with Deepavali celebration.
This festive cheer, which is a flagship programme by Sunway, will reach beneficiaries across five states, namely Johor, Selangor, Perak, Penang and Kedah alongside various NGOs and associations to identify families in need and distribute the aid responsibly. It is part of the ongoing #SunwayforGood umbrella that pledges to promote sustainability and social responsibility efforts through the three key pillars of education, healthcare and community enrichment, aligned with Sunway's commitment to the 17 United Nations Sustainable Development Goals as well as Environmental, Social and Governance (ESG) agenda.
In 2020, Sunway reached out to more than 10,000 beneficiaries during the same period through the #SunwayforGood Food Bank programme. Open for public contribution, the food bank managed to achieve more than 30,000 kilogrammes of grocery donation.
Since the inception of #SunwayforGood, Sunway has been able to reach out to hundreds of thousands of beneficiaries, with a goal to touch millions of lives by 2030.
Bringing positive impact to the community
To ensure that the aid reaches those beleaguered by the pandemic and subsequent lockdowns, Sunway is working with the National Association of Women Entrepreneurs of Malaysia (NAWEM), the Development of Human Resources for Rural Areas (DHRRA) as well as the Malaysian Red Crescent (MRC) to identify families who require urgent assistance and to distribute more than 900 boxes of groceries to all the locations.
"Single mothers in the B40 groups struggled the most during this pandemic as they have to lower their working hours to care for their children who are at home. This drastically reduces their ability to earn a stable income to support their families. The donations will greatly help to ease their burden." – Sarojini Ruth Rajahser, NAWEM president
Red Readerhood, the CSR arm of Big Bad Wolf Books is contributing 1,200 books for this cause. Each box of groceries delivered will contain a bookmark by The Asia Foundation's Let's Read programme including access to an interactive online library with unlimited and free access to e-books, in hopes of inculcating the habit of reading amongst children. For a pick-me-up, Super Coffee has also sponsored sachets of instant coffee for each grocery box in the Klang Valley and Perak.
Seven premises were graciously offered for free to organise the collection of groceries before distribution in the various communities, which include: Sekolah Jenis Kebangsaan Tamil (SJKT) Saraswathi in Kedah, Taman Free School Flat and Klinik Gigi Sentosa Bukit Mertajam in Penang, SJKT Ladang Sin Wah and SJKT St Theresa Convent in Perak, NAWEM headquarters and a NAWEM member's home in Taman Desa Kuala Lumpur.
Sunway's message of resilience and giving this Deepavali
This festive season, Sunway has released a video titled 'Shine a Light', which follows the story of Hema, a programme coordinator for the Sunway Group CSR team and the life lessons she has learnt from her mother Devi, who is a single parent.
In the video, Hema shares the late nights and struggles faced by Devi, who imparted good values upon her children in her selfless and tireless journey to provide a better life for the family. Even when she had to work hard to earn her dues, she constantly inculcated the habit of giving and helping others in their own capacity – which eventually led to her being a part of Sunway's CSR team, so that she was able to fulfil her life's mission of doing good for the community.
Inspired by a true story of a single mother who has been with Sunway for more than three decades to support her family, this video is dedicated to all single parents in Malaysia whose hardships and struggles to raise a family often go unnoticed.
'Shine A Light' also highlights the initiatives done under #SunwayforGood to reach out to single mothers and single-income households who have been impacted by the pandemic, and that kindness is always a welcome response and solution to any struggle.
< Previous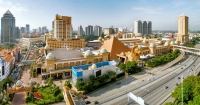 From Blueprints to Malaysia's Favourite Landmarks
Next >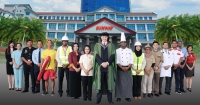 Sunway Named Among Malaysia's Top Employers