This is the Sun-Way: Giving to Touch Lives
7
-min read
In line with our commitment to the UN Sustainable Development Goals, we have engendered the spirit of giving throughout Sunway to help reduce inequalities.

Under the #SunwayforGood umbrella, we have shared our resources through a host of partnerships and rallied fellow Malaysians to give to others, ensuring that no one is left behind in these challenging and unprecedented times.

This is the Sun-Way!
Berat sama dipikul, ringan sama dijinjing – the old Malay proverb speaks about going through thick and thin together, which rings especially true this 2020. In our efforts to reach out to as many Malaysians as possible this year, we ramped up our #SunwayforGood initiative, in line with our commitment to building a nation where no one is left behind.
With the aim to reach out to 65,000 beneficiaries nationwide, we kickstarted 2020 with our 'Back-to-School' (BTS) programme to help school pupils begin their term on the right foot before the pandemic struck.
Enriching young minds
In our bid to aid those from underprivileged families, we provided students of SMK Yaacob Latif in Cheras with a school bag, water bottle, writing supplies and a food container for their daily use. This was done to alleviate their burdens of having to spend money on such items and equip them with the right tools to stay in school.
On a separate note, the new norm of online learning has posed a challenge for those who are unable to afford a computer to access these online learning tools. To alleviate this problem, we have sponsored 13 laptops for the students of The Self-Discovery Workshop (SDW) by Yayasan Raja Muda Selangor, as well as 40 laptops, sponsored by Sunway Iskandar for Yayasan Raja Zarith Sofiah, providing underprivileged children the chance to attend online classes and further their education.
We also organised CPR and AED workshops in collaboration with Sunway Medical Centre Velocity to educate students and teachers alike on basic life-saving skills.
Providing equal opportunities to learn
The current literacy rate among individuals in Malaysia aged 15-24 years stands at 96.85%, unaided by the fact that not everyone may have the resources to read, and thus, learn. Recognising this, we joined hands with Friends to Mankind and MyPJ to build a community library in Desa Mentari 1. The library houses 5,000 books, of which more than 2,000 were donated by Sunway staff across Malaysia through a book donation drive.
Extending our partnership with Friends to Mankind, we also launched the Sunway R.E.A.D (Reading Enhances Aspiration and Drive) programme to refurbish and equip SJK(T) Klebang's school library with educational books through another nationwide book donation campaign.
We also embarked on an ICT Literacy Aid programme which focuses on digital learning, where students are taught the basics of information technology and programming skills to prepare them for a digital future.
Outside of the classroom, we took the opportunity to educate children on agriculture and its importance to our economy. Carried out in collaboration with the Selangor Youth Community (SAY), we organised the Sunway Seeding Inspiration and Leadership via Knowledge (SILK) programme to empower local communities. In this instance, a group of Form 2 students from SMK Bandar Sunway were introduced to urban farming as a non-conventional career option beyond the school gates.
The three-year programme, which began in 2019 started off with the testing of soil and ground to optimise the plantation process. Through the students' efforts, they succeeded in producing healthy crops, and were then given a taste of the entrepreneurial life by selling the fruits of their labour once they were harvested.
Giving with Heart
In February 2020, we teamed up with the Great Heart Charity Association to bring festive cheer to 222 urban poor families around the Klang Valley from the B40 category for Chinese New Year.
The beneficiaries of our 'Share Because You Care' Chinese New Year Cheer comprised Chinese, Malay and Indian families in the community. Sunway employees pooled in their resources and contributed ang pows and groceries worth some RM41,000 to be distributed.
Just slightly over a month later, with the surge of COVID-19 cases in the country, a nationwide lockdown was imposed. From our workers on the frontlines battling the virus to flatten the curve, to the everyday Malaysian finding ways to support their families in the midst of major socio-economic upheaval, there was no denying the effects the pandemic had on most of us. In the spirit of looking out for one another, now more widely known as #KitaJagaKita, we stepped up to the plate and provided support for our fellow Malaysians, beginning with the #SunwayforGood Fund.
Set up in collaboration with the Jeffrey Cheah Foundation, the fund would go on to aid our healthcare colleagues, those in essential and critical services across Sunway Group and the B40 communities in the vicinity of Sunway townships nationwide.
In our bid to boost both the morale and health of our frontline workers, we distributed 'StaySafe' packs consisting of masks, vitamin C and sanitisers to those working tirelessly on the frontlines to ensure Malaysians were kept safe.
We also activated the #SunwayforGood Aid Now programme to shore up support for B40 communities with priority given to those around Sunway townships in Selangor, Perak, Penang and Johor – RM300,000 was allocated and channeled to various beneficiaries to receive dry groceries that can last up to two weeks for a family of three.
Celebrating Malaysia
During this year's Raya celebration, we carried out our #SunwayforGood Raya Cheer programme that reached out to more than 9,000 beneficiaries nationwide. This time, we lent a hand to B40 communities, frontline workers and to the homeless taking temporary shelter at two designated transit areas in Perak and Johor during the Movement Control Order (MCO) by distributing nutritious meals and the Raya must-have, bubur lambuk.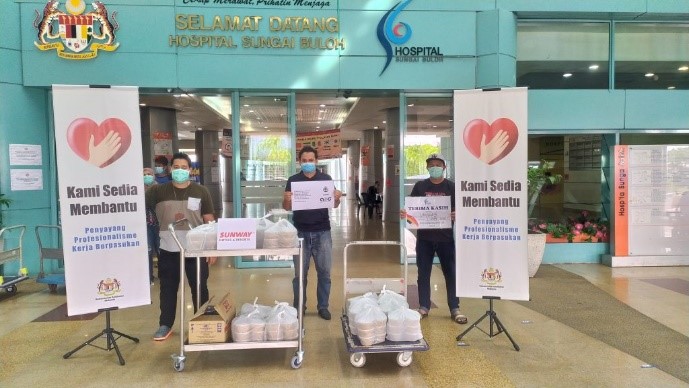 We worked with Adab Youth Garage to distribute 4,500 packs of bubur lambuk to frontline workers at Hospital Kuala Lumpur, Hospital Serdang and Hospital Sungai Buloh and essential service staff and B40 families in Klang Valley.
An additional 2,000 bubur lambuk packs were distributed by the Penang State Assembly to frontliners in the state, with the packs carefully prepared over six hours by Sunway Hotel Seberang Jaya and Sunway Hotel Georgetown's master chefs.
No household left behind
As the pandemic wore on, more and more families were impacted greatly as loss of income and rising costs made it difficult to put food on the table. To address this issue, we launched the #SunwayforGood Food Bank programme, the largest food bank drive by a conglomerate in Malaysia.
Members of the public were encouraged to donate groceries and essential items at all seven participating Sunway Malls nationwide. The B40 families were identified by our NGO partners,  Development of Human Resources for Rural Areas Malaysia (DHRRA Malaysia), the Food Aid Foundation and The Lost Food Project, with the aid provided to the select beneficiaries on a monthly basis.
This effort was extended to more families through our #SunwayforGood Deepavali Cheer initiative, where we sought to help out B40 families of diverse races where sole breadwinners had lost their sources of income amid the pandemic.
Through the generous donations of Malaysians, we were able to reach out to more than 10,000 beneficiaries across Klang Valley, Perak and Johor. FFM Berhad, our largest corporate sponsor donated 5,089.2 kilograms of food products from their brands.
Although there have been many ups and downs throughout 2020, we are indeed touched and grateful for the support, time and effort contributed by our fellow Malaysians to help one another through it all.
We truly believe in doing well by doing good, and we strive to carry out efforts that continue to fetch far-reaching impact on the people, planet and our children.
быстрый займ новый уренгойзайм онлайн тюменьденьги займ чебоксары
< Previous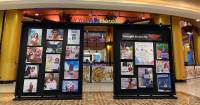 #YouAreHeroku – Celebrating Our Extraordinary Heroes in Extraordinary Times
Next >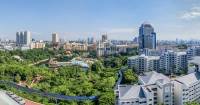 Experience the Robo-lution at Sunway City Kuala Lumpur