From Blueprints to Malaysia's Favourite Landmarks
7
-min read
Fondly known as 'The Artist of Sunway', Nelson Yong graciously walks us through his ideation process for the inception of his multi award-winning creations across Sunway cities from square one, citing the Group's commitment to sustainable development as the bedrock of his ideations.
When you think of Sunway City Kuala Lumpur, what comes to mind?
Is it a burgeoning pyramid, symbolising a unique lifestyle adventure? Or the nature-packed excursion of Sunway Lagoon, marking your best day ever? Or majestic creatures that greet you at the entrance of Sunway Resort Hotel?
With everything in life, there has to be a creator. For Sunway, the mind and hands that have created the familiar hotspots of Sunway City Kuala Lumpur, as well as other Sunway landmarks across Malaysia – is none other than Nelson Yong, design director of Sunway.
As design director, Nelson taps into his creative mind to deliver exquisite and timeless experiential designs; ensuring his designs place Sunway and the brand as an iconic development; and most importantly, embraces sustainability and practicality in all facets of his design to ensure minimal operations and maintenance costs without jeopardising the intended design effect.
Sunway's Genesis
Nelson Yong recalls his first encounter with our founder and chairman, Tan Sri Dr. Jeffrey Cheah AO. Reminiscing on how his first project was none other than Tan Sri Chairman's own humble abode!
"I had the opportunity to handle our chairman's house in the mid 80's. In one of our discussions about how my work differs from the other interior designers and architects, our founder and chairman shared his dream of building a "resort living within the city" – his obsession of having an integrated city with theme parks, shopping malls, hotels, alongside commercial and residential developments. The concept was unheard of back then and his extraordinary vision hooked me," said Nelson.
It was a challenge – a potential trendsetter not just for Malaysia, but for the region, if the pieces come together neatly. In the same vein, Nelson also knew that it was a golden opportunity to reach greater heights, and to prove his mettle. He links this solitary occasion as his hook into working along with Sunway to materialise our chairman's dream.
"Since the start of my journey with Sunway, I held onto the same principles and values with what our founder and chairman see in his vision – vibrancy, uniqueness, excitement. I made it a point that all design concepts must be based on a theme and it has to embrace these three values. As these values are part of me, my work is always an inspirational journey. I look forward to transforming any existing piece of work into a magnificent, unique and timeless masterpiece," exclaimed Nelson.
The Trilogy
Sunway Lagoon
As the saying goes, "you never forget your first".
Sunway Lagoon holds a special place in Nelson's heart as it was his first mega-project with Sunway.
"With the aim of bringing the fun and excitement of world-famous amusement parks from Miami, Florida and Las Vegas into Sunway, I injected colours into the thematic structures and façade. It was the only theme park in Malaysia back then so I wanted it to be visually attractive, appealing, and most importantly, alive! This award-winning theme park remains as Malaysia's most exciting and vibrant entertainment, and one of my proudest achievements," said Nelson.
Sunway Pyramid
Arguably one of the most iconic landmarks of Malaysia, Sunway Pyramid was also the creation of Nelson.
"Sunway Pyramid was my second project with Sunway and it is also the industry that I find most passion in. Sunway Pyramid was and will remain as my proudest project so far."
Nelson took over the interior design and architectural concept of the building after numerous architects had failed to convince Tan Sri Dr. Jeffrey Cheah on how the building façade should look like.
"Chairman wanted a unique proposition for the mall that is timeless. Unfortunately, none of the proposals got the buy-in. I still remember vividly how I suddenly got the inspiration and sketched the iconic lion head, the pyramid and roughly how the building facade would look like. Our chairman loved the theme and we quickly developed the blueprint to be submitted for approval by the local authority. Not only did Sunway Pyramid become an icon that was the talk of the town and the media, it also set a trend for other buildings in Malaysia because of its vibrant colour applications and eccentric designs,"
Since its inception, Sunway Pyramid has become the catalyst for new projects by other developers as it was the first building at that time using vibrant colours on the façade. Thereafter, it opened the floodgates for Malaysian malls and buildings to have exciting and vibrantly coloured landscapes.
"As a designer, it is extremely fulfilling and flattering to see my ideas being copied by others, which also means my work has made an impact, and it is likened, recognised by others in the market. On top of that, Sunway Pyramid's distinctive Architectural Design also won many prestigious awards that means a lot to me," beamed Nelson.
Sunway Resort Hotel
Sunway Resort Hotel (then known as Sunway Resort Hotel & Spa) was Nelson's third project after joining Sunway. He drew inspiration from jungles and forestry as the theme for the hotel.
"I created a life-like scene of tigers chasing after deers as the iconic representative of the theme. To add variation to the new experience, there were four different thematic rooms for guests to choose from – 'Wild Wild West', 'The Hollywood', 'The Arabian Night', as well as 'Kampung House',"
This multi-award resort is currently undergoing a total revamp, embarking on a RM249 million once-in-a-generation transformation to upgrade its facilities, including digitalising its operations, welcoming a new era of hospitality when it reopens. Themed 'Jewel of the Crown', our guests will be able to experience a completely new dimension.
The Rest of the Collection
Sunway Medical Centre
Nelson has also breathed a new life into the lobby of Sunway Medical Centre, making it a more invigorating experience for both visitors and incoming patients.
"I revamped Sunway Medical Centre's first impression in 2018. This is another project that I'm most proud of," said Nelson.
Seeking to change the game at every opportunity – Nelson wanted to do away with the conventional ambience of a hospital main lobby.
"I took it as an opportunity to allow patients and visitors to have a more contemporary experience as they walk in – to be greeted with a relaxing and welcoming ambience," said Mr. Yong.
"With the revamp, it no longer feels like a hospital, but more of a wellness and leisure centre where it is brighter and more vibrant; generating positive energy and faster healing. I hope this blend of new designs not only elevates the brand image of the building, but also plays an additional role in improving the wellbeing of visitors,"
The Banjaran Hotsprings Retreat
Across states to Sunway City Ipoh, lies The Banjaran Hotsprings Retreat, another multi-award-winning asset under Nelson's portfolio, designed purposefully and seamlessly built to complement the nature.
Taking into consideration the natural hot springs, the 260-million-year-old limestone hill and surrounding luscious greenery, Nelson conceptualised his design with minimalism and aesthetics in mind, combining the beauty of both nature and modernity. Nelson also took into account guests' safety in his design.
"All the above are my prized projects, and each project carries its own distinctive elements and theme," exclaimed Nelson.
Going Down Memory Lane
"I cannot deny that I feel immensely proud of the transformations! Seeing these designs going from blueprint to application has taken a great deal of commitment, dedication, and teamwork. Starting only with a dream, a vision by our founder and chairman – it is extremely satisfying and delightful to make his dream come true and beyond.
I would like to be remembered as the legendary designer who has created many different timeless masterpieces, as the catalyst for new design trends," exclaimed Nelson.
As Sunway has future plans across our Sunway townships and developments such as Sunway City Iskandar Puteri, Sunway City Penang and Sunway City Ipoh, Nelson declares that wherever Sunway properties exist, he will be there to serve.
Through Nelson's artistic hands, our Sunway cities have made an everlasting impact on Malaysian tourism landscape as well.
And that is what you call – "making a mark".
< Previous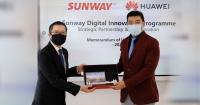 Sunway X Huawei: Upping Digital Innovation
Next >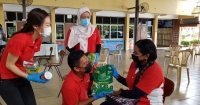 Being the Light of Hope this Deepavali