Celebrating Festivities with a Difference
5
-min read
While many look forward to celebrating Hari Raya, Deepavali and Chinese New Year with loved ones, not everyone living in a cultural melting pot that is Malaysia has such privilege.
Low-income households struggle to put food on the table, much less to spend on festivities; while orphans and residents at old folks' homes may feel especially desolate.
In the spirit of inclusiveness and diversity, Sunway started Festive Cheer in 2000 as an annual initiative to reach out and touch the lives of the underserved, creating a sustainable impact in improving the lives of the community, especially during major festive seasons.
Raya Cheer
The first ever Raya Cheer event was one involving GOLD (Generating Opportunities for Learning Disabilities) students teaching 80 children and youths from Yayasan Chow Kit how to decorate cookie jars at Sunway Resort Hotel in July 2014. Since 1995, GOLD has been Sunway's strategic partner for CSR efforts.
Through Kelab Sosial Sunway (KSS), Sunwayians volunteered to chaperone and spend time with the beneficiaries, sponsoring them RM200 worth of baju raya shopping at Sunway Pyramid. Beneficiaries were also taught how to decorate cupcakes and carve fruits by Sunway Resort Hotel staff before being treated to buka puasa meals at the hotel.
Over the years, the Raya Cheer initiative has evolved to address food security issues with bubur lambuk as well as food and essential groceries distribution during Ramadhan, on top of financing rice automated teller machines (ATM).
In 2019, Sunway was the first privately-owned conglomerate to sponsor the installation of eight rice ATMs at mosques in Klang Valley, Ipoh, Johor and Penang – benefitting close to 5,000 individuals from the asnaf community (zakat beneficiaries).
Bubur lambuk cooking and distribution efforts are led by Sunway's hotels in Penang and Ipoh in partnership with the Malaysian Red Crescent Society (MRCS).
During the pandemic in 2020, Sunway fed more than 37,000 people including frontline responders, essential workers and the urban poor to sustain them from the day's fasting.
RAYA CHEER IN A SNAPSHOT (IMPACT SINCE 2014)
27,000 packets of bubur lambuk distributed
11,000 individuals received rice and grocery donation
10,000 individuals received Raya gifts and buka puasa meals
8,000 volunteerism hours clocked among Sunway staff
49,000 individuals benefitted in total
Chinese New Year Cheer
Recognising the importance of longevity in health, Sunway has organised free health screenings and on-site consultation in areas where healthcare facilities are lacking during Chinese New Year Cheer campaigns.
Ensuring equal access to healthcare, Sunway has worked together with the National Kidney Foundation (NKF), donating dialysis machines worth more than RM100,000 to dialysis centres to provide subsidised treatment to kidney disease patients.
Advocating quality education for all, the 2021 campaign saw Sunway sponsoring seven laptops and one year's free WIFI for 230 children of multiracial orphanages in Perak, on top of essential groceries and festive goodies.
The Sunway CSR team engaged strategic partner MRCS to help provide manpower, transportation and purchase of groceries.
To date, more than 1,500 individuals have their most basic needs met and experienced a greater sense of belonging, thanks to food aid and distribution during Sunway's Chinese New Year Cheer programme.
CNY CHEER IN A SNAPSHOT (IMPACT SINCE 2014)
1,600 individuals received free health screening, festive meals and gifts
7 laptops and 1 year of network data subscription donated
1,900 volunteerism hours clocked among Sunwayians
RM100,000 worth of dialysis machines donated
Deepavali Cheer
A little kindness goes a long way, especially for the B40 families, single-income households and single parents.
Understanding the limiting nature of these households' finances, 100 top achieving students from underprivileged communities were selected in 2014 for an excursion at Sunway Pyramid Ice which ended with a hearty buffet dinner at Sunway Resort Hotel as a form of recognition and acknowledgement of their accomplishments in school. This successful approach then inspired the campaign in 2019, where some 160 underserved Perakian school children experienced a personalised educational tour at Lost World of Tambun, Ipoh, while 740 of them received Back-to-School supplies alongside school necessities and school facility enhancements.
For Deepavali Cheer 2021, Sunway donated close to 30,000 kilogrammes of essential groceries and food worth more than RM170,000 to some 860 families for three consecutive months.
With periods of lockdown following the COVID-19 pandemic compelling the closure of schools and day-care centres, single mothers in B40 groups are forced to lessen their working hours to care for their children at home, adversely impacting their livelihood, according to the National Association of Women Entrepreneurs of Malaysia (NAWEM)'s president Sarojini Ruth Rajahser.
For the campaign, which benefitted communities in Johor, Selangor, Kuala Lumpur, Perak, Penang, and Kedah, Sunway worked with NAWEM, Development of Human Resources for Rural Areas and MRCS to identify and efficiently disburse aid to the beneficiaries in a sustainable manner.
Illuminating the minds of the young, Sunway donated grocery boxes featuring 1,200 books and e-books, courtesy of Red Readerhood – the CSR arm of Big Bad Wolf Books – and The Asia Foundation's Let's Read programme.
DEEPAVALI CHEER IN A SNAPSHOT (IMPACT SINCE 2014)
6,800 individuals received Deepavali meals and gifts
1,600 school supply packs delivered
1,000 volunteerism hours clocked among Sunway staff
A Legacy to Behold
Besides honouring the celebration of Malaysia's rich cultural heritage by ensuring that no one is left out of the festivities, Sunway's Festive Cheer inculcates the spirit of volunteerism as part of its corporate DNA into its people, effectively demonstrating and inculcating one of Sunway's core values, humility, by lending a helping hand to support the underprivileged amidst festivities.
As of 2021, Sunway has supported and reached out to hundreds of thousands of beneficiaries nationwide, with a goal to touch a few million lives by 2030.
< Previous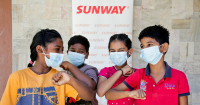 Lightening the Burden of Malaysians
Next >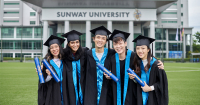 Democratising Education for All
This article first appeared in Berita Sunway Issue 74