CSR at Heart: In the Spirit of Muhibbah
7
-min read
Throughout 2020 and into the first quarter of 2021, Sunway has tended to the plight of the needy nationwide, helping those who require aid no matter the circumstance under the #SunwayforGood umbrella.
In ramping up our momentum in helping those in need, Sunway recently shared the Chinese New Year cheer with over 230 beneficiaries comprising several children homes in Perak.
Since 2020, the #SunwayforGood initiative that aims to ensure no one is left behind, is the driving force behind our efforts in promoting inclusiveness and diversity, where every major festive season is celebrated in the Muhibbah spirit.
This recent Chinese New Year, we focused on delivering provisions to multiracial children's homes, these include the Salvation Army Boys Home, Rumah Anak-Anak Yatim Dan Miskin "Anning", Vision Home, Precious Gift Orphanage Society, Pertubuhan Pengurusan Pusat Jagaan 1Malaysia, Pusat Jagaan Anak-Anak Yatim Dan Miskin Nurul Iman, Hannah Home and Pertubuhan Kebajikan Harapan Baru.
We have also collaborated with our business units in a consolidated effort for our Chinese New Year festive cheer. Specifically, we teamed up with Sunway Lost World of Tambun to deliver specially prepared packed lunches by the theme park's team and Vitamin C by Sunway Pharmacy. From The Malaysian Red Crescent Society, they assisted in delivering groceries to the beneficiaries. On the other hand, Sunway Medical Centre sponsored hand sanitisers, whilst Sunway Resort Hotel contributed festive cookies, in addition to our ang pows and schoolbags for the children in preparation for school reopening.
The Sunway LINE (Learn. Innovate. Nurture. Evolve.) initiative, which falls under the #SunwayforGood umbrella also saw a total of seven laptops and one year's worth of WIFI services gifted to the children's homes to provide them with the right tools and connectivity they need to have access to the quality education they deserve.
"The COVID-19 pandemic has disproportionately impacted the vulnerable communities – especially with the B40. As a strong and consistent advocate of sustainable development, we have made a pledge to assure that no one will be left behind in our pathway to development. We will continuously push our efforts during this time to bring an inclusive future to all," said Nik Tasha Nik Kamaruddin, Sunway Brand & Marketing Communications Group Senior General Manager.
Pertubuhan Kebajikan Harapan Baru Chief Officer Ms. Tham Ee Kuan received the contributions with much gratitude, and was enthusiastic to see how far the children could go with the right tools.
"Our children have gone through a difficult period, with a lot of them having fallen back on their lessons as they did not have internet access to continue learning during difficult times. Sunway's visit brought much hope and cheer to our children. With the free WIFI service for a year, the children will now be able to catch up on their lessons and not left behind," Expressed Ms. Tham Ee Kuan.
This Chinese New Year initiative is a testament to our continuous efforts to engender Muhibbah spirit in our #SunwayforGood festive cheers, bringing joy by celebrating Chinese New Year, Hari Raya, and Deepavali with the underserved communities nationwide.
Rewinding the clock back to February 2020, Sunway teamed up with Great Heart Charity Association to bring festive cheer to 222 urban poor families around Klang Valley from the B40 category. Sunway employees also made this a more significant event through their generous contributions of ang pows and groceries worth over RM41,000 to the beneficiaries.
In addition, we also distributed thousands of packets of bubur lambuk to frontline workers, essential service staff and B40 families nationwide for Hari Raya Aidilfitri, as well as new clothes, groceries, duit raya, Vitamin C packs, sanitisers and baked cookies to caretakers and children in orphanage homes with the help of Selangor Youth Community.
Capping it off our festive cheer is our #SunwayforGood Deepavali Cheer initiative, providing food aid to a total of 10,155 beneficiaries in the Klang Valley, Perak and Johor for as part of our ongoing Food Bank programme.
Our Deepavali Cheer initiative saw us partner with FFM Berhad to donate 5089.2kg of food products worth RM80,000 to families in Klang Valley.
Mission Possible: Aiding Flood Victims
"This relief was initiated due to rising floods in the country. With worsening COVID cases in recent weeks and the economy still in the doldrums, there is a dire need to assist those affected by floods in the East Coast and Southern region of Malaysia," Said Sunway deputy executive chairman Tan Sri Datuk Seri Razman M. Hashim, who also leads the #SunwayforGood initiative.
Understanding the pressing urgency for humanitarian assistance, several of our business units also banded together earlier this year to help more than 50,000 Malaysians displaced by one of the worst floods the country has ever seen.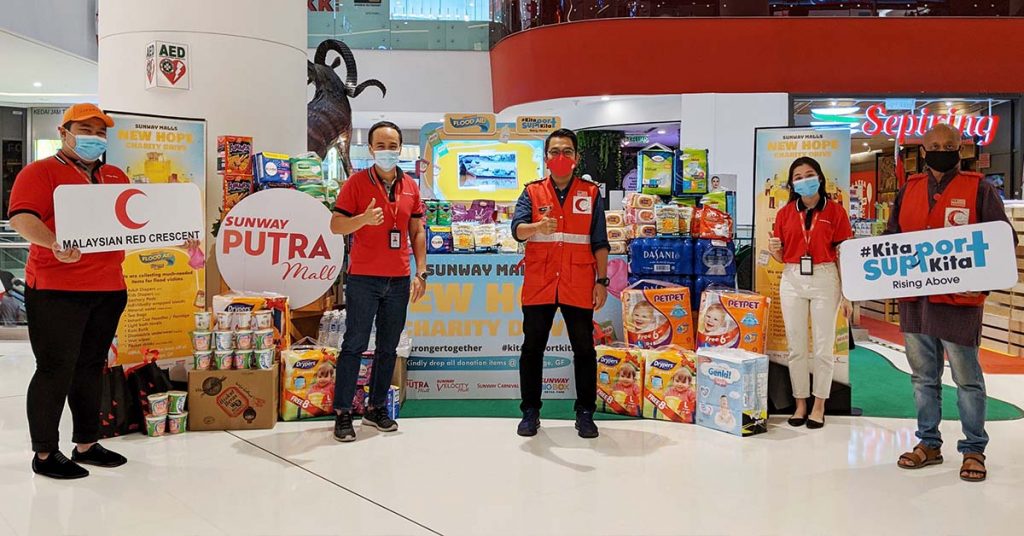 Under the #SunwayforGood initiative, the necessary aid was provided to local non-governmental organisations (NGOs) through Sunway City Iskandar Puteri, Sunway Hotels and Resorts, Sunway Lagoon Theme Park, Sunway Malls, Sunway Pals and Sunway Pharmacy nationwide.
For this cause, we worked together with the Sultan Ahmad Shah Environment Foundation for its Taman Negara-Kuala Tahan Flood Aid Mission 2021 and Malaysia Red Crescent Society in Pahang, Kelantan, and Johor, as well as donations from our Sunway staff via our social club – Kelab Sosial Sunway, to accumulate more than RM100,000 worth of aid including food, essential items including mattresses, antiseptic gels, bath towels and clothing for beneficiaries in the affected states.
A year of giving – #SunwayforGood 2020
Inspired by the assembly of Malaysians who have contributed to help – either through their own efforts or through our Sunway initiatives – we have put together a video commemorating the efforts and goals achieved through #SunwayforGood in 2020, where we have reached out to more than 200,000 lives nationwide and our shift in focus towards food security following the damaging effects the Movement Control Order (MCO) had on the B40 communities.
#SunwayforGood Fund
Established in collaboration with the Jeffrey Cheah Foundation, the fund was established to collect donations from all Sunway staff to alleviate the hardships and sufferings of those hit hardest by the pandemic.
Through the fund, AEON vouchers worth RM50 and RM100 each were given to more than 2,000 beneficiaries around Bandar Sunway and 736 Sekolah Kebangsaan (SK) Bandar Sunway students from B40 families respectively to buy groceries or school uniforms and shoes.
In addition to the vouchers, Sunway staff also channelled close to RM130,000 to foot electricity bills for up to six months for 16 charity homes nationwide.
#SunwayforGood Food Bank
In response to the rising food insecurity in our nation, we conceptualised the #SunwayforGood Food Bank programme, the largest food bank drive by a Malaysian conglomerate.
Officially launched in conjunction with National and Malaysia Day, the programme was held until 31 December last year with much success through the help of public donations in all the Sunway malls.
With the target to help 25,000 individuals in B40 families, we joined forces with NGOs such as Development of Human Resources for Rural Areas Malaysia (DHRRA Malaysia), the Food Aid Foundation and The Lost Food Project to identify the needy and to distribute the aid accordingly.
Throughout the campaign, we have surpassed our initial target by reaching out to over 32,000 beneficiaries nationwide, undoubtedly bringing the light to undeserved communities nationwide and ensuring that no one is left behind.
In Ipoh, Sunway City's organic farm also contributed vegetables to the community, amounting to an abundance of fresh organic produce to some 6,000 frontline healthcare workers and patients of Hospital Raja Permaisuri Bainun throughout the MCO.
We also utilised our own Sunway Resort Hotel truck to transport 300 kilograms of groceries from the Food Aid Foundation to Persatuan Insaf Murni in Kajang to aid 20 families living with HIV.
Providing healthcare for community wellbeing
To ease the financial burden of patients during this period, the Sunway Healthcare division provided subsidised treatments for public patients from the Ministry of Health Malaysia and University Malaya Medical Centre.
In Selangor and Penang, the Sunway Hospitality division contributed about 23,600 hygiene and personal protective equipment such as blankets, shower gel, shampoo, dental kits, small pillows and kitchen gloves to Hospital Sungai Buloh and Hospital Seberang Jaya respectively.
In Johor, Sunway Property contributed items such as infrared electronic thermometers, face masks and hand sanitisers to hundreds of frontline healthcare staff as well as essential and critical service workers at hospitals such as Hospital Sultanah Aminah and the Iskandar Puteri Police Station.
We Care, We Share
At Sunway, all of our CSR initiatives are aligned with our core values of integrity, humility and excellence in our commitment to the United Nations 17 Sustainable Development Goals (SDGs). We acknowledge that it is the responsibility of everyone to make it a reality, and together we can do so much more.
"It has certainly changed our mindsets – from the art of living to the heart of living and giving. We have the power to make a difference and be the light to someone's life. Through our initiatives, we have impacted more than 200,000 lives and contributed more than RM34 million to aid those in need. Furthermore, we have also surpassed our target of collecting 40,000 kilogrammes of food through the #SunwayforGood Food Bank programme and have reached more than 53,000 kilogrammes as of December. We aspire to bring hope to the underserved communities," concluded Tan Sri Datuk Seri Razman M. Hashim
< Previous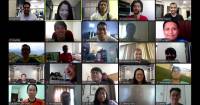 Sink or Swim? The 42KL Journey So Far
Next >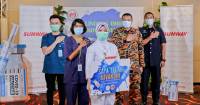 Injecting Hope – Sunway Steps Up to Keep the Nation Safe