Changing the Game for a Better Nation
5
-min read
In collaboration with Sustainable Development Solutions Network (SDSN) Malaysia, Sunway Group has selected its winning solution at the inaugural National Solutions Forum (NSF) 2022.

The forum is the culmination of several months of judging and careful selection to identify the nine most effective real-world solutions to issues currently facing the Malaysian public today.
What does it take to be a sustainable changemaker in Malaysia today?
This question was answered at the inaugural National Solutions Forum (NSF) 2022, shining a light on start-ups with the best and brightest solutions to serve the communities that they are in. Modelled after SDSN's Global Solutions Forum in 2019, NSF 2022 was a coming together of the top minds across the nation – from government bodies, businesses, civil societies and academia – to promote the use of sustainable solutions to address real-world issues faced by us today.
Sunway, alongside the Sustainable Development Solutions Network (SDSN) Malaysia, invited start-ups from across the nation to pitch their innovative solutions to vie for the top spot and funding support as a boost to go further. Based on the theme of "Wellbeing", nine start-ups were selected to present their solutions at NSF 2022 for the chance to be selected as the winning solution at the inaugural event.
Solutions included gamifying reusable bags; providing digital healthcare for migrant workers in Malaysia; driving equality through digital education; flood forecasting with AI; processing fly larvae into protein and oil; poverty alleviation in East Malaysia; cultivating food sources with the indigenous community and an educational outreach programme.
Ultimately, the solution that rose to the occasion was that of low-cost electric vehicle (EV) charging stations, conceptualised by Powered by RISE. As the only charging station operating on blockchain technology and producing a carbon footprint offset in Malaysia, Powered by RISE is also the nation's first self-designed and self-produced EV Charging station equipped with supporting applications, platform and payment system.
Kray Chong, founder and director of – Powered by Rise (Emergence Innovative Sdn Bhd), shared that the win was a pleasant surprise considering that other finalists had presented equally impressive solutions at the event.
"The National Solutions Forum is an amazing forum in line with what we and our government need right now. Our environment is almost in a critical state, and although there are many start-ups with great ideas around, we need visionary partners. This platform gives us support not just financially but with exposure as well. I'm very thankful to the organisers of the National Solutions Forum for the opportunities given, as some people truly wait an entire lifetime for an opportunity like this." – Kray Chong, founder and chief executive officer of Emergence Innovative Sdn Bhd
Officiated by Sunway Group founder and chairman Tan Sri Sir Dr. Jeffrey Cheah KBE AO, the event was also graced by Minister in the Prime Minister's department (Economy), Yang Berhormat Dato' Sri Mustapa Mohamed, and United Nations Sustainable Development Solutions Network President Professor Jeffrey D. Sachs.
"The nine selected finalists have creatively proposed novel strategies to accelerate progress towards sustainable development by having a firm understanding of local issues – from environmental education, agriculture, poverty alleviation to the gamification of reusable bags, digitalisation, artificial intelligence, biotechnology, and the blockchain. I applaud such innovative thinking, and I hope that the National Solutions forum can inspire more people from different walks of life to come up with solution-driven initiatives that are beneficial to society." – YB Dato' Sri Mustapa Mohamed, Minister in the Prime Minister's Department (Economy)
 In appreciation of their efforts and contributions through their respective solutions, each of the nine finalists were granted RM10,000.
Powered by RISE – voted as the best solution by the judges – was awarded a further RM10,000 for their level of innovation and commitment towards achieving sustainable goals in Malaysia; whereas WormingUp touched the hearts of the audience and was voted People's Choice, offering a heuristic approach on upcycling educational outreach programme that equips the marginalised communities with environmental education, creating a better future for themselves and for the planet.
"The National Solutions Forum specifically looks to highlight local solutions to local problems. Our focus with this event is to shine a light on local change makers who are making a significant impact in their communities and the nation. The grant funding from Sunway aims to help support them in scaling up their solutions. Just as important, we hope that these solutions can inspire many others to follow suit in tackling issues related to the sustainability agenda." – Tan Sri Sir Dr. Jeffrey Cheah KBE AO, Sunway Group founder and chairman.
In order to advance Sunway's commitment to nation building and UN-SDG goals, Sunway Group has pledged US$20 million to the United Nations through the Jeffrey Cheah Foundation, which has been responsible for the funding of the Jeffrey Sachs Centre for Sustainable Development at Sunway University and the establishment of the United Nations Sustainable Development Solutions Network (UN-SDSN) in Sunway City Kuala Lumpur.
For those who wish to find out more about NSF 2022, or explore potential partnerships with the nine finalists and their solutions can visit the website here.
< Previous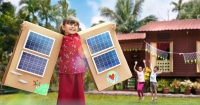 A Beacon of "Light" this Raya Season
Next >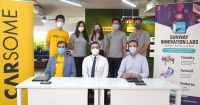 Malaysia's First Auto Ecosystem Accelerator Is Here!