Malaysia's First Auto Ecosystem Accelerator Is Here!
4
-min read
Sunway via its innovation arm (iLabs) and Carsome are joining forces to introduce Malaysia's very first auto ecosystem focused accelerator programme.

This is in line with Sunway Group's goal to position Sunway City Kuala Lumpur (SCKL) as a living laboratory and generate real world solutions addressing real world issues.
Geared towards positioning itself at the forefront of innovation, Sunway's innovation arm, Sunway iLabs, is embarking on yet another exciting first – this time with Southeast Asia's largest integrated car e-commerce platform, Carsome.
Sunway iLabs is now zeroing in on the automotive industry with Carsome, launching the Carsome Mobility Lab to help mobilise these solutions into actionable, tangible solutions. Expected to launch in Q3 2022, it is the first auto ecosystem focused accelerator in Malaysia that seeks to support global tech start-ups to deliver sustainable solutions in Carsome's existing markets.
"We are really pleased to witness our partnership with Carsome growing into a broad-spectrum innovation platform covering R&D, tech talent development, and now, a start-up accelerator programme. We believe that this first-of-its-kind auto ecosystem accelerator in Malaysia will help elevate start-ups to the next level by tapping the networks, market, mentors and funding offered by Carsome and Sunway. This is truly a unique opportunity not to be missed by entrepreneurs seeking to build a successful tech business in the automotive industry." – Sunway Group chief innovation officer and director of Sunway iLabs Matt van Leeuwen
Similar to Sunway iLabs' existing accelerator programmes, participants will be guided and empowered with mentorship, funding opportunities and access to partnership opportunities through Sunway and Carsome's robust network of entrepreneurs, venture capitalists, corporates and industry experts.
"The auto ecosystem is ripe for further innovation and disruption. We look forward to teaming up with Sunway to work with start-ups across Southeast Asia and introduce cutting edge innovation that will benefit the entire auto ecosystem and ultimately add value to the vehicle ownership journey of all consumers." – Carsome Group head of merger & acquisition and ecosystem strategy Digbijoy Shukla
Leveraging Sunway's expertise, selected start-ups will be offered the opportunity to connect with Sunway's 13 business divisions as well as Sunway City Kuala Lumpur's (SCKL) thriving ecosystem to expand their goals. Funding and investment opportunities are also accessible via Sunway's funding funnel and ecosystem comprising industry kingpins such as Orbit Malaysia, SunSEA Capital, Gobi Partners and The HIVE SEA.
This new partnership aims to cement SCKL as a living laboratory by bridging the brightest minds and experts in various industries, catalysing real world solutions for a sustainable future and the betterment of the environment and generations to come.
"We are excited to work with a successful unicorn like Carsome that is contributing to Malaysia and Southeast Asia's growth in the tech scene. Sunway has invested more than RM 200 million in start-ups and venture building since we launched Sunway iLabs in 2017 and we remain committed to equipping and enabling businesses in developing greater local innovations as part of our commitment to nation-building and advancing the 17 United Nations Sustainable Development Goals (UN-SDGs)." – Sunway Group chief executive officer of digital and strategic investments Evan Cheah
This venture is one of the various ways Sunway iLabs seeks to provide a strong foundation for local and global start-ups to thrive. Sunway iLabs recently concluded its third cohort of Sunway iLabs Super Accelerator programme, with five start-ups delivering innovative solutions focusing on the six key verticals in Sunway, namely Smart Cities, Agrifood Tech, Edutech, Digital Health, Retail Tech and Fintech.
< Previous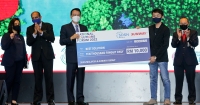 Changing the Game for a Better Nation
Next >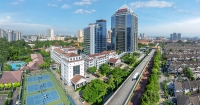 A City in the Cloud?
This article first appeared in Berita Sunway Issue 76