A City in the Cloud?
7
-min read
Powered by the cloud, our cities and people are now connecting beyond physical space.
The Internet of Things (IoT) is becoming so ubiquitous that it is even making our toilets smarter. Already, washrooms at Sunway Pyramid Oasis Boulevard are displaying intelligence that transcends water conservation and heated seats. Outfitted with a strategically embedded network of sensors and monitors, the usage of every consumable item within – from hand soaps to paper towels and toilet paper – everything can be tracked and instantly replenished once stock runs low, eliminating downtime.
What is more, the digitally enhanced, centralised sanitary system is also powered to concurrently measure temperature, humidity and air quality, including ammonia level to keep bad odour at bay.
This "toilet revolution" – which helps the mall streamline cleaning crew schedules and plan for better a shopping experience – is part of Sunway's growing effort to use big data to make our cities smart and sustainable. More than just a gimmick, it succinctly captures the profound difference in how Sunway addresses all matters related to the urban, tech-fuelled living. We believe that insights extracted from data can systematically improve our quality of life.
While the rest of the business market is gradually waking up to the power of Big Data, Sunway has been tirelessly and methodically building one of the smartest cities in the region from the "cloud".
Sunway's Cloud Migration Journey
Indeed, the majority of commercial activities at Sunway City Kuala Lumpur (SCKL) take place in the cloud, unbeknown to many.
"Cloud computing is the new platform to host virtual servers and business data, among other modern business applications and services," explained Sunway Group chief information officer Kevin Khoo.
IoT connects diverse forms of devices, ranging from smartphones, home appliances and wearables to mainframe machines that weave some of the largest corporations, and even cities, into the same fabric. This connected network of tiny computers can then interact with one another, sharing, exchanging and acting on data about their surroundings.
The impetus for Sunway's cloud-based approach stems from the increasingly data-rich environment within SCKL. As the need to process, analyse and optimise the wealth of data arises, we have been quick to recognise the importance of digital infrastructure with a more robust adoption and buildout to support our corporate imperatives in accelerating sustainable development.
As in many other ways, the cloud migration journey is evidence of Sunway's digital-first strategy. As early as 2014, the company management called for the change in anticipation of the decline of physical servers which are growing obsolete.
"We first transitioned to Document Management Systems, followed by the introduction of fintech services, property management services, loyalty programmes and many more" Kevin recalled.
Sunway's loyalty programme, Sunway Super App, rewards customers with points and special privileges when they spend at participating businesses and merchants. It has been effective in unveiling hidden consumer patterns and gleaning new insights – a feature later proved extremely critical to both service providers and users alike during the e-commerce boom, and later on, to the launch of the Sunway eMall platform.
Purpose-built for close to a decade with precise automation and predictive intelligence, cloud applications now power services across SCKL that range between the mundane and the magical: AI-driven security system that deploys emergency services in the event of accidents or injuries; a contactless parking system that enables seamless payment; the aforementioned smart toilet and, more recently, an efficient remote workforce to keep the city running during pandemic lockdowns.
Our digitalisation journey extends across the corporate environment as well, and it has accelerated even further amidst the pandemic. In December 2019, Sunway completed the shift to Office 365 – a cloud-based messaging and collaboration suite group-wide. The timing could not be better.
"When COVID-19 hit a few months later, we were able to switch to Microsoft Teams instantaneously and it worked a lot better than other alternatives in the market. It was able to support uninterrupted communication and collaboration among more than 6700 staff who had to work from home," said Kevin.
 Despite being thrust into a sudden experiment of remote working, all business divisions were able to maintain a vibrant presence virtually and facilitate business continuation as they smoothly relocated huge swaths of activities online to the new working hub.
"From internal proposals, meetings, brainstorming sessions and marketing collaborations to external product showcases, project management, dashboards, webinars, and live telecast with customers and business associates, they were all happening on the cloud," he added.
Reimagining a Smarter World
Turbocharged by the pandemic's unpredictable trajectory, the veneer of convenience of the modern cloud environment can no longer be overlooked. Many companies and public sectors are taking notice of the capability the cloud provides in scaling, innovating, and creating an agile culture.
Consider the example of Singapore, where water scarcity has occupied the consciousness of its people for decades. In 2018, its National Water Agency released a water digital roadmap to optimise the utility's operational capabilities to meet the nation's future needs. It outlines a comprehensive sensor network linked to a cloud-based analytics platform as its key tenet, providing the solution they need.
Similar action took place in Buenos Aires, the capital of Argentina. Prioritising investment in dedicated mobile application and sensor data allows it to evolve and rapidly respond to the influx of real-time complaints and feedback about its civic infrastructure, which greatly serves the entrenched interests of its constituents. Still, it is believed that we have merely brushed the tip of the iceberg when it comes to using the cloud to our advantage.
At Sunway, our ambition runs deeper. At present, our applications are distributed across different cloud services based on their usage and target customers. Other than Microsoft and our group-owned private cloud, the upcoming chapter of our cloud story shall be more full-bodied.
"Moving forward, Sunway aims to expand our cloud-first strategy. Future plans include setting up a Centre of Excellence for multi-cloud computing by leveraging on collaborations with key public cloud partners to strategise group-wide cloud computing synergies. Our Sunway Digital Hub's vision is to become a cloud service provider of Sunway Group's own multi-cloud infrastructure," Kevin shared.
The process shall elevate the Group's long-running narrative as a true corporate activist with an environmental, social and governance (ESG) mandate. Classified among the leaders of ESG by FTSE4Good Bursa Malaysia Index and Morgan Stanley Capital International (MSCI) ESG Ratings, Sunway has long been a part of this emerging trend as we strive to broaden considerations beyond the narrow range of financial profit-and-loss bottom line. We strongly believe that good businesses should also be measured by the bottom line of their sustainable practices and humane treatment of workforces, among other social issues.
Spurred by the United Nation's Sustainable Development Goals (UNSDGs), Sunway has been adamant about matching words with deeds: We have been the mover behind multiple ESG efforts to contend with urban challenges, such as food insecurity, traffic immobility, education inequality and – not forgetting – the changing climate.
Apart from large-scale solar farm investment, we formed an alliance with the Massachusetts Institute of Technology (MIT) back in 2017 to research techniques and methods that will allow carbon capture, utilisation and storage to scale as much as are needed. To realise our pledge to achieve net-zero carbon emissions by 2050, Sunway has recently revealed its plan to implement an internal carbon pricing framework, becoming the first Malaysian company to do so.
And now we will have another tool in our box. Environmentally, the potential of the cloud infrastructure is clear. A recent internal study reported that extending from private cloud computing to a multi-cloud environment correlates with more energy efficiency. Serving more users at a lesser number of servers, the cloud consumes only a fraction of the energy used by otherwise traditional on-premise data centres, achieving better economies of scale by reducing the overall data-centre footprint. Adopting cloud environments as part of the ongoing digital transformations is proven to be the way forward in Sunway's transition towards a predominantly renewable-based future.
In our race to set precedence for sustainable development, the cloud-connected thinking is clearly a first-tier ally. You may not see it, but you will certainly see the way it is changing the world.
< Previous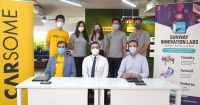 Malaysia's First Auto Ecosystem Accelerator Is Here!
Next >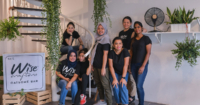 Unpacking the Success Stories of Malaysia's New Generation Visionaries (Part 2)