Digitalising Healthcare
Embracing the new normal of COVID-19, Sunway Medical Centre's digital transformation plan aims to improve healthcare delivery and to stay relevant in the changing healthcare landscape.
4
-min read
Physical lockdowns, social distancing, and masks – the year 2020 will be remembered for how COVID-19 has changed the world indefinitely.
However, one silver lining of the pandemic is that it has accelerated the rate of digital transformation globally, as the governments and businesses adapt to the new normal, said Dr Ang Kong Hui, chief operating officer of Clinical Services at Sunway Healthcare and William Chau, group director of Information & Communications (ICT) at Sunway Medical Centre.
Due to the pandemic, patients became more open to adopting new technology, which made it easier for Sunway Medical Centre to execute their digital transformation plan, aimed at improving patient care and experience, accessibility to healthcare services, as well as operational efficiency.
Embracing the New Normal
During the Malaysian Movement Control Order, Sunway Medical Centre had collaborated with Sunway iLabs to build a contactless COVID-19 testing pod to enable healthcare workers to conduct testing for suspected patients in a safer and efficient manner.
The air conditioned, filtered contactless pods not only lessened usage of personal protective equipment (PPE), which was in short supply then due to global PPE supply disruptions; medical officers could also stay within the booths for longer periods of time during their shifts. This minimised the need for PPEs and the healthcare staff's need to put on and remove PPE – a process where infections could potentially occur. In support of the new normal and to manage risk of infection, Sunway Medical Centre also implemented e-health declaration for all patients, visitors, staff, and doctors entering the hospital. Visitors can also scan QR codes for contact tracing using the hospital's app and link to the government's MySejahtera app.
Other precautionary measures that were put in place include using artificial intelligence (AI) technology for facial recognition to ensure face mask compliance within the premises, and thermal scanners at all hospital entrances.
"Like the rest of the private healthcare practitioners in Malaysia, we had experienced a decline in patient visits. Having strict precautionary measures in place, investing in healthcare equipment and in-house molecular COVID-19 PCR testing with a shorter turnaround time has increased the patient's confidence in us. We continue to learn by engaging with the Ministry of Health on ways to make our hospital a safer place for both patients and staff," said Ang.
Improved Healthcare Delivery and Operational Efficiency
By William Chau, group director of Information and Communications Technology (ICT) at Sunway Medical Centre
Sunway Medical Centre launched tele-consultations in response to patients who sought healthcare services that did not require them to physically visit hospitals. Patients can consult their doctors, speech therapists, audiologists, rehabilitation team and dietitians without needing to be physically present at the hospital. To date, the hospital has conducted more than 1,000 tele-consultation sessions since March last year.
The hospital also launched the Telemedicine Command Centre for new patients who may require a second opinion on medical-related issues, providing first-level advisory services to patients remotely. Internet of Things (IoT) – the network of connecting devices to one another via the Internet to allow data sharing and analysis – is used to monitor patients' clinical and vital signs remotely. Data collected can also be used in early warning algorithm to predict possible adverse events before they occur, said Sunway Medical Centre group director of Information and Communications Technology (ICT), William Chau.
The first tele-monitoring service for diabetic patients was launched this year, enabling caregivers to measure patients' blood glucose remotely to provide coaching of lifestyle changes.
Another example is Chemocare, an app that is being developed by Monash University Malaysia in consultation with Ministry of Health Malaysia and oncologists at Sunway Medical Centre, which aims to help cancer patients monitor and report chemotherapy side-effects to know when they need to see a clinician.
For greater operational efficiency, Sunway Medical Centre is looking into implementing a new Electronic Medical Record system to digitise patients' records for improved patient care and to reduce the need for manual intervention of records, said Chau.
Among the initiatives that facilitated informed decision-making and helped to improve overall hospital operations and efficiency this year include operations tracking and report, as well as teleconsultation.
"Our new real-time hospital operations tracking system allowed us to reduce turnaround time for room cleaning to 1 hour, reducing discharge time by 55%. The use of automated medication dispensing machines have also reduced turnaround time for medication supply to wards by 45%," Chau said.
Future of Digital Healthcare
By Dr Ang Kong Hui, chief operating officer of Clinical Services at Sunway Healthcare
Most healthcare providers are behind in the adoption of new technologies and digitisation of their hospital operations.
"However, with the advancement of digital technologies, healthcare providers must embrace the impending change through a holistic digital strategy and transformation. I believe that the future of digital healthcare lies in developing a group-wide, integrated, and orchestrated data and analytics capability using analytics and AI/ML to enable a data-driven healthcare operations and strategy," said Chau.
Moving forward, Sunway Medical Centre plans to expand the accessibility of healthcare services through channel diversification using digital innovation and partnerships. Among the plans include expanding Sunway Medical Centre's home nursing and medication services, 'SunMed @ Home', as well as partnering with other healthcare providers to equip general practitioners with advanced ECG diagnosis capabilities to allow early detection heart-related conditions.
"As digital and mobile technologies become part of people's lifestyle, Sunway Medical Centre is continuously looking into providing high quality healthcare services in a convenient and secured manner. The SunMed GO mobile application allows patients to search for doctors, schedule appointments online and consult with specialists through tele-consultation. We plan to enhance the mobile application further to provide new types of services including online payment capabilities and access to medical reports," said Ang.
"The future of healthcare will be shaped by continuous advancement in digital technologies, proliferation of internet and mobile devices, and wider acceptance of digital services. These factors will lead to an increase in the demand for more effective treatment, increased accessibility, and improved experience. The shift in consumer demand, increased competition from existing healthcare providers, and the entrance of new digital players in the healthcare space will not only intensify competition, but also disrupt the current industry landscape. Hospitals are forced to respond through innovation and adaptation, or risk being left behind," said Chau.
< Previous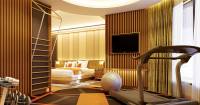 Digital Transformation Needed – With or Without a Pandemic
Next >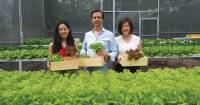 Farm in a City
This article first appeared in Berita Sunway Issue 71