Heroes in Caribbean Blue
5
-min read
As founder and mother of modern nursing, Florence Nightingale revolutionised healthcare and left an indelible mark on the profession.

Nurses following in her footsteps are strong-willed individuals, fiercely tenacious and compassionate, just like her.

The annual tradition of recognising nurses for their selfless contributions on 12 May was established as early as 1974. This year, we at Sunway shine the limelight on an underrated minority – male nurses.
In this pandemic-stricken world, health professionals have played a monumental role throughout the past year. One such kingpin is nurses, forming the foundation of primary care, symptom management as well as mental support to ailing patients worldwide in hospitals and, now, vaccination centres.
International Nurses Day commemorates the pioneer of modern nursing, Florence Nightingale. The British nurse was given the moniker "The Lady with the Lamp" as a nod to the familiar sight of her making rounds down hallways accompanied by just an oil lamp in the deep of night. Her notable contributions to nursing include setting hygiene standards and personalised patient care, both of which effectively and drastically improved the quality of care in the 19th and 20th centuries.
On this important day, we would like to pay homage to nurses everywhere – their nature epitomising empathy and compassion, their duty being the backbone and driving force of the healthcare industry.
Themed Nurses: A Voice to Lead – A vision for future healthcare for this year, the International Council of Nurses (ICN) aims to explore the transformation of the profession on to the next stage of healthcare.
A Familiar Face
Long-time followers of Sunway Stories may remember wound care nurse Muhamad Alfateh Yusoff, who stepped forward to defy gender stereotypes back in 2018, tenderly quoting "universal as love itself" to describe his unconventional profession. Three years later today, Alfateh stands by his mantra, stating matter-of-factly that "being a nurse in itself is satisfying regardless of gender. It is how we treat others that matters."
However, his journey was not always a bed of roses. He clearly recalls the cold reactions of his family members when he first declared his chosen career path. Regardless, they grew to understand the merit of his profession and eventually supported his decision.
"The circle today is vastly different from when I first started. I am glad that the general public is more receptive of us and acknowledges male nurses to be on par with our female counterparts," he revealed.
Alfateh enjoys the stimulating nature of his job, requiring him to be constantly prepared to face challenges in a fast-paced environment. When asked if there were any memorable incidents that he had wanted to share with the readers, he answered,
"There are ups and downs in any career path. Each time where I've had the privilege to alleviate one's pain or contribute to one's wellbeing is momentous to me," replied Alfateh, calmly.
Alfateh expressed his gratitude to be a part of the nurturing environment at Sunway Medical Centre where the nurses are empowered, more so on special occasions like International Nurses Day. Alfateh is considering to pursue specialisation in either stoma care or orthopaedic to hone his skills and better serve the community.
Nightingale Reincarnate
27-year-old staff nurse Muhamad Hasri Shafee echoes Alfateh's sentiments on nursing. Similar to Nightingale, Hasri, the youngest of three children pursued the art of healing against his family's wishes. Unfazed by the stigma, Hasri announces proudly that he is a registered staff nurse and healthcare practitioner, ever eager to impart his knowledge and expertise to friends and relatives when prompted.
Since joining Sunway Medical Centre, he continues to be pleasantly surprised by the positive team dynamics at work, especially when nurses come together to brainstorm solutions for unprecedented circumstances.
"At Sunway Medical Centre, nurses are valued here! I feel a natural sense of camaraderie amongst us. As a result, we are constantly encouraging and supporting each other at work. The ambience is especially heart-warming during days which calls for a celebration like International Nurses Day because it essentially feels like one big family reunion," Hasri informed, spiritedly.
The Mother Figure of Sunway Medical Centre
According to Sunway Medical Centre's Director of Nursing, Hwang Ming Lan, male nurses comprise just 10 percent of the nursing task force here. As a founding member of the hospital, and serving as a nurse since its inception in 1999, she observed that males tend to shy away from the profession as the field is visibly female-dominant.
"At Sunway Medical Centre, our male nurses are important team members who have contributed much to our success. Both our male and female nurses play to their strengths and advantage, thus they can equally contribute to our operational needs," she said.
An Ode to Our Nurses
Sunway Medical Centre celebrates its nurses on 12 May every year without fail. This year, nurses will be presented with a token of appreciation, on top of receiving wishes blasted throughout its buildings via the hospital public address (PA) system. In light of the pandemic, the annual Nurses Day fundraiser will be withheld for the second year.
If these men and women inspired you, Sunway Healthcare Group offers full scholarships for Diploma and Bachelor Degree students in Nursing, with the opportunity to pursue a nursing career with Sunway Healthcare facilities around the nation. Find out if you are eligible to apply by visiting Sunway Medical Centre's website. Alternatively, tune in to the ongoing series of career webinars to determine if nursing is the career path for school-leavers. Stay updated with the latest announcements on Sunway Medical Centre's Facebook page!
Sunway Healthcare Group (SHG) is Asia's multi-award winning integrated private healthcare group with a network of hospitals and health services operating in Malaysia and Singapore, serving patients from more than 135 countries worldwide since establishing its flagship Sunway Medical Centre in Sunway City Kuala Lumpur.
Driven by its mission to shape the future of healthcare with world-class healthcare professionals, SHG seeks to enhance collaboration in the domain of medicine and medical education. Together with Sunway Education Group, multiple collaborations with world-class institutions such as the University of Cambridge, Royal College of Physicians (London), and Harvard Medical School have been established for the continuous development of our healthcare professionals. To date, our Clinical Research Centre in partnership with the University of Cambridge is the sole Regional Site Partner to conduct and coordinate research involving human subjects.
< Previous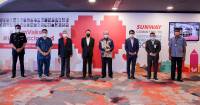 Supporting the Nation Towards Herd Immunity
Next >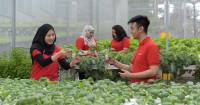 How COVID-19 can Accelerate Malaysia's Circular Economy