Sunway Medical Centre Nursing Scholarship 2020 is Now Open
5
-min read
Planning to study nursing and looking for some funding? Sunway Medical Centre is on the lookout for bright individuals to join our scholarship programme for Diploma and Bachelor Degrees in Nursing.

Successful candidates will be sponsored full tuition fees, living expenses and offered job placement at one of the leading healthcare providers in Malaysia after graduation.
Malaysian students with SPM, STPM or other pre-university qualifications can now apply for full scholarship for a three-year Diploma or a four-year Bachelor Degree in Nursing that covers full tuition fees, monthly student allowance, meal and book allowances, academic bonus, accommodation, and medical benefits.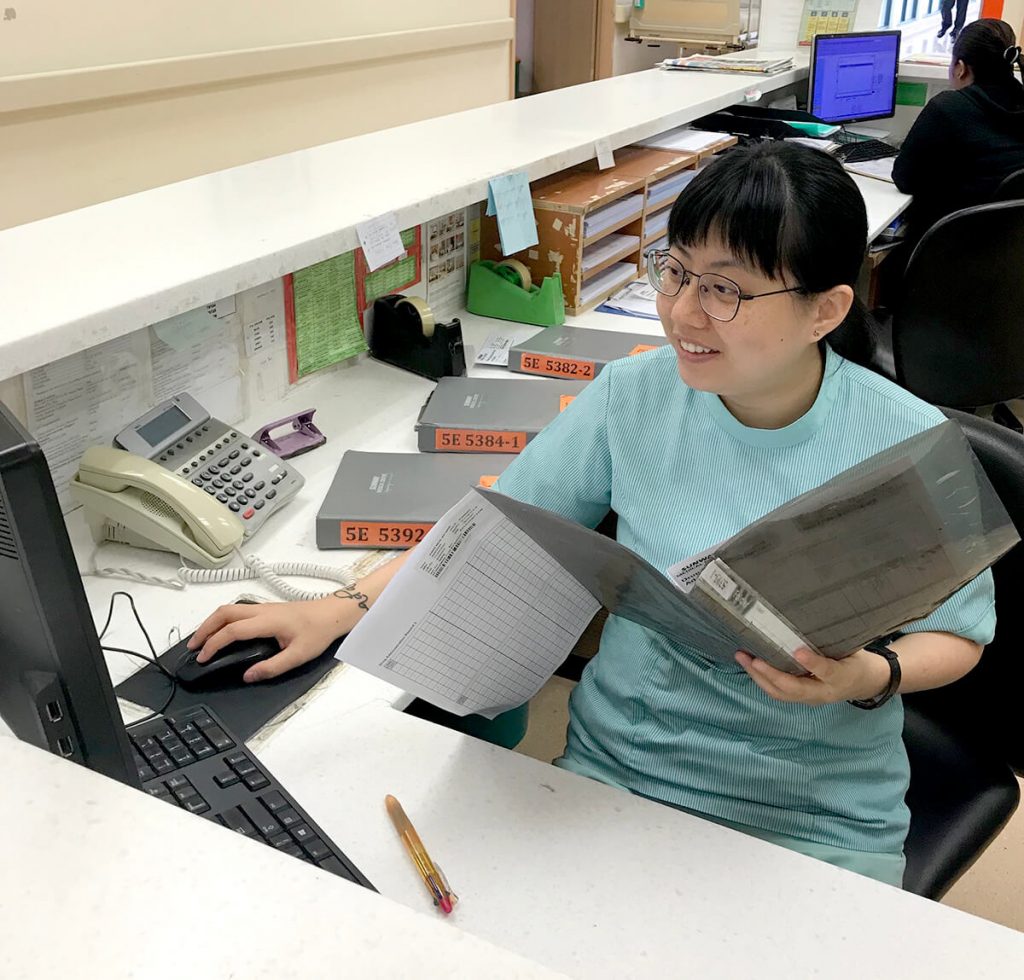 "I was extremely fortunate enough to enroll in Sunway University under Nursing Scholarship by Sunway Medical Centre. While my peers were worried about securing a job and perfecting their resume, my placement in Sunway Medical Centre had been confirmed even before I graduated," Electra How, Senior Staff Nurse.
All scholarship recipients will also secure a five-year placement at Sunway Medical Centre upon graduation, progressing towards a rewarding nursing career.
"After I got my SPM results, my mother suggested that I pursue my career in the medical line. I started to look for nursing programmes online and found Sunway Medical Centre nursing scholarship programme to be the most competitive of all as it offers job placement after graduation.
"Being accepted to the nursing scholarship programme was the turning point in my life as it marked the start of my beautiful nursing career journey with Sunway. After my Diploma, I continued with a post-basic programme under the scholarship that secured me another two years of employment. It has been close to 10 years now and I have been promoted to Senior Staff Nurse in 2016 and received an outstanding employee award in 2018."

Arinthini Sinnappa, Senior Staff Nurse, Sunway Medical Centre Nursing Scholar
Rewarding career awaits at the internationally accredited Sunway Medical Centre
Sunway Medical Centre is the first hospital in Southeast Asia accredited by the Australian Council on Healthcare Standards (ACHS). Located within the integrated township of Sunway City Kuala Lumpur, our multi-disciplinary acute tertiary medical centre has established numerous centres of excellence and takes pride in providing the highest standard of care and treatment to our patients.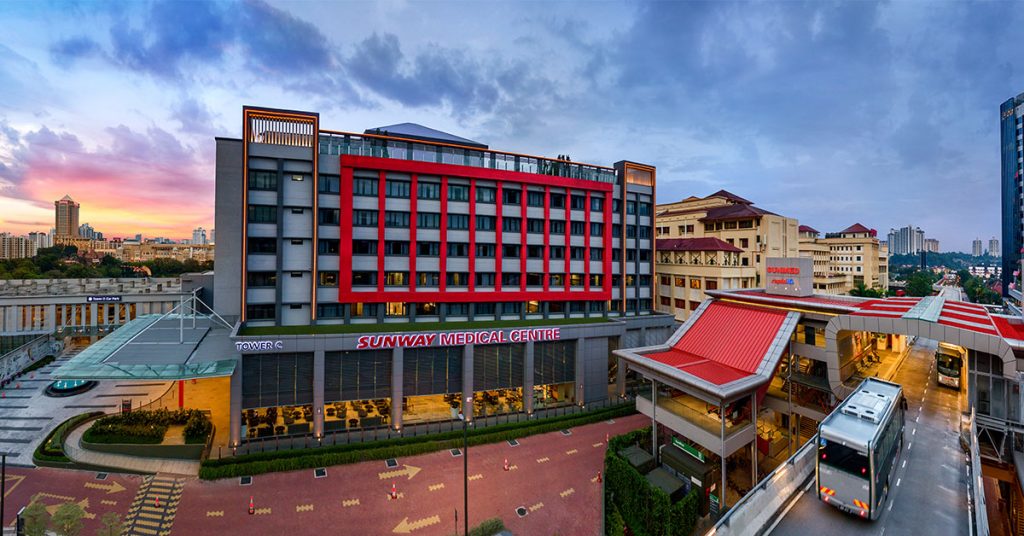 We have been awarded Gold under Best Corporate Healthcare Provider in the HR Vendor of the Year 2015 Award, and our laboratory is the first in Malaysia to be awarded the Westgard Sigma Verification and is certified by Standards Malaysia (MS ISO 15189).
We also plan to build five more hospitals across four states, i.e. Penang (Sunway Penang, Sunway Seberang Perai), Perak (Sunway City Ipoh), Kelantan (Kota Bahru) and Selangor (Kota Damansara).
Inspiring stories and achievements of some of our fantastic alumni
"During my undergraduate years, I was guided by my peers and lecturers to join a few student-exchange programmes and charity work, which groomed me to be a better person. Getting to know people from diverse backgrounds from all around the world have also broaden my horizon and perspective", recalled Sharifah, a Senior Staff Nurse who is currently pursuing Bachelor Degree in Nursing under after completing her Diploma in Nursing in 2013 and post-basic in 2017.
"University life was so wonderful! Sunway University does not only focus on curriculum but also places emphasis on extracurricular activities. The out-of-classroom activities exposed me to the outside world and diverse cultures as I made friends with international students. It was such an eye-opening experience," annotated Waon Tyng, our 2010 Nursing Scholarship recipient.
Career advancement
From student nurse to Senior Staff Nurse, Waon Tyng shares how she has progressed in her 10-year journey with Sunway Medical Centre. 
"I started in a general medical surgical ward when I graduated as staff nurse. With much guidance from senior nurses, I was able to perform competently in just 6 months, after which I requested for a transfer to the Intensive Care Unit (ICU) to learn more about critical care. I've worked in the ICU since and joined the in-house critical care training that has equipped me to become an ICU nurse.
"While waiting for my turn for post-basic in critical care, I pursued my Bachelor Degree in Nursing and subsequently completed my post-basic training."
Continuous learning
At Sunway Medical Centre, we encourage continuous learning amongst our employees. It has built a foundation for improving our practice, providing patients with excellent care and enhancing our work environment.
"We have plenty of opportunities to attend conferences and courses to enhance our knowledge, improve our skills and level up our practice. Various in-house trainings are also available," Waon Tyng added.
"Sunway Medical Centre offers great opportunities for me to learn and grow through its multi-disciplinary departments and a range of medical expertise. As a result, my career path has also been moving in the right direction," shared Sharifah.
Competitive salary
Being one of the leading private healthcare providers in Malaysia, Sunway Medical Centre offers a competitive salary package to all employees, in order to attract and retain the best talents.
According to Sharifah, "the salary offered is very reasonable. I am paid well for the hours and dedication I put in. There are also annual bonus and increment based on our performance, which has been above satisfactory."
Be part of our nursing workforce of the future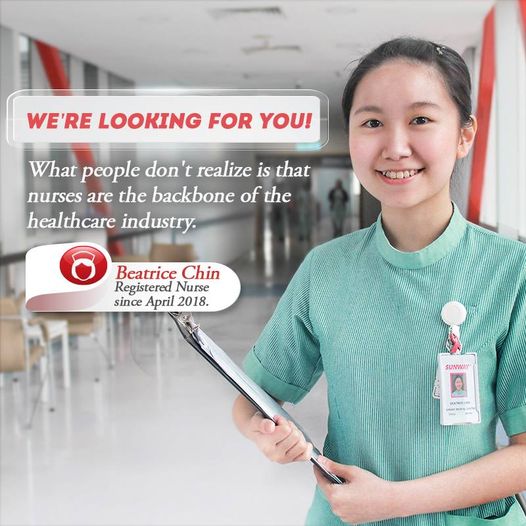 Requirements:
Malaysian citizen
18 – 25 years old
For Diploma: SPM / O level with minimum 5 credits in BM, BI, Science, Math and one other subject
For degree: STPM / FOUNDATION IN SCIENCE / A Level minimum CGPA 2.50 and Unified Examination Certificate (UEC) with minimum 5 Grade B AND pass SPM with credits in BM, Math, and Science.
Interested candidates may submit your application letter along with the below documents to [email protected], [email protected] or contact 603-7491 9191 (ext.11353 for Ms Yap) / (ext.76099 for Ms Cindy) / (ext.11362 for Ms Sau)
Resume stating personal particulars, contact number
Recent passport-sized photograph
Photocopy of SPM certificate
Photocopy of NRIC
Other relevant certifications
Looking forward to receiving your application and welcoming successful applicants onboard! For more info, visit Sunway Medical Centre Nursing Scholarship 2020.
< Previous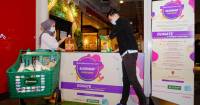 Ending hunger, a household at a time via #SunwayforGood Food Bank
Next >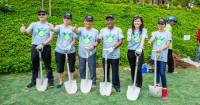 Doing Our Part for the Planet, People, and the Greater Good