How will ESG Stand Us in Good Stead?
5
-min read
"We believe profitability and sustainability can go hand-in-hand. The real trade-off in our mind is meeting the needs of society without breaching the limits of what the planet can tolerate," says Mr. Ong Pang Yen, executive director of chairman's office at Sunway Group.
Sunway Group, with almost 50 years of track record, and aspirations to surpass a century and beyond, believes that corporate longevity and a commitment to the Environmental, Social and Governance (ESG) agenda are intertwined and form the bedrock of the Group's sustainability agenda.
This approach sets Sunway apart from its competitors.
Over the years, Sunway has striven to stay agile, innovative and relevant in the ever-evolving business landscape, which has helped propel the Group into a 16,000-strong staff with 13 business divisions across more than 50 locations worldwide.
However, given the rapid pace of change in the digital era, companies looking to go the distance cannot afford to be complacent, because very few organisations, historically, survive beyond 50 years:
Based on a study by the Organisation for Economic Co-operation and Development (OECD), global business failure rates ranged from 20-40 percent.
According to the U.S. Bureau of Labor Statistics, only 36 percent of American companies survive beyond 10 years, and only about 21 percent survive to mark their 20th anniversary, let alone their 50th.
The American Small Business Association reveals a consistent trend since the 1990s, with a 49.7 percent failure rate for businesses in the five years. Even amidst the COVID-19 pandemic, these statistics have remained unchanged. In other words, the survival rate of a business during the first five years is about 50/50.
In the Malaysian context, a study conducted by Universiti Teknologi MARA found that 60 percent of SMEs in Malaysia fail within five years of establishment. The failure rate can be attributed to various challenges in the business environment, such as fast-changing customer preferences, globalisation, stiff competition and human resources issues. Not implementing strong practices internally to combat these challenges was a common thread.
Only a handful of public-listed companies on Bursa Malaysia are more than 50 years old. Nestlé Malaysia, Pos Malaysia, Petronas and Maybank are a select group to have surpassed the half-century milestone.
Global brands such as IBM, Ford, Procter & Gamble and Coca-Cola – each boasting some 100 years of corporate history – serve as inspiring examples of resilience, adaptability, and long-term vision.
Transformation Spanning Five Decades and Counting
Growing up in the small former tin-mining town of Pusing in Perak, Tan Sri Sir Jeffrey Cheah witnessed first-hand the impact of environmental degradation and the ugly scars of destructive mining activities all around him.
This experience shaped Tan Sri Sir Jeffrey Cheah's vision to build a vibrant, integrated and sustainable township.
From its humble beginnings in quarrying and tin-mining, Sunway has transformed into a regional conglomerate developing integrated townships, making quality education accessible, providing world-class healthcare services and championing responsible business practices.
The construction of Sunway City Kuala Lumpur saw the rehabilitation of an 800-acre wasteland of abandoned mining pools into a thriving wonderland. The city today comprises residential properties, commercial offices, educational institutions, healthcare facilities as well as theme parks and retail malls.
These physical structures are all located within the burgeoning green tapestry of a 15-minute city, which creates a symbiotic relationship among the various amenities within the township. This model of urban mobility and connectivity now serves as a blueprint for other Sunway townships throughout the country.
Sunway City Kuala Lumpur is today home to a vibrant community of more than 200,000 living, working, playing and studying in a safe, connected and healthy environment, epitomising Sunway's vision to be Asia's model corporation, innovating to enrich lives for a better tomorrow.
Having pledged to achieve net zero carbon emissions by 2050, Sunway has since taken its commitment to the sustainability agenda one step further by introducing an internal carbon pricing framework towards this end. It is the first in Malaysia, and one of the first in Asia, to implement such a carbon reduction strategy across its businesses.
In addition, the Group also established the nation's first Green Lease Partnership programme of its kind via its real estate investment trust division, Sunway REIT.
In the lead up to Sunway's 50th anniversary in 2024, a Transformation Office has been established to anticipate and address the myriad challenges in the decades ahead.
Led by Evan Cheah, the group's CEO of digital and strategic investments, the Transformation Office comprises a team of young leaders across various disciplines who will drive innovation across the Group to inculcate fresh ideas, unique perspectives and future-oriented thinking to guide Sunway's transformation agenda.
The ESG Approach to Sustainable Business
Although earliest discussions on ESG can be traced to the early 2000s, the ESG agenda only came to the fore and gained mainstream prominence in 2015 due to two major global events – the ratification of the Paris Agreement, an international treaty on climate change, as well as the 17 Sustainable Development Goals, a 15-year shared blueprint for peace and prosperity for people and the planet, adopted by the United Nations.
For investors and other stakeholders, the ESG framework offers a data-based mechanism to evaluate a company's performance on sustainability initiatives, impact on society and treatment of employees, as well as its management of ethical issues.
It is also a framework that allows companies to assess its business risks and opportunities, as well as shift an over emphasis on bottom-line considerations to non-financial indicators for a more holistic assessment of qualitative progress.
"At Sunway, we view ESG as a disclosure framework that fosters transparency. Disclosures make companies transparent, and transparency brings about accountability. In other words, transparency builds trust. This is why Sunway is firmly committed to the ESG agenda, Mr. Ong says.
Through disclosures, stakeholders are able to see how companies are responding to pressing environmental, social and governance issues, which concerns all stakeholders.
Companies that prioritise their environmental and social impact are more likely to thrive in the long run. Sunway's sustainability agenda, with its two-pronged approach of survival and responsibility, reflects the Group's commitment to making a positive impact in society.
As our founder and chairman Tan Sri Sir Jeffrey Cheah always say, 'we can all do well by doing good.' Sunway's commitment to the 17 UN-SDGs and ESG will help us stay relevant for many more decades to come," Mr. Ong says.
< Previous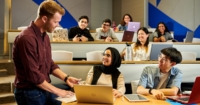 ChatGPT, Tell Me, Are Universities Still Relevant Today?
Next >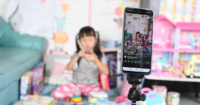 Navigating the Digital Dance: Rising Above a Social Media-Dominant World