Behind the Scenes of A Spooky Business
4
-min read
From being a visitor at the first Nights of Fright to managing the entire event several years later in 2022, Aishah is passionate about delivering excitement and fun to theme park visitors – even if it means getting a scream or two out of them.

As manager of events and entertainment for Sunway Theme Parks (inclusive of Sunway Lagoon and Lost World of Tambun), her day is filled with various tasks to create the best day ever for all guests.
After a few years of restrictions and limitations, the ghosts and ghouls of Sunway Lagoon's Nights of Fright (NOF) are on the prowl again to scare a soul or two!
To bring us through a behind-the-scenes look of the hauntings and scares of Nights of Fright 8 is Noor Aishah Ahmad, manager of events and entertainment for Sunway Theme Parks.
From being a visitor at the first Nights of Frights  to becoming a part of the team, Aishah's vast experience both as a talent and performer has help her  rise through the ranks. She now  oversees  the entire ghostly experience and ensuring each guest has a screaming good time!
6.30am
I wake up fairly early as it takes me awhile to get to Sunway City Kuala Lumpur (SCKL) from where I live, especially during rush hour.
8.00am
My day in the office begins bright and early, and I make sure to have a hearty breakfast to prepare for a hectic ahead!
9.00am
Morning meetings with operation leaders of the theme park covers deadlines, any concerns that have risen within the theme park – and how we can improve. All these happen before our park's opening hour!
Music? Check. Costumes? Check. Mascots – are Captain and Lady Quack here? Yes? We are ready to go!
1.50pm
We are about four hours to showtime and need to do our check and follow-up. My team and I get together to discuss upcoming events and functions, check on our deadlines and progress and to ensure everything is in order. This is when we run through our shows for the night, music selection, choreography and staging!
Any last-minute additions or dance rehearsals are also finalised by now so that we are all in sync for the night. As I also manage Screamfest  at The Lost World of Tambun in Sunway City Ipoh, I have to speak with the team to ensure everything is in order. It is our first time organising Screamfest and we have been experiencing a great reception so far!
5.00pm
It is now time to transform ourselves into characters assigned – this starts with yet another meeting with our full-time team and part timers who have graciously joined us as one of the undead for Nights of Fright. Once the briefing is complete, off we go to costumes, hair and make-up.
Whether a zombie, werewolf or some other ghastly creature – we have to be ready by 6pm sharp!
6.15pm
The undead is now amidst the living! In our full costumes, we head to Sunway Pyramid for a flash mob to draw in the crowd for a sneak preview of our spooky spectacular later that night!
If you see us, don't run – we just want to have a little bit of fun!
7.00pm
After the flash mob, it's back to the theme park to do final checks on lights, setup, ambience and safety – which is our utmost priority. I make sure that each teammate has proper rest and a hearty dinner as they will most likely be on their feet the rest of the night.
7.25pm
The countdown to the night of devilishly good fun begins! Tick tock tick tock…
7.30pm
The gates are now open! Come one, come all – explore each and every one of our eight haunted houses; step into our haunted theatre or test your bravery at our two scare zones! If all things spooky are not your cup of tea, you can still have fun at any of our 11 thrill rides that are open within the theme park or enjoy any of our six shows on our Nights of Fright Main Stage or Pirate Stage. For the next few hours, it is my duty to oversee all of the operations with my team, and to make sure everyone is having a safe and terrifyingly good time.
11.15pm
What a night! We wrap up with a party where NOF characters tear up the dance floor with our guests, ending the night on a high!
Werewolves, zombies and other creatures are here to send off our guests – before the night ends, my team and I scour the park to ensure all guests leave the park safe and sound, and that the cleanliness of the theme park is maintained.
12.30am
Once completed, I run through the items of the day to be reviewed so we can address this when the work day starts all over again. Time to retire for the night. 😉
< Previous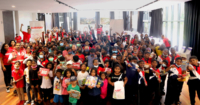 Sunway's De'light'ful Deepavali Cheer
Next >
All You Need to Know during GE15 (amid Surge in COVID-19 Cases)