Laundry Plant Turned Green!
5
-min read
From saving up to 200 million litres of water a year with advanced technology, to replacing energy sources with renewable ones, Sunway is on track to achieve its net zero carbon emissions by 2050.
Nothing beats the feeling of falling into a bed fitted with fresh linen after a long day of travelling – a luxury that hotels provide for their guests. To do so, the sheets, blankets, pillowcases and even garments have to be in tip top condition and cleaned well, which amounts to a rather heavy load of washing.
Sunway is invested in making all its business operations more sustainable and environmentally friendly, down to linens and laundry.  Sunway recently established Sunway Pristine Laundry in 2020 that has now received a boost in the installation of world-class laundry equipment in the plant, to further advance more sustainable methods of cleaning.
Located in Sunway City Kuala Lumpur, the 70,000 sq ft plant is one of the largest of its kind in Malaysia. Most recently, Sunway signed a joint venture with TSS Global Ventures Sdn Bhd to further advance the plant's facilities and capabilities, taking textile cleaning to a whole new level.
World-class cleaning equipment for a world-class finish
In order to be the best, it is important to have the best equipment with proper maintenance. Hence, Sunway has imported tunnel washers from Kannegiesser, a leading tunnel washer brand from Germany to be used in this plant. Having partnered the Winter Olympics in Sochi in 2014, and a focus on hospitality, healthcare and residential – the advanced technology in these washers is sure to guarantee clean and hygienic linens.
The tunnel washers can wash up to 2,000kgs of textile per hour and has a significantly lower water consumption compared to conventional extractor washers – which can effectively save up to 200 million litres of water per year! That's 80 Olympic-sized pools, in comparison.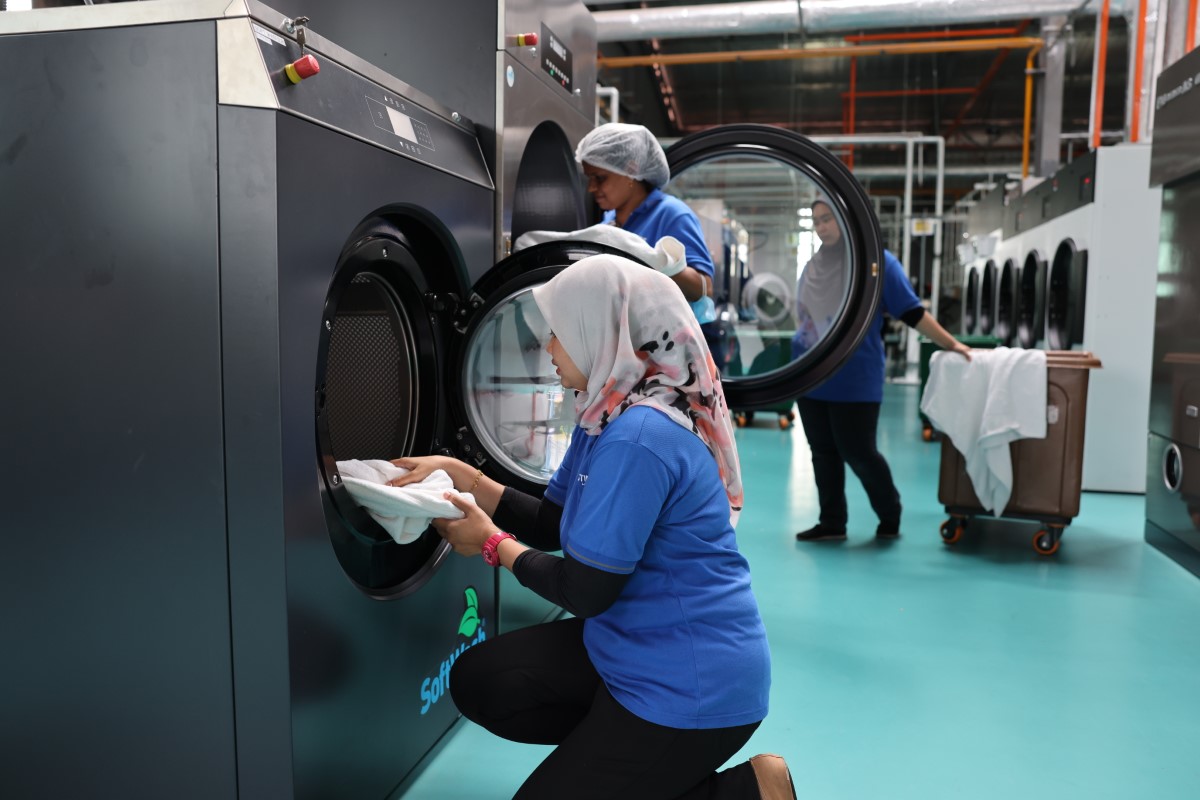 The plant also houses advanced Japanese Sankosha machines, another top brand in garment finishing equipment for a highly productive and efficient setting. The initial investment for the plant is a cool RM30 million, which may increase with further technological advancements on the way.
Innovating constantly for continuous improvement
Staying true to our innovative efforts, Sunway is also introducing an RFID linen and uniform tracking system for automated identification by 2024. This is to allow higher efficiency and accuracy. With thousands of garments and items entering and exiting the plant on a daily basis to be washed, cleaned, pressed and processed – the system will minimise error and possibility of items being misplaced or not going through its intended cleaning routine.
"The hospitality industry is an important one not just for us at Sunway, but also nationwide. It is imperative that efforts are ramped up to ensure the wellbeing of our customers, but also the planet. This is why we endeavour to introduce these initiatives and efforts that prove sustainability and profitability can go hand in hand. By reducing waste and electricity consumption, cost is also managed in the long run along with the risks we impose onto the planet with these daily tasks. Climate change is upon us, but this does not mean we should stop innovating for a better tomorrow." – Sunway Pristine Laundry executive director, Alex Teo 
Aside from the laundry equipment, the plant will also be fitted with solar panels on the roof, contributing to carbon emission reduction within Sunway City Kuala Lumpur. This is part of Sunway's commitment to net zero carbon emissions by 2050, in line with the Group's vision to gradually reduce its carbon footprint each year.
This follows an internal carbon emission reduction across the Group through putting a price on carbon emissions. For each industry, Sunway is benchmarking against global standards of CO2 production per tonne to set a suitable cap. With this benchmark, all of Sunway's businesses will work within the acceptable limits of emission. For heating purposes, natural gases are used as a 'cleaner' form of energy and is safer to store.
With water being essential to the smooth running of the plant, Sunway Pristine Laundry will be receiving its main water supply from Sunway South Quay's Water Treatment Plant. This is to prevent any downtime in the event of water shortage or unexpected water cuts, ensuring water security.
As previously shared by Sunway Properties and Facilities Management chief operating officer Mr. Cheng Jew Keng, "During the water cuts, Sunway's water treatment plant has helped the city's commercial assets maintain continuous water supply. To better illustrate, all hotels, restaurants, universities and malls of Sunway City Kuala Lumpur were assured of a safe supply of water during that period."
Sunway is taking steps such as this and more to ensure that we can achieve our goals in reducing carbon emissions and implementing sustainable actions no matter the industry.
Here's to achieving our goals, one clean linen at a time.
< Previous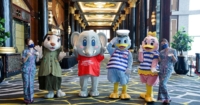 Striding in Magnitude and Altitude
Next >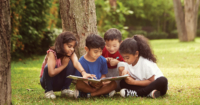 Making the World a Better Place