Making the World a Better Place
7
-min read
The world is changing, and so must we on our journey to net zero by 2050.

In line with the 17 United Nations Sustainable Development Goals, this is how we walk the talk in sustainability and inspire each one of us to build a sustainable future for the betterment of our nation.
"Addressing the issues related to planetary health and sustainable development is no longer an option but an urgent imperative," said Tan Sri Sir Jeffrey Cheah, founder and chairman of Sunway Group. "We are convinced that the health of the planet and its people are an interconnected and interdependent ecosystem."
The world is changing in so many ways – education and employment are generational challenges with new symptoms, the unprecedented change and acceleration caused by the pandemic, and of course, the looming threat of global warming.
Taking all of these factors into consideration, it comes as no surprise that we at Sunway are taking the bull by the horns, and upping the ante as we continuously transform internally on this sustainability journey to net zero by 2050.
As sustainability has been a part of our corporate DNA since our very inception, we have established five Sunway Sustainability Goals – from environmental preservation and conservation, business ethics, to giving back to our communities nationwide, this is how we walk the talk in sustainability and inspire each one of us to build a better future for our nation.
Goal 1: Transforming our Portfolios to Low-Carbon Sustainable Cities
The Intergovernmental Panel on Climate Change (IPCC) has warned it is imperative for us to limit global warming beyond that crucial limit of 1.5°C, beyond which even half a degree will significantly worsen the risks of drought, floods, extreme heat and poverty for people across the globe.
This has led to an international scientific consensus that, in order to prevent the worst climate damages, the global net human-caused emissions of carbon dioxide (CO2) need to fall by about 45 percent from 2010 levels by 2030, and reaching net zero by 2050.
In another report, two-thirds of our global population will live in urban areas by 2050. With these conflicting phenomena happening on a global scale, this has made the balance between the rise of consumption and the need for sustainability ever so precarious.
Low carbon cities offer a solution to the climate emergency.
Low carbon cities are an opportunity to reduce carbon emissions – through employing appraisals in clean energy, energy efficiency, sustainable transport and integrated waste management – while also providing immense economic opportunities in these emerging sectors.
Our flagship township – Sunway City Kuala Lumpur is one such example – becoming a model for low-carbon, smart sustainable cities in this part of the world, as well as a living lab to generate real-world solutions for the betterment of mankind.
It is also a blueprint for our Sunway townships nationwide such as Sunway City Ipoh in Perak, Sunway City Iskandar Puteri in Johor and the upcoming Sunway Valleycity in Penang.
By designing and developing green buildings and smart sustainable cities, it allows us to enhance the quality of life for people across the nation – for us all to live, learn, work and play in a safe and sustainable environment.
Goal 2: Advocating a Responsible Value Chain
We recognise the impact of our business activities throughout our value chain, as well as the call to reduce environmental and social impacts for a more sustainable future. Hence, we have developed the goal of advocating a responsible value chain that underpins our net zero by 2050 agenda. Alongside our tenants, we are able to work towards reducing our Scope 3 emissions by establishing green lease partnerships – being the first among many corporations in Malaysia to integrate this into our operations.
On the other side of the coin, we are also increasing awareness amongst our suppliers by indicating our preference to work with vendors that adopt the best practices outlined in our Sustainable Procurement Policy. This allows us to edify our suppliers in minimising their negative environmental and social footprint, and to benchmark their ESG practices against the industry, ultimately bringing all involved to a more sustainable future, together.
Goal 3: Developing a Safe, Equal and Dignified Workforce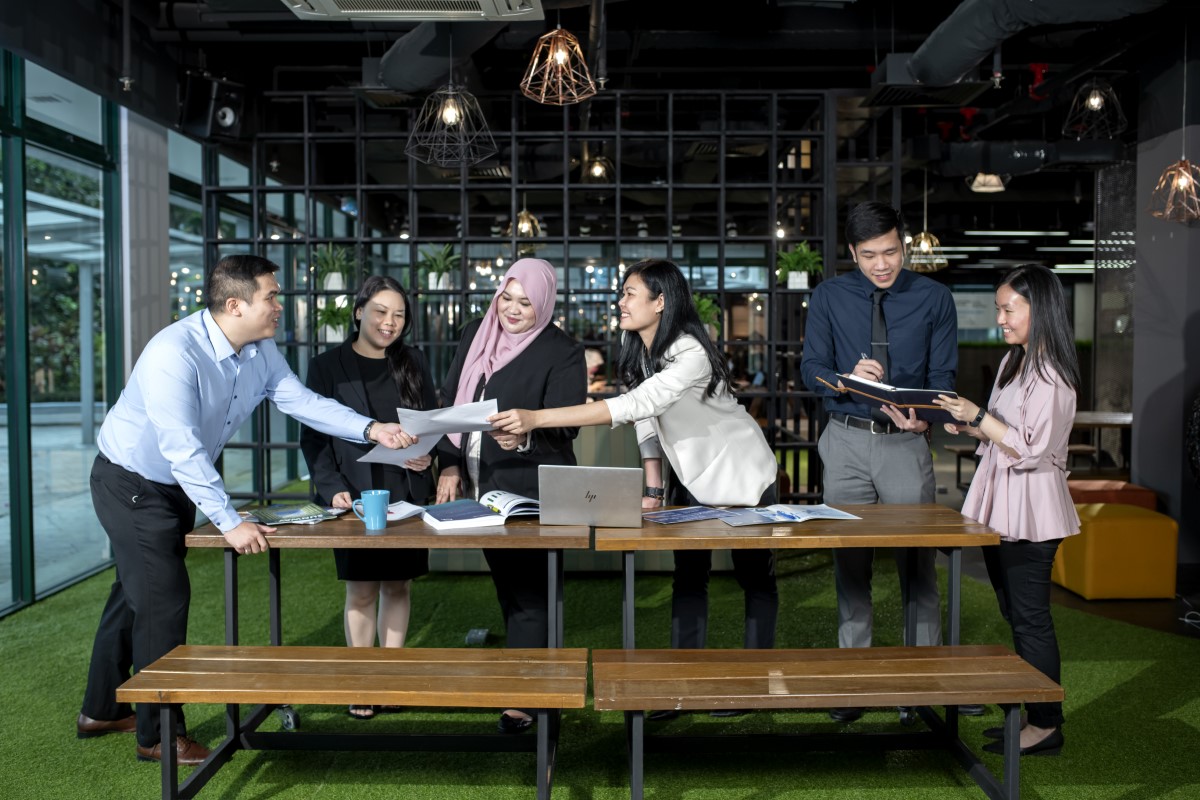 While finances and connections may take a company to the next level, what drives it however, is its people – arguably an organisation's most important asset.
Powered by a 16,000-strong team delivering excellence every day, our people form the backbone of our organisation. From our frontline workers and back-end employees to on-ground staff and senior leaders, it is our imperative to provide a safe, equal and engaging work environment to shape a dynamic and high-performing workforce for all, in line with our integration with Occupational Health, Safety and Environment (OHSE) framework.
In addition to a safe workplace, we also want to engender a nurturing and cultivating environment where our Sunway folk can continuously learn and develop new skills.
We ensure that our commitment to our people extends far beyond fair working hours, equitable wages and equality regardless of race, gender or background, as set out in the UN Guiding Principles on Business and Human Rights and UN Global Impact (UNGC) Principles, of which we have been a signatory since 2012.
On an upper management level, we acknowledge the paradigm shift that is becoming more prevalent, more long-term and, most importantly, more beneficial for companies, society and the world as a whole – the ESG criteria. This acknowledgement puts us ahead of the curve in our adoption of best practices for ESG reporting, driving sustainability efforts through risk management and mitigation in preparation for all eventualities of the corporate world.
Goal 4: Investing in Community Inclusivity
There is a saying that goes, '"When the wind blows, there are those that build walls and there are those that build windmills."
As such, giving back to society has always been a priority of Sunway, providing our communities a hand-up, and never a hand-out. This is more prevalent during challenging times, grounded by our firm belief that no corporation can survive – or thrive – unless it is connected to the community it serves.
The main driver of this Goal is our #SunwayforGood CSR programme – held up by our three pillars, which comprises community enrichment, addressing the priorities of our communities; education, shifting the national narrative through education equity; and healthcare, delivering meaningful impact on the healthcare frontline.
We also empower our people across the organisation to proactively lead the change. To put this into numbers, more than 90% of our employees have registered as CSR volunteers, clocking in more than 30,000 community hours and cultivating a sense of togetherness as we create long-lasting positive impacts to enrich our communities for the long-term.
Along with our partnerships across the board, we strive to achieve profound and lasting change by giving back in ways that align with the unique needs of society, in line with  and towards advancing the 17 United Nations' Sustainable Development Goals (UN-SDGs), as the Group aims to build a sustainable and inclusive future for all.
Goal 5: Respecting Ethical Principles
Whilst doing good for our society is placed as top priority, it is also important that we continuously sharpen the saw.
Holding true to our core values of Integrity, Humility and Excellence, we go above and beyond to encourage our people to drive good corporate governance within the Group, as well as all our business dealings.
We strive to ensure that our people act professionally, ethically and honourably, further driving the point home that we are all in this together as we strive for a better future.
A Better Future for All
These Goals are not dependent or driven by external regulatory factors, or merely for the want of 'enticing' or 'pleasing' the fund managers, nor is it a marketing tool to further bring investors.
While these are indeed bonuses, the five Goals are driven internally by a strong and deep-rooted conviction to not just do the right thing, but to do things right. To be constantly prepared, learning from our partners and competitors as well as other experts in the field such as the UN Sustainable Development Solutions Network, the Jeffrey Sachs Center, and most recently, Sunway Centre for Planetary Health that we are hosting at Sunway University in Sunway City Kuala Lumpur.
Through strategic partnerships and sound leadership, we can all do better by combining our strengths, and this is what the Five Sustainability Goals is all about.
< Previous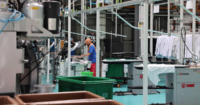 Laundry Plant Turned Green!
Next >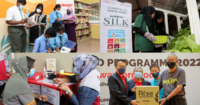 Celebrating the Golden Anniversary by Transforming Lives