Let's Start 'Em Young!
6
-min read
The new seven-acre green-certified Sunway International School (SIS) campus located just 3.5km away from the current SIS campus in Sunway City Kuala Lumpur (SCKL) will officially open its doors in 2023.

With a capacity of up to 3,000 students, SIS will also launch the new Primary School programme at its new campus, with bursaries offered during enrolment.
When Malaysia achieved its independence in 1957, statistics from the Ministry of Education showed that over half the population had no formal schooling, with only six per cent of Malaysian children acquiring secondary level education, and about one per cent post-secondary level.
In 2021, access to education has undergone an incredible transformation, with a shift in Malaysians' education choices from public to international schools.
ISC research data in 2020 shows that the number of international schools has grown by 43% in just six years as more Malaysian families are opting to enrol their children in local international schools. The demographics have seen a drastic change as well with 50 per cent of all international-school students in Malaysia being locals.
The Beginning of a New Legacy
Responding to the demand and increased interest in international schools, Sunway International School (SIS) has recently shared the first preview of its new GreenRE-certified campus at SCKL, which will be able to accommodate 3,000 students.
The school built on a seven-acre land comes with an investment of RM300 million inclusive of land and development costs. It was launched at a virtual ceremony early July attended by the High Commission of Canada in Malaysia acting senior trade commissioner Thomas Abols and International Baccalaureate (IB) regional development & recognition manager (Southeast Asia and Bangladesh) Faizol Musa.
Scheduled to officially open in January 2023, the exclusive preview also marks the commencement of enrolment at the new campus, where primary level programmes in the Canadian (Ontario) curriculum will be offered to Malaysian families for the first time on top of the existing middle to high school and pre-university level programmes.
"Sunway has once again demonstrated the trust and faith that they place in the Canadian education system by launching the new Ontario Grades One to Five programme at their new SIS campus. Sunway International School and Sunway College represent a significant and extremely important educational link in Canada's longstanding and diverse relationship with Malaysia." – High Commission of Canada in Malaysia Acting Senior Trade Commissioner Thomas Abols
Sunway Education Group will also be presenting RM15,000 worth of bursaries for primary school enrolments by June 2022 and RM10,000 by December 2022. Middle to high school and pre-university enrolments by December 2022 will also enjoy RM3,000 bursaries.
Up until July 2021, SIS is the only Canadian and IB School in Malaysia. Selecting only the best, Canadian education has been consistently ranked top in Programme for International Student Assessment (PISA) for more than ten years, making it one of the best globally, surpassing other English-speaking countries. The IB syllabus used in SIS's pre-university level programme has also been recognised as the fastest-growing pre-university programme in the world.
Sunway Education Group CEO Professor Elizabeth Lee believes that with the renowned Canadian syllabus that SIS has to offer, the new campus, which is equipped with cutting-edge facilities, will provide more students with the opportunity to develop holistically with one of the best curricula in the world.
Driving Sustainability Through Education
Addressing climate change, the SIS campus has undergone GreenRE's assessment and acquired the Green Building Certification, allowing it to develop with a lower operating cost and thus reducing the overall carbon impact.
In addition, the new campus is implemented with well-ventilated buildings with good indoor air quality, acoustics and enhanced thermal comfort levels, carefully designed to integrate with the natural environment to enhance a host of other health benefits and boost student performance.
To best support student learning and holistic development, the campus features 74 classrooms, a drama and theatre room, three art rooms, two music rooms, a technology lab, a language lab, seven science labs, and a library extensive enough for more than 600 students.
The primary and secondary schools will have a cafeteria each, while sports facilities on the new campus include a playground spanning 400 square metres in size, a 25-metre swimming pool, a standard size football field and a multipurpose hall that can accommodate up to 2,000 students.
Beyond the classroom and sports facilities, a sick bay manned by trained healthcare professionals will be available during school hours. Sunway City Kuala Lumpur's very own auxiliary police team, trained by the Royal Malaysian Police, will also be on standby as they place the campus and student's safety as top priority.
Education Beyond Grades
Apart from the state-of-the-art facilities, what makes SIS standout among the international schools is its curriculum. Hence, SIS's holistic education aims to equip its students with essential qualities for success in the 21st century, looking to empower its students through academic learning to cultivate their emotional and social development through extra-curricular activities and hands-on educational experiences, as well as cultivating social and emotional growth through community service as part of the Canadian (Ontario) syllabus, nurturing caring individuals who acknowledge their responsibility towards society.
"At SIS, students are provided with over 40 extra-curricular activities that enrich their understanding of teamwork and friendship. School events, such as Sunway National Poetry Slam™ (SNaPS™) and Model United Nations have allowed students to showcase their talents and abilities." – Sunway International School Executive Director and Director of Pre-U Studies, Sunway College Dr Cheng Mien Wee
Unlike other curricula, the Canadian (Ontario) and IB education practises continuous assessment throughout the semester instead of a standardised final exam to evaluate students' achievements. Each student is entitled to equal amounts of opportunity and time to grow to their fullest potential and demonstrate what they have learnt throughout the semester and year.
Not overlooking the importance of the faculty in developing future-ready students, teaching and learning activities at SIS are delivered by qualified teachers licensed by the Ontario College of Teachers (OCT), a professional body that governs and regulates the Ontario teaching profession. Similarly, IB-trained teachers administer and monitor the delivery of the IB Diploma Programme at SIS. Additionally, SIS teachers also take part in continuous professional development and training.
SIS was established in 2008 with only 25 students, it has grown multi-fold to more than 1,000 students today, with two campuses in Sunway City Kuala Lumpur and Sunway City Iskandar Puteri in Johor.
Though the demographic has changed over the years, the school's mission remains consistent – to develop creative, collaborative, intellectually critical, and socially responsible global citizens through quality holistic international education.
This is the start of a new legacy.
< Previous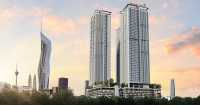 From Blueprint to Application: Sunway Property Collaborates with Sunway University Students to Deliver a Dream Home!
Next >
OHSE: Spotlighting the "S" of ESG