Sparking the Flame of Knowledge at Sunway City Iskandar Puteri
3
-min read
Having been in development the past five years, Sunway City Iskandar Puteri's first ever Chinese national-type school is now open to students within the vicinity.

The school, which can accommodate up to 2,000 students, is part of Sunway's efforts to make quality education accessible to all, providing more Malaysians with better opportunities in line with our aim to build a better nation for all.
Education is one of the major pillars to success, and Sunway is on a mission to making education accessible and inclusive for all. With a strong belief that learning and knowledge holds in one's future, we have launched the first ever Chinese national-type primary school in Sunway City Iskandar Puteri, serving as the foundation to greater heights for up to 2,000 bright young minds in due time.
Opening its doors in May, SJK (C) Cheah Fah aims to accommodate approximately 960 students residing in Iskandar Puteri and Gelang Patah, with the capacity set to double in the coming years. Development of the school – which began five years ago – kickstarted with an initial commitment of RM15 million from Sunway, which was eventually increased to RM18 million.
"Making quality education affordable and accessible is a key pillar of the Jeffrey Cheah Foundation's commitment to nation-building. We are dedicated to building a more progressive, inclusive and sustainable future for all Malaysians," said Tan Sri Sir Jeffrey Cheah, Sunway Group founder and chairman & trustee of Jeffrey Cheah Foundation.
Named after the late father of Sunway Group founder and chairman Tan Sri Sir Jeffrey Cheah, the school is located strategically within the township, with 40% land reserve as green spaces and surrounded by well-known higher learning institutes. Sunway Iskandar International School is also a stone's throw away, opening up avenues for potential collaborations to offer more holistic learning opportunities among students from both schools.
Spanning five acres of land, the school is equipped with the necessary amenities such as two academic blocks, one administration block, a canteen and a multi-purpose hall. Apart from the 24 classrooms, students will also be able to learn through the science labs, computer lab, art room and life skills workshop.
All work and no play makes Jack a dull boy – indoor badminton and basketball courts as well as a football field round up the facilities so the young ones can learn in a conducive environment, in and out of the classroom.
Investing in education
The completion and commencement of SJK (C) Cheah Fah makes it the eighth school to be adopted nationwide under the Jeffrey Cheah Foundation, which is Malaysia's largest education-focused social enterprise. Since its establishment, the Foundation and Sunway have contributed more than RM40 million to the development and enhancement of various public schools nationwide.
In terms of scholarships and grants, the Foundation has awarded more than RM570 million to deserving students to date – with Tan Sri Sir Jeffrey Cheah aiming to increase that number to RM1 billion in his lifetime.
"Education has always been at the core of all that we build in our townships nationwide. We at Sunway City Iskandar Puteri are committed to providing quality offerings to our residents in every aspect of their lives, one of them being proper education from preschool to higher education." – Gerard Soosay, Sunway City Iskandar Puteri chief executive officer.
With the opening of the school, Sunway hopes to benefit the families residing in the surrounding township, where their children will have access to quality education – leading to a sustainable future. We want to ensure no one is left behind in their pursuit of knowledge, so that one day, they can contribute to the nation in their own ways as empowered individuals.
< Previous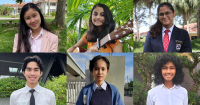 Empowering the Young into Future Thought Leaders
Next >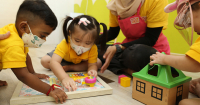 Sunway Spreads a Little Sunshine!