Stamping Out Fear of Needles for the Little Ones
5
-min read
Since phase one of the National COVID-19 Immunisation Programme (NCIP), Sunway has committed some RM60 million to help the country battle the ongoing pandemic, providing the government four vaccination centres spanning close to 200,000 square feet, rent-free.

In support of the nation's continuous efforts to curb the virus, Sunway Medical Centre (SMC) has stepped up once again by making vaccination an enjoyable experience for the little ones.
Knowing the importance of COVID-19 vaccinations for the young ones, SMC is taking an extra step to make it a child-friendly affair to put them at ease. Colourful decoration and balloons along the halls emit a lively and welcoming ambience as Sunway Medical Centre welcomes children and parents for their appointments.
The first 400 children to walk through the doors are given a special care kit comprising children's masks, a hand sanitiser, a pack of plasters and a short message card to encourage and acknowledge the bravery of these children.
"We're excited to welcome children ages five to 11. As a mother myself, I know how unnerving it is for children to be vaccinated. Our team has decorated the space to make it vibrant and fun for the children. We are proud of how they faced their first session and we look forward to seeing them again for their second dose in eight weeks," said Sherry Woo, director of Allied Health and COVID-19 Vaccination Programme lead at SMC.
A warm appearance by SMC's very own mascot, Elfy, along with BellaBot – the hospital's "cat-like employee" who serves at the children's ward, help liven the atmosphere, easing the children's nerves before the vaccination.
Upon completing their shots, the children are given a specially designed vaccination certificate adorned with Elfy stickers to signify their first dose completion.
Why COVID-19 vaccination is necessary and safe for young children at this juncture?
With the rapid increase of Omicron variant infections, more than 580,000 children aged 18 and under in Malaysia have been infected with COVID-19 as of 22 January 2022, with some 270,000 in the five to 11 age group.
In the best interest of our loved ones, the COVID-19 vaccine is necessary to protect and prevent severe symptoms in children, keeping them safe and healthy.
For children under 12, Pfizer has recently published data where more than 2,000 children from five to 11 years old have been vaccinated. The data also shows good efficacy as the body is able to generate the antibody against the COVID virus with no side effects.
The dose given to these children is only 0.1ml – three times lower than the adults' 0.3ml.
Under PICKids, the National COVID-19 Immunisation Programme for children, administration of the COVID-19 vaccine will be done on a voluntary basis and parents or guardians must provide written permissions to qualify their children for the COVID-19 vaccine.
Ayden (nine) and Aleena (11), two of the many who qualified, shared their excitement when asked how they felt the night before the jab.
Ayden, the youngest in his family and the last to be vaccinated, is eager to start going out with his family again as for months, he and his sister had to be extra cautious by being homebound.
"With my children vaccinated, it gives me peace of mind to know that they are now protected. You really never know when and where COVID-19 can be contracted from, so with them being vaccinated, I can rest easier," Ayden and Aleena's father, Mr. Derek Alphonso added.
Committed to Keeping Malaysians Safe
With SMC having administered more than 350,000 doses in 2021 alone, the Group is honoured to be given the opportunity once again to support the COVID-19 vaccination efforts to keep young Malaysians safe, in line with our unswerving commitment towards nation-building.
The plan is for SMC to start with 400 doses weekly for children's vaccination on Thursdays and Fridays, with hopes to increase their capacity subsequently. This is by appointment only via MySejahtera. The COVID-19 vaccine will be administered free-of-charge regardless of citizenship status, where children with comorbidities and under the low immunity group will be prioritised, starting with those within Klang Valley.
Besides COVID-19 vaccination for children, the hospital will continue to administer booster shots for adults and allow walk-ins on Mondays and Tuesdays.
Dr. Seow Vei Ken, medical director cum acting chief executive officer of SMC, is looking forward to welcoming more parents and their children as there are plans to increase SMC's women and children services.
"I believe that we have an exciting time ahead as our hospital expands to another three towers, rolling out many more dedicated first-class services in phases. We will be happy to share more, later on," said Dr. Seow.
< Previous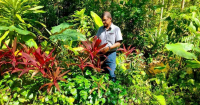 The Green Fingers behind Sunway's Garden
Next >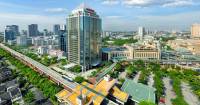 Sunway Sets Carbon Pricing Strategy in Lofty Net Zero Targets