Stubbing It Out for Good
4
-min read
Latest findings from the National Health and Morbidity Survey (NHMS) have shed light on the changing tobacco consumption patterns among Malaysian teenagers aged 13 to 17. The survey indicates a significant increase in the use of electronic cigarettes among this demographic, while the prevalence of cigarette smoking has shown a decline.
According to the NHMS Adolescent Health Survey 2022, the use of electronic cigarettes among teenagers has risen from 9.8 per cent in 2017 to 14.9 per cent in 2021, demonstrating a significant hike within a span of five years.
The NHMS Survey 2019 showed that there were 1.1 million electronic cigarette users, with the highest prevalence among those aged between 20 and 24.
The rate of cigarette use among the same demographic had decreased from 13.8 per cent in 2017 to 6.2 per cent in 2022. These statistics reflect a changing landscape in tobacco consumption among Malaysian teenagers.
The Ministry of Health describes the growing popularity of electronic cigarettes and vape devices as a "public health threat".
Despite regulations to prohibit the sale of cigarettes and other tobacco products to those under 18, electronic cigarettes and vape devices are still legally accessible to anyone, including minors.
This comes after the federal government exempted nicotine as a controlled substance under the Poisons Act 1952 in early 2023, as part of Putrajaya's efforts to impose taxes on the vape industry.
The removal of nicotine from the Act – which regulates the importation, possession, manufacture, compounding, storage, transport, sale, and use of poisons – legalises the sale of vape and electronic cigarettes with nicotine to minors, giving children unregulated access to vape products.
This legal loophole has ignited mixed responses and debates, with the vape industry applauding it as a critical step towards regulation, whereas healthcare organisations vehemently opposed the move, citing potential risks to public health as it could potentially raise a new generation of nicotine addicts.
ADDRESSING LOOPHOLES AND CONCERNS
Lawmakers are now facing an urgent need to pass the Control of Smoking Products for Public Health Bill 2022 to address the legal vacuum, as the protective legal barrier against minors accessing nicotine products has been lifted.
The proposed Bill introduces the well-known Generational End Game (GEG) policy, which would prohibit all tobacco products as well as vape products for individuals born after January 1, 2007, focusing on the younger generation of Malaysia. Until then, vape remains unregulated, unrestricted and open to everyone including adolescents under the age of 18.
The GEG model draws inspiration from New Zealand's legislation that was passed last December which effectively bans the sale of tobacco to anyone born from 2009. Their goal is to make the country "smoke-free" by 2025. The legislation, however, does not restrict vape sales, unlike the Malaysian government's version of the GEG policy.
VAPE LESS HARMFUL THAN CIGARETTES, BUT STILL NOT RISK-FREE
Independent reports commissioned by UK authorities concluded that vaping carries "a small fraction of the risks of smoking" in the short and medium terms. The reports also emphasise that vaping has its risks, especially for individuals who have never smoked before.
Recognising the potential health risks they pose, a clinical practice guideline on the management of electronic cigarette or vaping product use-associated lung injury (EVALI) was published by the Malaysian Health Ministry in 2021. The guideline aids medical practitioners in identifying early EVALI symptoms and recommending appropriate treatment.
According to the ministry, there are 38 electronic cigarette-related cases as of May 2023, of which 18 of them were related to EVALI since 2022. The ministry added that it would cost approximately RM150,000 to treat a patient diagnosed with EVALI over a period of 12 days.
SUNWAY, CHAMPIONING THE RIGHT TO CLEAN AIR
As the government strives towards a smoke-free country, Sunway has taken a proactive stance in line with the National Strategic Plan for the Control of Tobacco and Smoking Products.
Sunway, under the leadership of Tan Sri Sir Jeffrey Cheah, has been a longstanding advocate of smoke-free initiatives.  A stalwart advocate of "World No Tobacco Day", a no-smoking policy has been implemented across Sunway cities nationwide. Sunway's auxiliary police are also empowered to enforce the no-smoking policy within the townships.
Additionally, Sunway Medical Centre launched its smoking cessation programme in 2015, further demonstrating its commitment to supporting individuals in their journey to quit tobacco use.
With a focus on fostering a cleaner and healthier environment, Sunway actively promotes smoke-free policies that aim to bring a breath of fresh air – quite literally – to our communities nationwide.
< Previous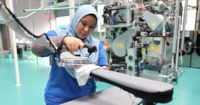 Clean Clothes, Cleaner Planet
Next >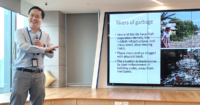 One Man's Quest to Fight Climate Change by Saving Coral Reefs