Sunway Lagoon's Pinky gets an Upcycled Floating Island as her Home!
4
-min read
Sunway aims to redefine comfortable living whilst incorporating the United Nations Sustainable Development Goals… for our furry friends at least.

Sunway Lagoon visitors can enjoy fun activities that simultaneously promotes sustainability in this new attraction.
Sunway Lagoon has constructed a home on a man-made island named Gibbon Island – Upcycled Floating Island for its newest animal companion – Pinky. In our efforts to make Sunway City Kuala Lumpur a sustainable home, we wanted to have one in our own backyard!
The island was constructed using recycled waste such as styrofoam pieces, plastic bottles and chlorine drums. Thus, her new home is aligned with the Sustainable Development Goals (SDG), specifically Goal 15: Life on Land – to protect, restore and promote sustainable use of terrestrial ecosystems.
Sunway Lagoon's latest attraction, Gibbon Island – Upcycled Floating Island is the result of a 14-month experiment led by a team of eight talented in-house staff costing RM150,000, following a collection of wastes weighing more than 300 kilogrammes. Its unique floating feature requires the park's zookeepers to travel by boat to tend to the gibbon.
Pinky is Sunway Lagoon's white-handed gibbon princess, and she is the recipient of this new home on a man-made island, built on the foundation of sustainability.
Pinky comes from a species known as the lar gibbon (Hylobates lar), which is an endangered primate in the gibbon family, Hylobatidae. The fur colouring of the gibbon varies from black and dark-brown to light-brown, sandy colours. The hands and feet are white colour, likewise a ring of white hair surrounds the black face. Pinky was then moved to from her enclosure in Sunway Lagoon's Wildlife Park, to a brand new home on a floating island.
This Upcycled Floating Island contains everything she could ever want; connected swinging ropes and raised platforms to play around surrounded by lush green foliage and grass for just chilling and relaxing.
As said by Magendaran Marimuthu, Assistant General Manager of Sunway Lagoon, "A small act of kindness and compassion towards a single animal may not mean anything to all creatures, but will mean everything to one. It is Sunway's culture to love and be kind to one another including our furry friends." said Magendaran Marimuthu, Assistant General Manager of Sunway Lagoon
Off-FISH-ially inhabitable!
Sunway Lagoon's lake was initially classified as "mesotrophic", meaning that it has a strong concentration of nutrients, such as phosphates, nitrates and other chemicals. This overload of nutrients fuel explosive weed growth and harmful algal blooms, making it more vulnerable to stress and higher risk of being polluted, in addition to being uninhabitable for fishes.
However, all these have changed! Our lake has been rehabilitated and is now inhabitable, thanks to an innovative diffuser technology that adds compressed air into the bottom of the lake followed by dosing of beneficial bacteria and enzymes.
This has allowed a small ecosystem to flourish in our lake! It is now home to schools of colourful freshwater fish such as Malaysian Red Mahseer (kelah merah), Jawa Barb (lampam jawa), Rohu, Bala Shark (ikan hias tutung), Sultan Fish (jelawat), Giant Gourami (ikan kaloi), Arapaima, Bighead Carp and Tinfoil Barb (lampam – ikan hias). And by doing so, Sunway Lagoon fulfils SDG Goal 14 – to cultivate life below water.
Have fun feeding them while they swim gleefully around you!
Oh Ship, It's a Boat Trip!
Want to get a closer view of Pinky in her new home?
Visitors can enjoy a relaxing pontoon boat that encircles the historic lake, giving you a 360-degree view of Sunway City Kuala Lumpur, before they get to see Pinky!
You may just be able to catch Pinky playfully swinging around or happily eating her fruits… or both!
Pinky's Gibbon Island – Upcycled Floating Island is a must-see attraction the next time you visit Sunway Lagoon. Make sure to say "hi" to Pinky as well as take part in going green to save the Earth.
< Previous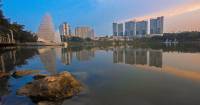 Wat-er Time to be Alive!
Next >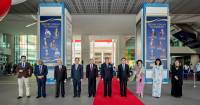 Billion-ringgit Boost for Nation Building with Endowment Fund Plans