Why Millennials Should Care about ESG
4
-min read
With the growing emphasis on ESG, younger generations are increasingly aware of social and environmental issues as well as the impact they bring to our future and lives.
Across Sunway and our various business divisions, we have among our ranks a host of young and bright executives who are embarking their journey into the working world. This is why we continuously inculcate and communicate the practice of sustainability and ESG, as it is the younger professionals and executives who will play a significant role in shaping a better future for any organisation, the nation, and hopefully, the world.
Remaining committed to advancing the 17 United Nations Sustainable Development Goals (UN-SDGs) through the alignment of our Environmental, Social and Governance (ESG) targets, we believe our people especially the younger millennials to be the driving forces of a sustainable future.
My Sustainability Journey with Sunway
I have always been interested in the sustainability agenda. However, in Malaysia it is quite rare to find career opportunities in sustainability. Which is why, I was thrilled to be part of the Sunway Group Sustainability Department (GSD).
In January 2020, when I first kick-started my career here in Sunway, I was impressed by how Sunway truly upholds the values of sustainability in their vision and mission. There were many impactful UN-SDG posters with facts and information within the office premises to educate staff about sustainable development. Desktop backgrounds are refreshed monthly with informative facts about the 17 UN-SDGs.
There were also short learning modules on UN-SDGs developed by GSD in collaboration with Sunway Group Human Resources Department (GHR). Employees are able to attend these modules on sustainability at their own pace and self-assess their level of understanding, which also contributes to the learning and development hours of Sunway employees. Continuous learning is strongly inculcated among all staff at Sunway.
Being in Sunway where sustainable development and ESG are at the core of the organisation brings me a sense of contentment as I now get to contribute to the solutions. I also facilitate and support Sunway's business divisions to adopt and advance the sustainability agenda in their industries towards achieving carbon neutrality.
Communicating ESG to our People
Together with my GSD team mates, Ng Poh Li and Claudia Cheah, along with the guidance of Jacqueline Wong, we constantly work to elevate our sustainability communication and engagement efforts. We had our fair share of challenges including not being able to reach out to the non-executives as they do not have access to training platforms in addition to language barriers.
As a sustainability practitioner, ESG is no longer alien to us. However, we have to approach it from a layman standpoint. With that in mind, we decided to organise a series of in-house workshop sessions to introduce, educate and delve into the three pillars of ESG.
Through the workshops, we communicate the Group's goals and targets on ESG and how everyone can play a vital role to collectively drive towards these targets as an organisation. The workshops also help participants understand the correlation between ESG and UN-SDGs, a range of global issues and their impact on the environment and humankind, as well as our responsibilities as an employee to foster a safe workplace and uphold ethical business practices. Most importantly, we ensure that all participants have a fun learning experience and encourage a two-way interaction in the workshops.
The COVID-19 pandemic required the team to continue with virtual workshop sessions and activities to ensure uninterrupted participation among all staff. We utilised exciting interactive virtual platforms to increase the engagement with participants. To overcome the language barrier, training materials and sessions were made available in both English and Malay.
We soon rolled out the pilot virtual workshop entitled "Introduction to ESG" with a total of 40 participants for each session. The workshop received great feedback from our participants – they were happy and excited to have learned about sustainability were able to relate on how their small actions such as reducing their carbon footprint could collectively bring a big change to the world.
Due to the encouraging feedback from the pilot workshop sessions, we continued to roll out these sessions to other Sunway business divisions and all employees. In order to reach out to Sunway's 13 business divisions and 16,000 employees, GSD is once again teaming with GHR to conduct Train-the-Trainers session where representatives from respective business division will be trained to conduct similar workshops.
Being in Sunway has given me the opportunity to interact and connect with team members from various business divisions and share perspectives on ESG, despite being a young executive. I am happy to play a role in the embodiment of ESG culture in Sunway because I believe our people are our greatest asset. It is fulfilling for me to see that all the business divisions are increasingly incorporating ESG in their business strategies – not because it's a fad – but because we want to do the right thing. I look forward to the younger generation taking the lead to empower the sustainability agenda because our voices matter and we are the future leaders of the generation.
< Previous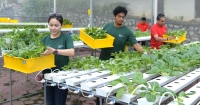 Food Insecurity Plants Seeds for New Hobby
Next >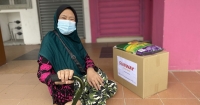 Sunway Commits National Day Advertising Funds to Help B40 Community