Sunway's De'light'ful Deepavali Cheer
4
-min read
Joining hands with the Malaysian Red Crescent Society and Yayasan Raja Zarith Sofiah, Sunway makes sweet memories with children from four homes in Johor on a day out to celebrate Deepavali.

This initiative is part of the #SunwayforGood umbrella, aiming to positively impact millions of beneficiaries across the country, leading up to our 50th anniversary in 2024.
Happiness is best enjoyed when it is shared with one another.
We decided to do just that for this year's #SunwayforGood Deepavali Cheer initiative with the help of our young friends in Johor!
It was a day of fun for some 140 children from four orphanages in the Southern region, chaperoned by our Sunway volunteers who took their weekend off to spend time with them through a wide range of activities at Sunway Big Box Retail Park.
Supported by Sunway Big Box Retail Park, the children were treated to a shopping session at Sports Direct as well as a special movie screening at GSC. The children were also entertained with a round of games and topped off with a delicious lunch at the Sunway City Iskandar Puteri Events Gallery.
Much to the delight of the children, each was given a goodie bag containing multivitamins from Sunway Pharmacy, Deepavali cookies, GSC vouchers as well as books from BookXcess.
Present at the event were Gerard Soosay, chief executive officer of Sunway City Iskandar Puteri and Dato' Hj. Mohd Rashidi bin Hj Mohd Noor, deputy chairman of the Malaysian Red Crescent National Committee for Community Services alongside other township stakeholders who came to show their support.
"As we resume normalcy in this endemic stage, Deepavali and other festive celebrations are finally back in full swing, reflecting the spirit of merriment, familiarity and reunions. For underserved communities, these times can often be lonely as daily struggles persist. This is not to say that generosity should only be shown in these seasons, however perhaps our contributions can in a small way bring about joy despite moments of strife.

That is why our Group has partnered with the Malaysian Red Crescent Society and the Yayasan Raja Zarith Sofiah, to shed light and brighten the faces of our anak-anak Johor. We also want to extend our appreciation to our sponsors who believe in our Cheer initiatives, and have gone the extra mile to put smiles on the faces of these children," said Gerard Soosay, chief executive officer of Sunway City Iskandar Puteri.
The support for the community does not end here, as Sunway will provide the same for these children's homes with groceries until December 2022 as part of the #SunwayforGood Deepavali Cheer initiative.
As part of our #SunwayforGood umbrella that pledges to promote sustainability and social responsibility initiatives through the areas of education, healthcare and community enrichment, our effort to brighten the lives of our communities are in line with our commitment to the UN-SDGs, in addition to our pledge to achieve net zero emissions by 2050.
Since its inception, we have reached out to more than half a million beneficiaries and intend to positively impact millions more in the lead up to our 50-year milestone in 2024.
Let Light Lead the Way
Our Deepavali video celebrates the triumph of knowledge over ignorance through the eyes of young Kishen, who discovers that something as simple as disposing cooking oil responsibly, can make a difference.
Catch the video here!
Happy Deepavali to all celebrating from all of us at Sunway!
< Previous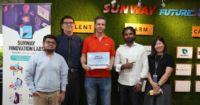 Innovative Energy Solutions Trump At Sunway's Make It Challenge Hackathon
Next >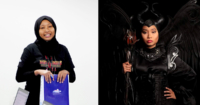 Behind the Scenes of A Spooky Business