300 orphans and stateless children flock to Sunway Pyramid for Raya shopping spree
Each kid brought home a pair of baju raya of their own choice (and some toys!).
3
-min read
While it's only usual for kids to celebrate Hari Raya with new clothing, there are orphans and stateless children who do not have the luxury to expect the same.

To bring Raya cheer to these children, Sunway Group took them out for Raya shopping and buka puasa with DYTM Raja Muda Selangor.
There is nothing quite like seeing the kids having a great time throughout the cheerful evening!
It was a joyful evening for Aini and her friends from four orphanage homes in Klang Valley and Sekolah Jalinan Bimbingan Kasih, a school set-up for stateless children by the Ministry of Education, as they flocked to Sunway Pyramid hand-in-hand with their respective 'guardians' to shop for baju Raya.
The children, who were selected by our partners, Selangor Youth Community (SAY) and Yayasan Islam Darul Ehsan, are from Pertubuhan Pendidikan Anak-Anak Yatim Selangor, Rumah Kebajikan Raudhatul Al-Faeez, Pertubuhan Kebajikan Anak Yatim Darul Ehsan Malaysia, Pusat Jagaan Pertubuhan Kebajikan Ehsan Ash-Shakur and Sekolah Jalinan Bimbingan Kasih.
The volunteers, 220 in total, are from Sunway Group, SAY, and the Football Association of Selangor (Selangor FA).
After a fruitful two-hour shopping, the kids were then led to Sunway Resort Hotel, where another treat awaited them.
To add further joy, World Pastry Cup 2019 champion, Chef Patrick Siau and his team from Sunway University Culinary School hosted a Food Heroes game session to educate the children on practical ways to reduce food waste and consume food in a sustainable manner as well as teaching them how to decorate cupcakes.
There was also balloon sculpting by a clown, giving the kids a whale of a time!
The children were then treated to a scrumptious Ramadan buffet spread at Sunway Resort Hotel with SAY founder and royal patron, DYTM Raja Muda Selangor, Tengku Amir Shah Ibni Sultan Sharafuddin Idris Shah Alhaj who was the evening's guest of honour. 
The beautiful evening wrapped up with a duit raya handing out session on stage. Each child also received a prayer mat and cookies.
< Previous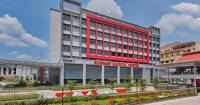 Sunway Berhad's PATMI Surges 13.8% in First Quarter
Next >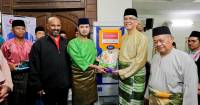 Sunway Group becomes first Malaysian corporation to install 'ATM Beras' to aid the needy