A Greater International Retail Experience
Sunway Carnival Mall invests RM500mil on expansion and refurbishment
2
-min read
Sunway Carnival Mall is set to double its retail space and refurbish its facilities with its expansion plans to cater to international retailers.
Following its 10th anniversary last year, Sunway Carnival Mall will be doubling its retail space and refurbishing its facilities to meet the growing demand of retail space from international retailers.
With the mall approaching almost full occupancy, the expansion phase will increase its gross floor area from 780,000 sq ft to 1.45mil sq ft, adding another 330,000 sq ft of new net lettable area (NLA) to the existing 50,000 sq ft, bringing it to a total of 830,000 sq ft in NLA in 2020.
The expansion will also increase the number of shops from 220 to 450 across both wings of the mall, as well as enlarging the car park capacity from 1,100 lots to more than 3,000 bays.
Expansion plans also include a total revamp of architecture to feature a bold neo-futuristic façade and a new atrium with a barrel vault roof. To reflect the modern-day family's needs, the expansion will also put in place family-friendly facilities and amenities such as children's play area, baby rooms, private nursing rooms, child-friendly basins and diaper changing stations at all restrooms.
Following the completion of the expansion phase in 2020, Sunway Carnival Mall will then embark on a refurbishment exercise for the old wing to ensure uniformity in design and theme across the entire mall.
Over the next decade, Sunway Group will also be investing into developing Sunway Medical Centre in Seberang Jaya and a tertiary educational institution in the island state.
Launched in 2007, Sunway Carnival Mall is one of Sunway Malls' five retail assets and the Group's only mall outside of Klang Valley, attracting some eight million visits annually.
FREE SHUTTLE SERVICES will be provided for shoppers on weekends and public holidays from 10.00am to 10.30pm during the expansion phase.
Shoppers can also opt for promotional rides up to RM5 per ride with Uber and GrabCar using Sunway Carnival Mall promo codes.
< Previous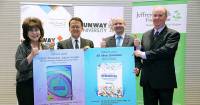 Democratising Access To Knowledge
Next >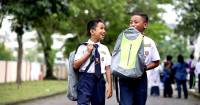 Equipped For Success

Warning: sort() expects parameter 1 to be array, bool given in /home/swysunway/public_html/stories/wp-content/themes/Avada/single.php on line 555

This article first appeared in Berita Sunway Issue 62