"Education is the most powerful weapon which you can use to change the world" – Nelson Mandela
4
-min read
Two Sunway Group leaders took part in Teach for Malaysia (TFM) Week.

TFM Week aims to raise awareness on the importance of education in grooming the next generation.
Nelson Mandela is one man, with a revolutionary mindset that brought a huge change to South Africa. There are many things people remember him for, but his ideology on education is something that was burned to the back of our heads.
Education is the passport to the future, and nobody understands this better than Sunway. In fact, it is a widely known fact that the founder himself, Tan Sri Jeffrey Cheah AO is a strong advocate on education. His passion with education has been growing strong since the inception of Jeffrey Cheah Foundation (JCF) in 2007. The guiding principle of the Foundation is to enable affordable and accessible quality education to all deserving students.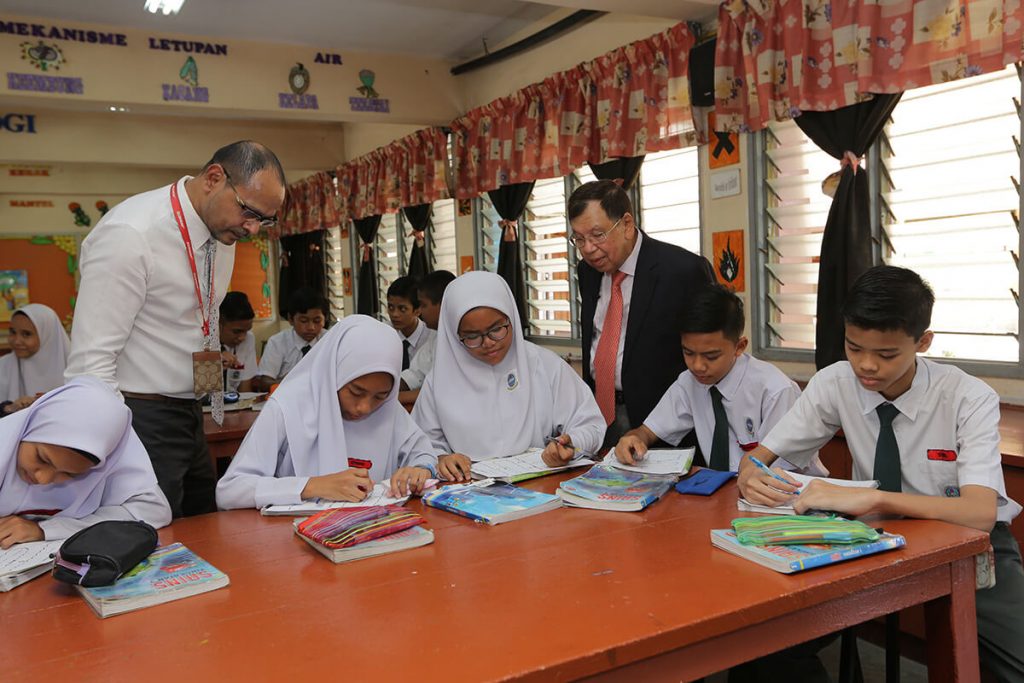 In fact, Tan Sri Cheah and Tan Sri Razman M. Hashim, Deputy Chairman of Sunway and Trustee of JCF took it upon themselves to be part of Teach for Malaysia (TFM) Week by taking on the role of a teacher for a day.
TFM is an independent, not-for-profit organisation that enlists Malaysia's most promising future leaders in their mission to end education inequity. The Fellows or teachers of TFM will teach for two years in high-need schools across Malaysia. They work hand in hand with other educators, the community and private sectors, to impact and improve lives of those within the classroom and beyond.
TFM Week is one of TFM's most significant events where key influencers, including corporate figures, celebrities and members of the civil service spend time as "teachers" themselves for a day, co-teaching a lesson in school with a TFM Fellow.
As corporate leaders, both Tan Sri Cheah and Tan Sri Razman share a similar belief that education is crucial to enhance lives, especially when the right education is received from young. As teachers, they want to inspire, inculcate the desire to learn among students and encourage curiosity.
Tan Sri Cheah took on the role of a teacher for a day to teach Sekolah Menengah Kebangsaan (SMK) Kepong Form 1 students. In a half-day session, he shared with the students his life experiences in transforming Sunway City from a mining wasteland into a thriving township, as well as his passion for education.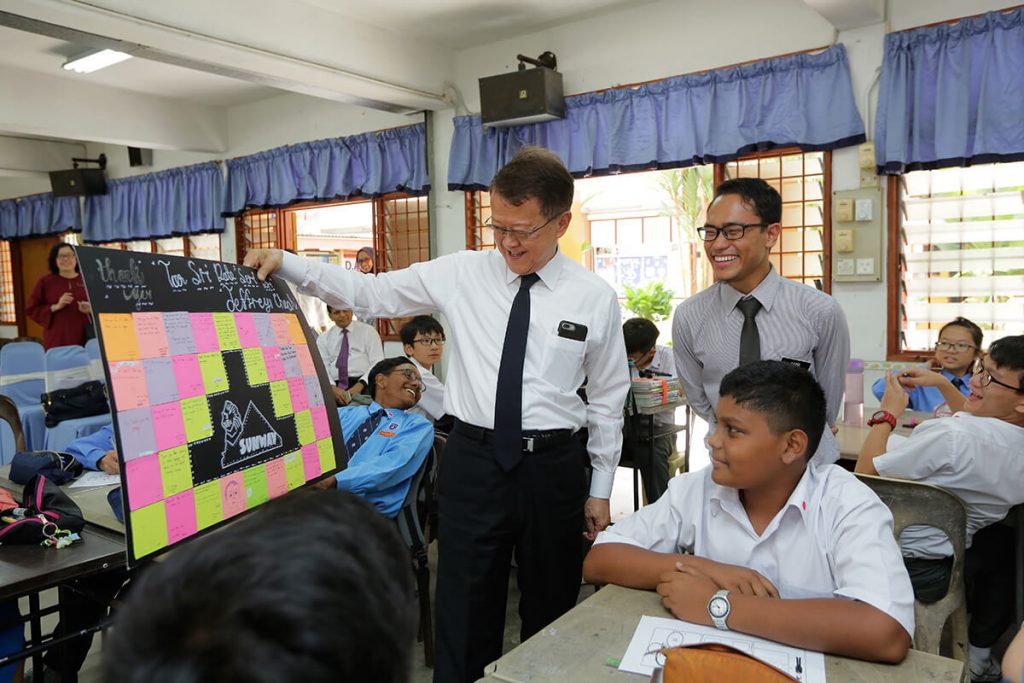 Growing up in the former mining town of Pusing in Perak, Tan Sri Cheah witnessed first-hand the impact of poverty on families, and came to a strong belief that education provided the optimum route to a better life.
Aside from sharing his personal experiences with the students, he also advised, "Education brings out the best in people. I am lucky enough to have the chance to pursue my education and to my best ability I want all of you to also have access to good education. Your young minds are able to absorb and pick up knowledge very well. The right values of integrity and humility can help you realise your full potential in becoming the leaders of our nation and global citizens contributing to society."
The Principal of SMK Kepong, Dr Sarojini Devi Algarenam, said that the teachers and students were very inspired and impressed by Tan Sri Cheah's passion for education.
"I am very thankful that TFM Week was held at our school. The sharing session is something that our students need. Many of the children here come from economically-challenged backgrounds and I believe that meeting a great icon like Tan Sri will be able to give them hope and inspiration that nothing is impossible," she said.
Ng Xin Jie, 13, who aspires to be a musician when she grows up said, "I really enjoyed the lesson with Tan Sri Cheah today and I am very glad to have this rare opportunity to be taught by him. I have learned many things from him and the most important lesson of all is though we may not be perfect, we can still achieve great success through perseverance and hard work."
In the same week, Tan Sri Razman also taught Form 1 students in SMK Puchong Perdana. He shared about his experience studying in a boarding school in Australia at the tender age of 15. That experience allowed him to learn and master the English language despite not being very well versed at it initially.
Tan Sri Razman stressed the importance of learning the English language to the students and that it is never too late to start now, because it has become the lingua franca or common language of communication with people around the world.
Jeffrey Cheah Foundation working hand in hand with Teach For Malaysia
In Malaysia, more than two-thirds of students in the majority of under-performing schools come from challenging socioeconomic backgrounds.
Almost half of 15-year-old Malaysian students do not meet minimum proficiency levels in reading and one in five in Malaysian students do not complete secondary school.
Aiming to provide quality education to deserving students, JCF pledged another RM 150,000 to TFM, bringing the JCF's contribution to a total of RM 600,000 since the partnership started in 2012.
JCF has also supported Closing the Gap, an independent organisation powered by TFM aimed at helping underprivileged children from disadvantaged families gain access to quality higher education through mentoring programmes.
Sunway Education Group has also pledged RM1 million in scholarships to deserving students nurtured by TFM, to reduce the post-secondary gap and create opportunities for underprivileged students to pursue quality tertiary education. The donation has also helped TFM advance its mission in reducing the gap between rural and urban schools.
< Previous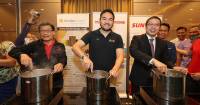 Repurposing to Make a Difference
Next >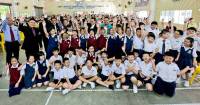 永续发展改善生活品质