GIC-Sunway Partnership to Elevate Healthcare Services in the Region
4
-min read
An affiliate of Singapore's sovereign wealth fund GIC Private Limited (GIC) finalised a deal with Sunway Berhad to acquire a strategic stake in its healthcare arm Sunway Healthcare Group for RM750 million.

The transaction will give GIC a 16% stake (on a fully converted basis) in Sunway Healthcare Group, and values the healthcare division at approximately RM4.69 billion, catapulting Sunway Healthcare Group to the forefront of the region's healthcare industry
The agreement between Sunway and GIC arrived on a willing-buyer-willing-seller basis after a thorough assessment of proposals from various domestic and international investment funds, sovereign wealth funds, and private equity firms. 
The overwhelming interest of domestic and international investors is seen as a vote of confidence towards Sunway Healthcare Group's high quality and consistent work in the healthcare industry, which has witnessed rapid progress in recent years. 
"After a thorough assessment process, I am delighted to announce the partnership with GIC, a seasoned global healthcare investor. I am confident that the Sunway-GIC partnership will further enhance the value of Sunway Healthcare and that together we can realise the full potential of our healthcare business," said Tan Sri Sir Jeffrey Cheah
 The RM750 million investment from GIC will be utilised to partially fund Sunway Healthcare's expansion plans. This will position Sunway Healthcare Group as a leading integrated private healthcare provider group with hospitals and ancillary healthcare businesses in Malaysia and Singapore. 
Strategic Partnership 

in

 Preparation 

for

 Post-Pandemic
The global prevalence of COVID-19 coupled with its variants is a significant threat to society, and has resulted in medical frontline workers suffering from burnout. With many infected or forced into quarantine, this further underscores the need to strengthen our healthcare system to face future healthcare challenges.  
With the surge in demand for accessible healthcare and primary health services, there is an urgency for healthcare systems to be more resilient, equipped with digital facilities to support and nurture the community who needs it. On the flip side, an aging population as well as greater prevalence of chronic diseases have pushed our healthcare system to grow and adapt more than ever.  
Hence, it is imperative that we apply the hard-won lessons of COVID-19 and other diseases into our strategies to mitigate future pandemics and take our healthcare system to the next level. 
Malaysia generated RM1.7 billion through medical tourism in 2019, according to the Malaysia Healthcare Travel Council. 
Despite the considerable uncertainty about when COVID-19-related travel restrictions will ease and when international travel will resume, recovery is on its way as the country works towards vaccinating as many Malaysians as possible through the National COVID-19 Immunisation Programme (NCIP). 
Expansion 

i

n 

th

e

Pipeline
With Malaysia in the lead as a popular medical tourism destination, Sunway continues to be one of Malaysia's best healthcare providers in the competitive arena of medical tourism, with Sunway Medical Centre ranking first in "Medical Tourism Hospital of the Year in Asia Pacific" by Global Heath & Travel magazine and was awarded Malaysia's "Smart Hospital Company of the Year" by the prestigious Frost and Sullivan Asia-Pacific Best Practices Awards 2021. 
Furthermore, Sunway Medical Centre Velocity, Kuala Lumpur was also recognised at the Healthcare Asia Awards 2021, winning three awards in the categories of "Smart Hospital Initiative of the Year", "Health Promotion Initiative of the Year", and "ICT Initiative of the Year". 
Currently, the Group's healthcare division comprises two tertiary hospitals with a combined capacity of 800 beds and more than 400 consultant specialists, which will see an expansion to approximately 3,000 beds in the next few years. 
The long-term expansion plan covers Sunway's existing flagship hospital in Sunway City Kuala Lumpur (SCKL) and Sunway Medical Centre Velocity, Kuala Lumpur, as well as developing new hospitals across five states, namely Penang, Selangor, Perak, Kelantan, and Johor. 
Hospitals have been the cornerstone of the existing pandemic landscape. Still, there are demands to ameliorate several supporting areas of healthcare to bridge the gap between health and social care systems. 
In numerous countries, a high proportion of COVID-19-related deaths took place in elderly care homes or occurred among those receiving care at home. The elderlies are also more vulnerable to the disease partly due to the level of funds and staff care available to meet their needs.  
To address this concern, Sunway Healthcare will launch Sunway Sanctuary Suites in 2022, a senior and independent living complex, located right next to Sunway Medical Centre in SCKL. Anchoring on the retirees' fundamental needs, Sunway Sanctuary takes care of the different facets of senior living through the three dimensions of wellness nestled in a luxurious environment. Its world-class hospitality services amidst premium facilities, and social interaction through recreational activities as well as healthcare support allow seniors to retire and age well with like-minded people. 
Sunway Healthcare also operates ancillary healthcare businesses and will continue investing in related businesses such as home healthcare, senior living residences, and telemedicine.
On top driving Sunway's expansion plans, Sunway Healthcare Group's managing director Mr. Lau Beng Long hopes this partnership will enable Sunway to leverage GIC's expertise and bring Malaysia's healthcare system to greater heights. 
"The participation of GIC augurs well to support the expansion of our existing hospitals and the setting up of new hospitals and ancillary healthcare businesses across the country. We look forward to tapping and learning from GIC's regional healthcare knowledge and experience to further elevate our healthcare services in Malaysia." – Mr. Lau Beng Long 
< Previous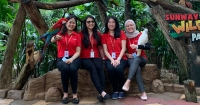 The Inner Workings of ESG at Sunway
Next >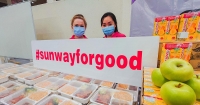 Celebrating Unsung Heroes Volunteering at PPVs Nationwide