Have You Ever Dreamt of Changing a City?
6
-min read
Sunway iLabs held its first ever Sunway Future Cities Challenge (FCC) 2021. A challenge was issued to all Sunway employees and students to pitch innovative ideas to transform Sunway cities.
Sunway iLabs, through the launch of Sunway Idea Dropbox and its subsequent programme – Sunway Future Cities Challenge, aims to revolutionise Sunway cities by encouraging our own people – be it students from Sunway University or Sunway staff across our various business divisions – to contribute ideas and build innovative solutions for smarter, healthier and more sustainable Sunway cities.
Sunway FCC challenges our people to reimagine the future of Sunway Cities through the lens of three verticals — food & agritech, health & wellbeing, and smart cities.
Amid the myriad ideas that have been proposed, six ideas emerged top and have been featured on the Sunway FCC Demo Day pitch! The panel of judges comprised Matt van Leeuwen, Sunway Group chief innovation officer; Loo Hoey Theen, general manager of marketing and deputy head of business innovation at Sunway Malls; and Clayton J.C. Tan, senior general manager of organisational development at Sunway Group Human Resources.
Only three can walk away with prizes including seed funding of up to RM3,000, one-to-one mentorship with Innovation Leaders, comprehensive workshops, and project resources to bring their ideas to life.
Who are they? Let's meet the winners!
The Winners
First place: Interactive tactile pavers (Phua Chu Yun)
Bagging first prize is none other than Ms. Phua Chu Yun, a lecturer from Sunway College Ipoh. Having a fervent desire to champion urban sustainability and inclusive design ever since her university days, she noticed that it would take a while for our public infrastructure to be highly efficient and make our cities fully accessible, as well as support community participation, especially the disabled.
"I wanted to ideate an initiative that would improve inclusivity and connectivity of our local-built environment, which will give the public some insights into social model of disability at the same time," said Ms. Phua.
Thus, her idea of an interactive tactile paver is one that strikes close to her heart. The paver aims to assist visually-impaired pedestrians through a system of textured ground surface, while innovating it further via integration of a lighting feature to enhance the accessibility and legibility of the street among users with visibility issue, serving people with acquired visual impairment face additional challenges in the sense of touch, especially where colour contrast tiles are barely visible at night.
Ms. Phua first got to know about the Future Cities Challenge through an advertisement. When she read the line, "stand a chance to turn your idea into our reality,", she realised it was an opportune time to submit her entry.
"Joining and winning the Demo Day were certainly unexpected as I knew the competition would be highly competitive. Thus, I am grateful for my accomplishments, and I am also looking forward to developing the proposed idea into a physical design," exclaimed Ms. Phua.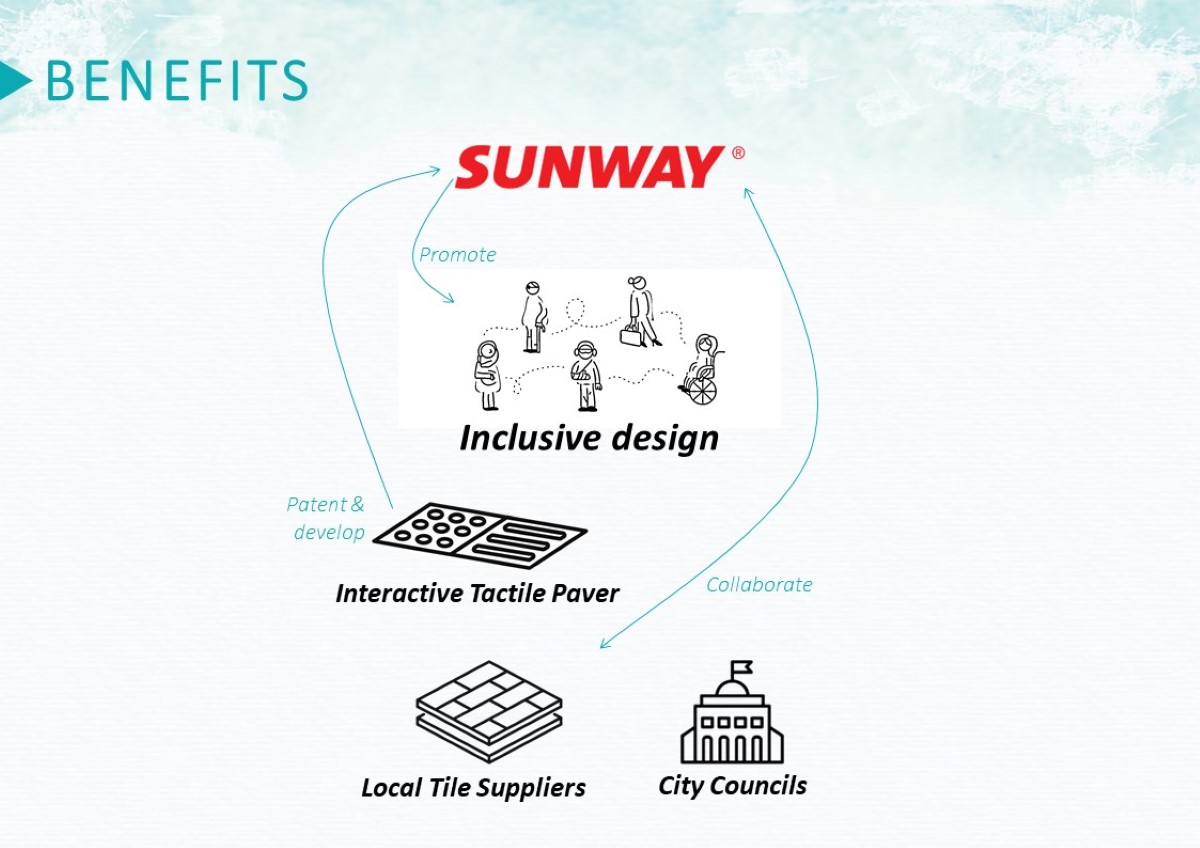 Ms. Phua's idea aligns itself closely with the United Nations Sustainable Development Goals (UN-SDGs) to make cities more inclusive and safer by highlighting mobility issues experienced by people with visual impairments in public spaces especially at night. In addition, energy efficient features such as solar powered lighting and motion sensors have also been integrated in the design to make the tactile paver more sustainable and cost effective
Second place: Project: Black Soldier Flies (Ng Poh Li)
As a senior executive of Sunway REIT and part of the Sunway Group Sustainability Unit, she is at the heart of sustainability efforts here at Sunway. Backed by experience in the field of sustainability, her inspiration to join the Sunway FCC was to innovate what she has learnt into a tangible improvement for Sunway cities.
 "I want to showcase the proposed waste project and reduce food waste in all Sunway cities, as this is the target that we have set in our Sunway Berhad Sustainability Report 2020 – diverting 40% of waste from landfills by 2030"
With the objective of reducing food waste in Sunway cities, the apparatus used comes from an unlikely source – black soldier flies (BSF).
Codenamed Project: BSF, the project aims to not only allocate a centralised location for residents to deliver the food waste, it also targets to engage and educate residents who are keen on reducing food waste.
Though one can argue that it achieves the same goal akin to a compost machine, the benefits of BSF are superior. Besides a significant cost difference, BSF also has a higher market potential, able to reach out to poultries, animal feeds, insect proteins and organic composts, whereas compost machines can only churn out fertilisers.
In addition, BSFs are naturally safe and environmentally-friendly, yields a low cost, promotes a zero-waste concept and enhances the circular economy concept by turning waste into compost, and especially, gives back to the community at large.
This initiative also aims to further the UN-SDGs, specifically on SDG 2: Zero Hunger, SDG 12: Responsible Consumption and Production and SDG 17: Partnership for the Goals.
Third place: Greening our canopy walk (Ir. Ts Dr. M. Dewika Naidu and Associate Prof. Ts Dr. –Ing Sim Tze Ying)
Last but not least is the tandem of Ir. Ts Dr. M. Dewika Naidu and Associate Prof. Ts Dr. –Ing Sim Tze Ying.
Amalgamating their love for plants and mother earth as well as their roots in engineering, the duo has always dreamt of a more sustainable future for the next generation, especially in the air that they breathe.
"Sunway has done a good job in reusing the abandoned monorail system to be the canopy walk, and we can continue to build on this creativity. As  users of the canopy walk, we hope to have a cooler environment while staying green at the same time," said the team.
The goal now? To take it one step further and "green" Sunway canopy walk with a variety of flora to cultivate a more refreshing ambience when brisk walking on our canopy walk, turning it into our own version of the hanging gardens!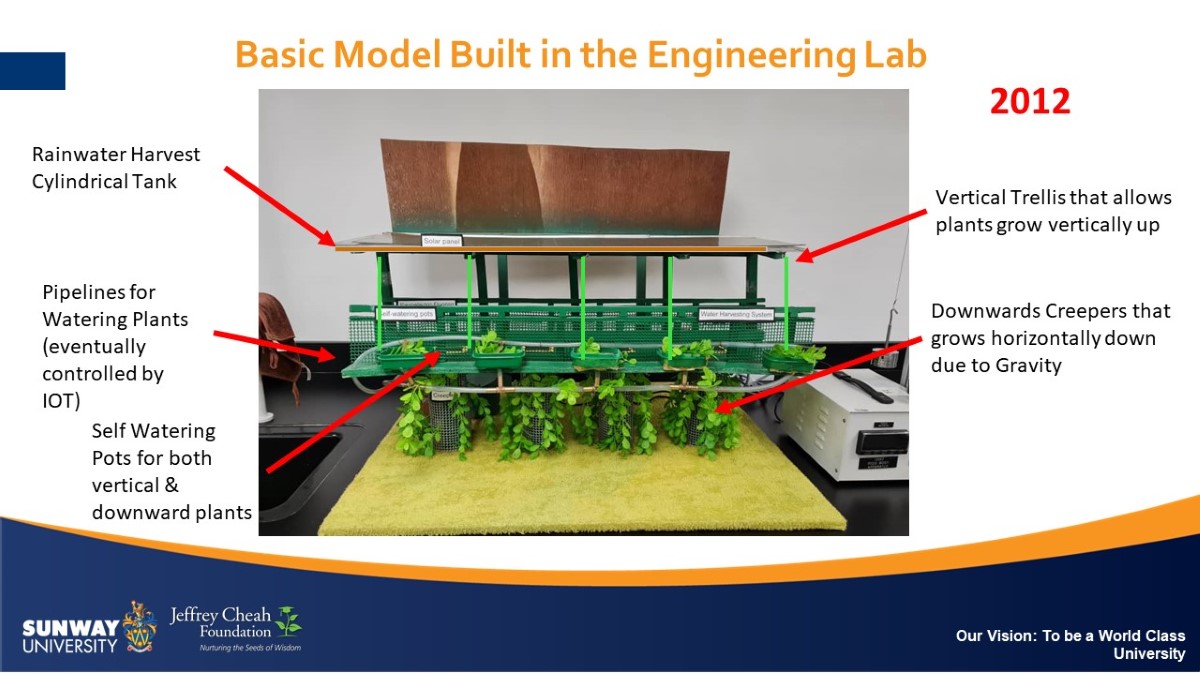 The ultimate aim of this greening is to revamp the existing city's canopy walks in line with the United Nations Sustainable Development Goals. Environmentally, this project aspires to lower city climate and carbon footprint, noise pollution and particulate matter, whilst promoting eco-tourism through attractive and eco-friendly flora as well as raising awareness for other cities globally on the benefits of a green canopy walk. It also improves social aspects as greenery helps reduce stress and elevates mood.
What's Next?
To help bring these ideas to life, Sunway iLabs will provide structural support such as project funding, project resources including expertise and co-creation alongside our network of Sunway University affiliates and external partners as well as one-on-one coaching and mentoring from the management team. As an added bonus, Sunway staff winners will also be awarded the opportunity to work on their ideas as part of their annual key performance index!
"We needed to provide people with a platform for innovation – to generate ideas in a safe environment and to see where these ideas take them. We hope that everyone in the organisation can submit their ideas that they think can make a difference in what we do every day," said executive vice president of Sunway Group, Evan Cheah
This is the first of many groundbreaking challenges that Sunway iLabs has to offer. In line with the UN-SDGs, we hope to continue on the path towards sustainable innovation, engendering creativity and innovation, as well as to advance our goal of bringing together minds and expertise of different industries to generate real-world solutions towards building a better nation for all.
"A city is made by its people, and we know that it lies within the hands of our Sunway people to shape the Sunway of tomorrow. I encourage everyone to participate in our Sunway Idea Dropbox and submit all your ideas. Just like how Sunway started with one idea, you too could be part of the future journey of Sunway," exclaimed chief innovation officer of Sunway Group and director of Sunway iLabs Matt van Leeuwen
Great ideas can come from anyone, anywhere and anytime! Have a groundbreaking idea that you want to share? Make an impact today on Sunway Idea Dropbox!
< Previous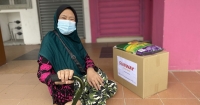 Sunway Commits National Day Advertising Funds to Help B40 Community
Next >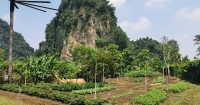 The Real Value of Organic