How COVID-19 can Accelerate Malaysia's Circular Economy
Harvesting for a future.
5
-min read
One year on from the onset of the pandemic, speculations remain rampant on the long-term implications of COVID-19. What is more predictable is that we are unlikely to return to our pre-pandemic reality. In the coming decades, we may look back at the virus as a paradigm shift, with changes such as the rise of digitalisation and even more mundane items such as how we interact with our fellow humans and hygiene standards are likely continue in some form.
While COVID-19 has become a tragic tale of high death tolls and human suffering, it has also accelerated communities to look inward and, in many cases, to go back to basics. In Malaysia, one of the positive phenomena that has happened is a renewed interest in urban sustainability. Urbanites who are stuck at home are beginning to grow indoor veggies and herbs, fostering itself as a new hobby or perhaps even a sign of boredom with having so much time on their hands.
While this spike in urban growth is encouraging, there also lies an even greater opportunity to tap into this green undercurrent and contemplate wider changes on a community, and perhaps one day, at national and international levels, shifting our approach to sustainability through localised solutions that harness community engagement. The circular economy offers such an approach.
What is a Circular Economy?
A circular economy, as the term suggests, provides a closed loop. It concerns two integral processes of consumption and production. This suggests that, by design, it will act as a localised ecosystem that can compensate for waste created by the system through a variety of means, and reduce the waste outputs from that system. The goal is to ensure that wastes created in the resource usage of both processes is recycled and repurposed in society, ultimately reducing waste in the first place.
From businesses, schools and residential association, everyone plays a fundamental role to ensure the community's net carbon emissions are reduced systematically. This role is based on a fundamental mindset shift from a "consumer" – based purely on resource consumption from the system, to a "pro-sumer" – consuming from a system but also seeking to produce an input back to the system.
The question now stands – how do we be a "pro-sumer"? Firstly, the simple act of reducing food waste as part of a family's or restaurant's consumption process is a tremendous start, as food waste contributes methane – a greenhouse gas even more potent than carbon dioxide. In addition, conserving at least a portion of food waste and other organic material to be slowly converted into organic fertiliser through a variety of composting methods can also greatly minimise carbon emissions by boosting harvests in urban areas. Alternatively, there are things that you can do in the office such as salvaging organic recyclable material such as paper shreds, double-sided printing to reduce paper usage, and recycling old electronics. All these can help conserve energy and reduce carbon pollution.
These tools are essential, but in a circular economy what is important is to mobilise the actors in locality or municipality to work in a cooperative fashion to achieve results beyond just individual efforts. Spaces that are not utilised can then become garden spaces where waste can be reprocessed. Households can be incentivised to donate waste incrementally.
Mobilising Malaysian Communities
Since the pandemic, we have witnessed a flurry of grassroots activity in this direction. According to the Solid Waste and Public Cleansing Management Corporation, there was a noticeable drop in the level of food waste nationwide during the first MCO, with the lockdowns placing a new emphasis on food security and the need to ensure food that is still edible can be given to needy beneficiaries.
To add on, a myriad local farming gardens have been cropping up in various localities. Sunway's FutureXFarm is one such project, aiming to showcase a variety of urban farming solutions that can be scaled up for wider adoption in urban areas. This has caused a growing trend of mid-career professionals who are exploring agriculture as a fulfilling career path.
At Urban Hijau, our one-acre sustainable urban farm in Taman Tun Dr. Ismail (TTDI), has seen a renewed involvement from nearby residents to donate their food waste to our farm on a weekly basis. Since the beginning of 2021, we have received over two tonnes of waste which will be turned into compost to grow organic greens and fruits. Another very innovative sustainability initiative in TTDI is the GreenSteps programme – an app that incentivise residents to contribute their waste and earn points that can be used to redeem products and services from a list of participating merchants and restaurants within the TTDI township.
While these endeavors and others can help to develop Malaysia's urban sustainability landscape, the big barrier comes from different parties working in silos instead of cooperating. There is great potential for local policymakers to bring the different pieces of the puzzle together to move towards a circular economy. Policies dealing with landfill reduction, waste management and unutilised urban lands can be strategic interventions leading to a multiplier effect across municipalities. We can move beyond limited gestures of environmental impact and towards a more systemic approach that is both top-down and bottoms-up. With political will, communities can be energised to work together towards a common goal of zero waste.
Saqib Sheikh is a writer, educator, social entrepreneur and certified coach. He lectures on media and communication at Sunway University. Saqib is a founder of several organisations for grassroots change, including Urban Hijau, the Rohingya Project and the Sunway Student Environmental Society. He is passionate about coaching professionals and organisations to transition into their own paths towards social impact.
< Previous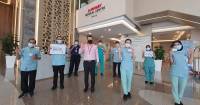 Heroes in Caribbean Blue
Next >
Sunway and Multicare Bring Pharmaceutical Healthcare Up A Notch