Bridging the Digital Gender Divide
5
-min read
Whether you are pursuing an online course, using social media to promote a business, or paying for purchases with your e-wallet, the use of digital technology has revolutionised the way we live and work today.
Unfortunately, the reality is that not everyone has the opportunity to experience the transformational potential of digital technology.
The United Nations' International Telecommunication Union (ITU) estimates that 2.9 billion people worldwide have never used the Internet, the majority of which are women. This limits opportunities for women to learn online and improve their livelihoods.
Women are also underrepresented in the information and communications technology (ICT) industry, holding 15% of the STEM (science, technology, engineering and mathematics) jobs; men were four times more likely to be ICT specialists.
Recognising this, the United Nations has commemorated the recent International Women's Day 2023 with the theme, 'DigitALL: Innovation and technology for gender equality', to address the need for inclusive as well as transformative technology and digital education.
The future of everyone is at stake
Considering that women comprise almost 50 percent of the global population, achieving gender equality and empowering all females is not just an aspiration, but a prerequisite to attain the United Nations Sustainable Development Goals (UN-SDGs).
As agents of change in their families, communities and countries, increasing the voice and participation of women in positions of leadership, labour force and education, will not only benefit women, but everyone – unlocking the door to a brighter future.
Women typically invest a higher proportion of their earnings in their families and communities than men. Their economic participation also accelerates development, helps overcome poverty, and improves children's access to education, healthcare and nutrition, said the Organisation for Economic Co-operation and Development (OECD).
In the digital era, creating a level playing field for women means equipping them with the digital tools, access and knowledge they need to fully participate in and benefit from the digital economy.
Greater inclusion of women as users and leaders of digital financial services (fintech) also fosters better performance of fintech firms, which is critical to economic growth.
McKinsey Global Institute research estimated that if women were given an identical role in labour markets as men, they could contribute to as much as US$28 trillion (RM127.7 trillion), or a 26% growth, to the global annual gross domestic product (GDP) in 2025.
"Women's financial inclusion is one of the many powerful levers that can boost gender equality and, at the same time, raise economic growth, financial stability, and income equality. But we can't make progress if we don't truly understand the realities of women's lives," the IMF noted.

"With more inclusivity, we will become a society that is more empathetic towards each other's needs and more innovative in coming up with solutions to elevate the community. This will lead to an increase in productivity and income equality," said Melissa Hashim, senior manager of creative marketing at Sunway Malls.
Creating a more equitable world
Activists argue that there cannot be gender equality without gender equity – acknowledging that every individual has different starting points and being fair in meeting their specific needs.
Recognising and celebrating our differences – seeing them as strengths to leverage instead of threats – as well as providing more conducive environments to support the needs of colleagues from different circumstances, are some ways of achieving gender equality, said Teh Ji-Lian, head of talent management & employer branding of Group human resources at Sunway Group.
"At Sunway, we truly believe in meritocracy and providing equal opportunities to learn and grow. There is more to be done to help our leaders be more aware of unconscious bias, bring it to consciousness and having a broader dialogue about it," said Teh.
Sunway's Diversity & Inclusion Policy ensures equal opportunities for all employees irrespective of gender, race or background.
Other Sunway initiatives that reduce the gender gap in the workplace include flexi-hour work policies that allow women to balance work and caregiving responsibilities, as well as nursing rooms at every business division for breastfeeding mothers.
To address the digital gender gap, Sunway is consciously hiring more women with STEM backgrounds, as well as organising digital upskilling initiatives such as 42KL's Code4Work coding bootcamp in 2022 to increase digital literacy and empower Sunway staff to utilise digital skills to add value to their work.
The 42KL coding school at Sunway City Kuala Lumpur plays a key role in advancing digital gender equality by offering tuition-free digital education to students irrespective of their age, gender, religion, culture, geography, economic and educational backgrounds.
Citing 42KL as her biggest inspiration, Sunway Property manager of brand strategy and communications Betty Jane Jelia said that having an avenue to pursue her interest in coding has motivated her to digitally upskill herself.
"Living in the digital era, we have the tools and resources readily available on the web. As a society, we need to provide women with the opportunity to access them. Only when we all have equal access can we truly reach our fullest potential," said Betty.
Ultimately, the fight for gender equality should involve everyone – private sector, governments as well as individuals – because the impact of gender inequality affects us all, said Chanratanak Rong, assistant director of group marcomms at Sunway Healthcare Group.
For Sujitra Kunasakaran, farm project manager at Sunway XFarms, it starts at home.
"I believe that discrimination is a mindset that is inculcated and taught at a young age, not something that is hereditary. If we can educate our children, then we can address this social stigma at its roots," said Sujitra.
The journey towards achieving Goal 5: Gender Equality of the UN-SDGs is not an individual sprint, but a team relay race.
With Sunway's concerted efforts to bridge the digital gender divide, we strive to work together towards the finish line – fostering a gender equitable and sustainable future for all.
< Previous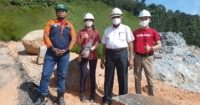 When Safety Becomes Second Nature
Next >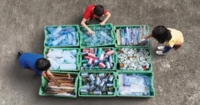 Waste Management: A Trash to Treasure Approach
This article first appeared in Berita Sunway Issue 77