Joining Hands For Zero Hunger
Sunway Group shares surplus food with the poor during Hari Raya, packs 240,000 meals, and collects groceries to fight hunger through the Sunway Food Programme.
4
-min read
Sunway Group aligns its businesses with the United Nations' 17 Sustainable Development Goals (SDG) of 'No Poverty' and 'Zero Hunger' through Sunway Food Programme.

Its three initiatives that include #ZEROFOODWASTAGE, Rise Against Hunger meal packing, and Share Because You Care grocery drive were scaled up to create better impact for the society.
Globally, the United Nation's Food and Agriculture Organisation estimates 1.3 billion tonnes of food is wasted in a year. Closer to home, Malaysians generate about 38,000 tonnes of waste per day, of which 8,000 tonnes are avoidable food waste.
During festive periods like Hari Raya where buka puasa buffet spreads become the norm, the problem of food waste intensifies, with up to 50% more food waste than usual, according to Solid Waste Management and Public Cleansing Corporation.
In line with its #SunwayforGood commitment towards building a sustainable environment, economy and society, Sunway Group teamed up with Kechara Soup Kitchen Society for the second year to launch the #ZEROFOODWASTAGE initiative during Ramadhan month.
#ZEROFOODWASTAGE
3,380 kg to feed
5,600 people
Rise Against Hunger
240,000 meals to benefit
4,000 individuals
Reducing food wastage is one way that Sunway Group aligns its businesses with the United Nations' 17 Sustainable Development Goals (SDG), with ZEROFOODWASTAGE addressing SDG No. 1 'No Poverty' and SDG No. 2 'Zero Hunger'.
Under the #ZEROFOODWASTAGE initiative, instead of wasting food from buffet dinners, Sunway Resort Hotel channels excess food via Kechara Soup Kitchen Society to help feed the homeless and urban poor in Malaysia.
Sunway Pyramid Hotel and Sunway Lagoon Hotel have also joined the programme this year and will continue the Kechara Soup Kitchen Society partnership beyond Hari Raya.
Grocery Collection 2,308 kg
to benefit 120 families
Other Sunway hotels such as Sunway Putra Hotel Kuala Lumpur, The Banjaran Hotsprings Retreat in Ipoh and Sunway hotels in Georgetown and Seberang Jaya, Penang, have also joined the initiative this year.
Following on from ZEROFOODWASTAGE, Sunway Group also collaborated with international hunger relief organisation Rise Against Hunger for a nationwide meal packing programme. Over 700 Sunway volunteers packed a total of 240,000 meals across the country – 60,000 meals packed in Sunway City, Selangor; Penang; Johor; and Perak respectively to coincide with Malaysia's 60th National Day celebration.
Sunway has also expanded the annual grocery collection initiative to encourage participation from the public throughout the month of August. The Share Because You Care grocery drive was supported by all five Sunway Malls – Sunway Pyramid, Sunway Putra Mall, Sunway Velocity Mall and Sunway Giza in the Klang Valley, and Sunway Carnival Mall in Penang – with collection points set up near supermarkets. Sunway volunteers helped to collect the groceries and together with Kechara Soup Kitchen Society, distributed the goods to the urban poor.
Sunway is committed to the UN Sustainable Development Goals of 'No Poverty' and 'Zero Hunger'. In conjunction with Malaysia's 60th National Day, Sunway continues to support our nation's progress through #SunwayforGood initiatives that includes our Sunway Food Programme. This year, we scaled up all three initiatives within the programme to deliver greater impact on our communities. I am happy to have our Sunway Group volunteers involved, to play our part in making hunger a thing of the past.
– TAN SRI DATUK SERI RAZMAN M. HASHIM, Deputy Chairman, Sunway Group –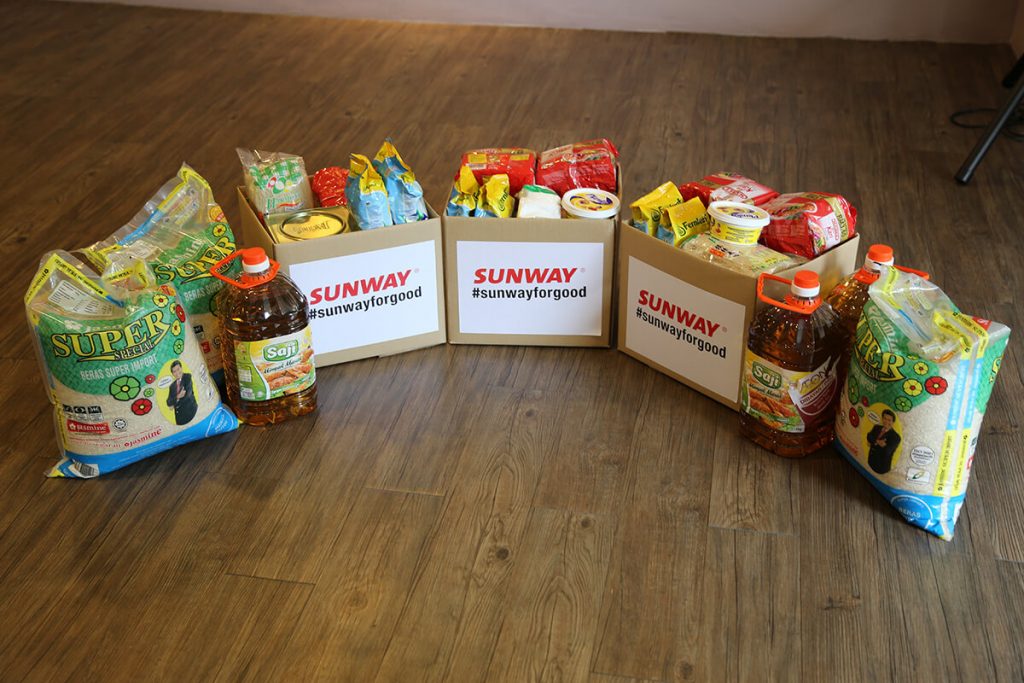 < Previous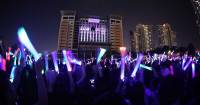 Celebrating Our Historic Milestones With Malaysia
Next >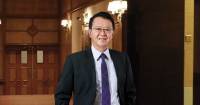 We Are All In This Together
This article first appeared in Berita Sunway Issue 60