Keep the Blood Flowing
6
-min read
Malaysia has been hit by yet another health crisis amidst the pandemic – an insufficient supply of blood in hospitals for patients in need.

Sunway has been actively calling for blood donors to come forward and help where possible, maintaining supplies for blood banks across the nation.
Recently, the National Blood Centre (PDN) made a desperate plea for the public to come forward and donate blood as supplies were dangerously low. Statistics revealed that , which could be attributed to the surge in daily COVID-19 cases. While reduced traffic on the road means fewer incidents and lower need for emergency surgical procedures, patients with conditions who require regular blood transfusions or medical attention are at risk.
Aside from lending support for the National COVID-19 Immunisation Programme, Sunway also actively contributes to various health matters such as this one.
As a leading healthcare provider with plans to expand its healthcare services throughout Malaysia, Sunway has been instrumental in ensuring our blood banks do not run dry through the various efforts not just during the pandemic, but throughout the years.
Raising awareness and driving public participation
Every drop counts.
At the onset of the surge of COVID-19 cases, people have been less inclined to donate blood, causing blood banks to drop to a critical level.
Associate Professor Dr. Lim Ren Jye, medical director and Traditional Chinese Medicine (TCM) consultant at Sunway TCM Centre, shares that they work closely with blood banks in Malaysia and Sunway Medical Centre (SMC) for their drives, and consistently adhere to good social distancing for everyone's safety. By doing so, Sunway TCM Centre was able to carry out two blood donation campaigns successfully at Sunway Geo Avenue this year.
H.C Chan, chief executive officer of Sunway Malls & Theme Parks shares that the malls actively work with PDN and healthcare facilities such as University Malaya Medical Centre (PPUM) and local hospitals across Klang Valley, Penang and Johor to provide a safe, conducive and comfortable venue for the donation drives, in line with UN-SDG 3 – Good Health and Well-Being.
"Prior to the pandemic, we had several blood donation drives in our malls with encouraging response. The pandemic has accelerated the efforts of the blood bank to replenish blood supply which had fallen to a critical level due to the lockdown. Efforts have been ramped up since the first MCO with blood donation drives organised almost every month. This has resulted in Sunway Malls achieving our collective target of 10,000 blood donations in total over the past one and a half years," he explains.
In order to encourage greater participation, the drives were strategically placed at prominent spots such as grocery store entrances to make it more convenient for shoppers to donate.
Donating blood after vaccination
As most of the nation gears towards widespread vaccination coverage, Dr. Lim shares that the notion of donors not being allowed to donate blood after getting vaccinated is not true.
"You do not need to have completed two doses of the COVID-19 vaccination in order to donate blood, and you can actually do so seven days after vaccination if you do not experience any side effects from the shot. If you do have symptoms however, you are able to donate seven days after that," he clarifies.
Donating blood for the first time? Here's what you need to know
There are several factors that first timers should consider and keep in mind:
1. Between 17 – 65 years old.
2. Weigh 45 kg and above.
3. Have no chronic medical illness.
4. No alcohol 24 hours prior to donation.
5. Not fasting, pregnant, menstruating or breastfeeding.
6. No multiple sexual partners.
7. Had more than five hours of sleep the night before, a good breakfast or lunch and drink plenty of water.
8. Wear loose-fitting clothes with sleeves that can be raised above the elbow.
9. Allocate some rest time after donation to ensure there are no signs of dizziness, nausea or pallor before leaving.
Chan Si Yan, senior manager and pharmacist from Sunway TCM Centre assures first timers that the procedure is generally not painful as medical staff will administer local anaesthetic at the donation site. Snacks and drinks will be provided to donors immediately after donating to replenish their strength.
"After donating, eat iron-rich food or iron supplements and remember to rehydrate with water and fluids within the next 12 hours to replenish fluid loss during the donation. Do avoid strenuous physical activity on the day – if bleeding or bruising occurs under the skin after removing the bandage, apply a cold pack to the area and apply pressure to the site," she shares.
Sunway folk give blood to give back
Realising the dire need to keep the National Blood Bank going, SMC has conducted two blood donation drives for their employees – once in September last year and February this year which saw a total of 101 employees pitch in.
One of the donors, Ms. Sherry Woo, director for allied health services at SMC shared that the current situation has made it more apparent that they needed to do their part.
"Being able to help someone is the reason why I chose to be in healthcare. Blood donation saves lives and by doing so, it serves a greater purpose. Being able to donate blood is also a privilege… Hence, I urge everyone to step forward and do your part, it is not as scary as you think," said Ms. Sherry Woo.
Sr Alice Lee, assistant director of nursing for nursing administration, EMR Project, A&E and allied health nursing at SMC stressed that it was important for staff to be aware that blood is lifesaving during emergencies, to sustain patients' lives and those undergoing major surgeries.
"Blood donors are patients' lifeline, and this contribution is a vital service to the community. Making a difference in the lives of others can boost a donor's sense of psychological wellbeing too. Personally, I have a high red blood cell count. Hence, it benefits me to donate than to waste it when the cells need to be renewed every few months," shares Sr. Alice Lee.
Giving where we can, sharing because we care
Sunway acknowledges that the fight to keep our healthcare system resilient is not one that can be done alone, and all Malaysians can contribute to catalyse greater impact.
"Supporting the nation's healthcare system and delivering excellent medical outcome is our main focus, and we intend to touch more lives through our holistic offerings and efforts throughout our various communities. While we are faced with many challenges especially in the past year and a half, we will overcome with the help of our fellow Malaysians and our belief that we can achieve so much more together. Therefore, I would like to encourage more Malaysians to help and donate where they can, so we are able to provide the best care for those who need it most." – Mr. Lau Beng Long, managing director, Sunway Healthcare Group.
For more information or to sign up as a blood donor, visit the National Blood Centre's website or stay tuned to any Sunway Malls' and Healthcare Group social media channels for announcements on upcoming blood donation drives.
< Previous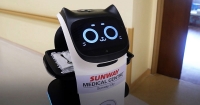 Hello, Bella!
Next >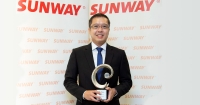 Sunway Named Malaysia's Best Managed Companies 2021