Sunway Named Malaysia's Best Managed Companies 2021
3
-min read
Demonstrating stellar performance as a leader in a host of industries, Sunway shines as the only Malaysian conglomerate to bag Malaysia's Best Managed Companies 2021 by global consulting firm Deloitte.
At the recent Deloitte's Best Managed Companies 2021 inaugural edition in Malaysia, Sunway Group joined 1,000 companies that have achieved this mark of business excellence globally.
With the awarded companies lauded for their excellence and contribution in their respective industries, the judging panel selected Sunway for its strong brand management, progressive corporate strategy and speed of growth.
Sunway acknowledges the fact that we now live in a time where disruption is becoming a growing challenge that impacts major aspects of an organisation. Therefore, as an organisation that has survived major economic crises, we need to remain resilient, be agile and swift enough to transform as well as to adapt to changing times.
A Tight Race in the Marketplace
First established in 1993, Deloitte's Best Managed Companies awards event is hosted across more than 37 countries globally. It recognises top privately-owned local companies with annual revenues exceeding US$25 million and serves as a way for companies to benchmark themselves against the best private companies in the world.
Companies eligible for this award have to undergo a rigorous and independent assessment across the 1,000-strong community of best-managed private companies worldwide.
Some recurring aspects among winners were an increasing focus on leadership, diversity and inclusion, and digital transformation to allow efficiency and a more significant contribution to community service.
During the opening remarks, CEO of Deloitte Malaysia Yee Wing Peng said these companies have shown resilience and sustained commitment to their purpose, despite navigating an extraordinary year.
"The Best Managed Companies awards provide an opportunity to celebrate these outstanding local household brands, who demonstrated the importance of strong leadership, innovation, and agility. To all the winners, congratulations! You have so much to be proud of, and we look forward to celebrating your continued commitment to your people, your customers, and our nation in the years to come." – Yee Wing Peng, CEO of Deloitte Malaysia
The Fuel to Keep Going
Sunway has defined sustainability as more than just going green. Sunway's goal has always been to encapsulate Sunway's vision statement: "To be Asia's model corporation in sustainable development; innovating to enrich lives for a better tomorrow". This award is a testament that the Group is one step closer to achieving that.
Through this win, Sunway is confident that its commitment and sustainability-driven strategies will continue to play a big part in nation-building amidst such trying times. The Group has demonstrated resilience and the ability to respond, reinvent, and recover from unprecedented challenges.
Recognising that digital transformation is key to business sustainability, Sunway will continue to evolve and drive innovative, sustainable solutions to stay competitive globally.
"In a rapidly evolving environment, Sunway's commitment to continuous innovation and the 17 UN Sustainable Development Goals will ensure we remain flexible, relevant and agile in responding to shifts in global megatrends reshaping the economy and market demand." – Evan Cheah, Group CEO, digital & strategic investments.
< Previous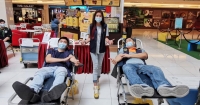 Keep the Blood Flowing
Next >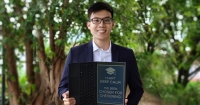 Chevening-Jeffrey Cheah Scholar Heads to Cambridge