Keeping the City Cool
3
-min read
To offset the increasingly frequent heatwaves, Sunway City Iskandar Puteri is getting new roots in the ground.
Iskandar Malaysia is taking shape. 15 years since its inception, its skyline now glitters with glossy residential towers and sleek financial skyscrapers. World-class education and medical facilities, and cultural attractions dot its landscape.
The completion of investment projects worth RM7.33 billion in the first quarter of this year amidst the pandemic continues to prove its lasting appeal to investors, working professionals, house hunters, and students alike. All signs are pointing to a booming city.
But unlike some other city booms that have sprouted only high-rises, concrete, and asphalt, green initiatives and low-carbon agenda are quick to take root on this urban soil, thanks to a growing movement of developers, urban planners, landscape designers, and others who are actively responding to Iskandar Malaysia's sustainability call.
The Rise of Heat Islands
If you wander around Sunway City Iskandar Puteri, for instance, you will find trees from more than 60 species tucked in nooks all over: some dotting the sidewalks, lawns, and gardens; clusters of mature ones lining the banks of its lakes and pristine water bodies; and many splashes of green covering in and around its commercial precincts.
It is all part of a deliberate, idealistic plan. Since its inception, Sunway Group has been at the forefront using urban forestry to not only advance its own sustainability goals, but to beautify neighbourhoods, improve air quality and reduce street-level temperatures as the region gets hotter due to climate change. According to independent assessments of global temperature changes by the United States, Europe and Japan, rising temperatures last year capped the world's warmest decade in modern times, driven by surging levels of heat-trapping greenhouse gases such as carbon dioxide and methane. And they are not the only regions grappling with these challenges. Research conducted by local city-making organisation Think City last March reveals that the urban heat-island effect is rapidly invading the Malaysian cities too. Johor Bahru, for instance, recorded a peak temperature increase of 6.7°C within 13 years between 2005 and 2018.
It is clearer now that we need to speed up in addressing climate risks, incentivise green lending, and scale up institutions tackling social and environmental goals. In an echo of the golden age of capitalism – the period after 1945 when Western nations began to steer their finance toward the right parts of the economy – Sunway has been among the first in the nation to rouse itself to action.
Painting the Town Green
Dismissing the idea of doing greening in an ad-hoc manner, part of Sunway's game plan includes the formulation of a landscape master plan for all its cities across the nation. Sunway City Kuala Lumpur was the first to witness a successful transformation. Intentional planting of 30,000 trees and palms to date has elevated the city seated on a former tin mine into the green lung of Klang Valley. In much the same way, Sunway City Iskandar Puteri is embracing the tree-hugging initiative. The world has lost trees to development faster than it could plant new ones. In a reforestation effort, Sunway City Iskandar Puteri has nurtured more than 14,000 trees in its Sunway nursery, with 7,500 trees replanted thus far to enhance the township landscape, on top of preserving the 172-acre mangrove along the 7km Pendas river. Combined with dedicated eco parks, green pockets, water bodies, and green corridors, this sustainable city is designed to always flourish within 40% nature.
Researchers have long touted the ecological benefits of green space. In fact, a study by the Jeffrey Sachs Center on Sustainable Development spotlights the importance of trees in urban areas: good tree coverage can lower air temperatures in sweltering cities by up to 15°C. Considering how a small tree of not more than four meters tall is able to supply about 6 kW of cooling, Sunway City Kuala Lumpur has the combined force of 60,000 natural air-conditioners keeping the city cool. Sunway City Kuala Lumpur and Sunway City Iskandar Puteri's collective green movement is thus expected to continue yielding bountiful prospects, be it in saved energy costs, green business opportunities, or the 47,001 tonnes of CO2e emissions avoided since 2015. More than that, however, are valuable lessons on how to responsibly manage urban planning and how to reverse the repercussion of urbanisation that has been eroding the fabric of our cities over many decades – knowledge the Group plans to export to other cities.
Cities have long been hurtful to the environment. While there is still time to get this critical situation under control, we do not have much left to lose. As the saying goes, the best time to plant a tree was 20 years ago. The second-best time is now.
< Previous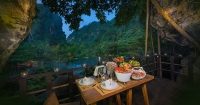 The Joys of Eating at The Banjaran
Next >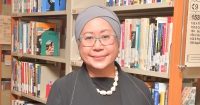 Healing Planet Earth
This article first appeared in Berita Sunway Issue 73