Professor Sibrandes: Man on a Mission
6
-min read
The distinguished Professor Sibrandes Poppema, who hails from the Netherlands, was recently handed the reigns of Sunway University as its newest president.

With decades of experience and academic excellence, he is now looking forward to steering Sunway University to even greater heights.    
Mention the name Professor Sibrandes Poppema to any academician and you will probably receive an affirmative nod or words of acknowledgement for his many achievements over the years as an education trailblazer and medical researcher.
With years of leadership experience in medical academics, Professor Sibrandes was trained as a pathologist and holds a doctorate in Immunopathology from the University of Groningen, and also holds postdoc positions at the University of Kiel in Germany and Harvard University in the USA.
Besides being in the top 2% of highly cited authors across the world in the field of immunology, Professor Sibrandes recently retired as president of the University of Groningen, where he was instrumental in establishing the University Campus Fryslan and European Medical School Oldenburg Groningen.
As newly appointed president of Sunway University, Professor Sibrandes is just getting started.
On his appointment: a part of the Sunway family
Professor Sibrandes' acquaintance with the faculty began in 2017 when he was invited to speak at the Jeffrey Cheah Distinguished Speaker Series on 'Building a Leading University: From Regional Roots to Global Significance' – which, in hindsight, may have been a foreshadowing of when he would one day take on this leadership position.
Two years later, he was then appointed as a Tan Sri Jeffrey Cheah Distinguished Professor and Advisor to the Chancellor on the establishment of a medical school at Sunway University. This provided him the time to adapt, as he sees life as a continuous opportunity to learn and gain experiences, especially from those of different cultures.
"The major difference between my previous universities and Sunway University is that Sunway University is still young and therefore much more agile. When we want to do something new, we just do it. Also, Malaysia, and Asia in general are growing faster than European and North American countries with much more of a can-do attitude.
"I am optimistic about the opportunities this new normal will offer to Malaysia and our ecosystem here at Sunway. What we have learned as a university is that electronic learning methods are of much more value than previously thought, but also that young students crave for the company and learning environment that only campus universities can provide. After all, they are not just learning but also growing up during their university period and that is tough behind a computer screen," Said Professor Sibrandes.
On Sustainability: Caring for Life and the Planet
With sustainability a bedrock of Sunway as a whole, Professor Sibrandes views it as a great opportunity to go beyond and embrace Planetary Health, especially with the newfound establishment of a medical school at Sunway University.
"Planetary Health is a step beyond Global Health because it also takes into account  our environment, the planet earth, needs to be healthy as well – all Sustainable Development Goals are a part of that," explained Professor Sibrandes.
To him, it is the perfect opportunity to promote further interdisciplinary research between the Schools, Centre and Departments, as well as working with other academic institutions, industries, government and the general population – all of which are part of Sunway's ambitions in creating a sustainable, liveable smart city with education at the centre of it all.
"Together with the new Pro Vice Chancellor of Research, Engagement and Impact, Professor Mahendhiran Nair, we will work hard to achieve this goal. Working with all the companies in Sunway provides us with a unique opportunity not many other universities can emulate. And then we have the extraordinary successes of Sunway iLabs under the direction of Matt van Leeuwen," he added.
He further lauds Tan Sri Sir Jeffrey Cheah for being a trailblazer in sustainability and education in Sunway, which led to the establishment of the Jeffrey Sachs Center and SDG Academy, which are now both fully integrated in Sunway University.
On the Sunway Medical School: Expansion and Growth  
When Professor Sibrandes first settled down in Sunway a couple of years ago to lay the groundwork for the medical school, he was faced with a unique challenge.
Malaysia had a moratorium on medical schools and therefore required Sunway to present a convincing case as to why there should be one within the university. Sunway then joined hands with its partners at the University of Cambridge and Sunway Medical Centre for the proposal, leading to Sunway being granted an exemption in 2020.
"Starting a medical school is a big challenge and even greater opportunity. My previous experience in helping the University of Oldenburg in starting a new medical school with a modern problem-based, competency-oriented curriculum was an uphill battle as well. Existing medical schools in Germany and medical societies actively campaigned against it and the Federal Ministry of Health initially was not in favour, but eventually we managed to get approval with the strong support of the Scientific Council of Germany, based on the role that the University of Groningen would play in support," explained Professor Sibrandes.
He then goes on to reveal that the first batch of students have completed their studies, with the medical school revered as exemplary in Germany – leading him to receive the Officer's Cross in the Order of Merit from  the Federal Republic of Germany.
"For the Sunway University Medical School, we have the support of the University of Cambridge that will help us raise the level of research-based education. The key ingredients are persistence and high quality," he added.
On Students and Staff: Creating the Best Environment for the New Normal
According to Professor Sibrandes, perspective is the most important thing to provide students and staff in weathering these unprecedented times. Through these tumultuous times, he assures that all students can make good progress in their studies through the university's offerings, whether fully online or through face-to-face interactions where allowed by the government.
"We are aiming to return to a full campus experience as soon as possible because we are a campus university, and our students take pride in constituting 'The Most Happening Campus'. In the meantime, Sunway Education Group provides psychological and other support to students and staff that may need it. For instance, students who don't have proper internet connections to study from home can come to campus to do so," he explained.
When it comes to student satisfaction, Professor Sibrandes believes that he has a sturdy foundation to build on, as Sunway University has produced exemplary students over the years.
Through the right combination of digital tools and practical experiences, he opines that the university is on the right track, and that they are also working on coordinating programmes for students to spend some time at top universities globally to enrich their learning experience.
On the Success of Sunway University: Continuous Improvement for the Future
Besides focusing on the expansion of the Medical School, Professor Sibrandes notes that the university is also working to ensure other students receive a unique, enriching experience in Sunway.
The Bayrocks Lakeside will house the School of Business and School of Arts. In the new building, the School of Arts will have the opportunity to carry out more public outreach through concerts and exhibitions.
In his opinion, Sunway University has made incredible progress in its first ten years, making it into the global top 2% for universities. To him, for the university to place in the top 1%, it needs to progress to place around 350 in the next few years, something that he feels is not out of reach.
With the quality and quantity of scientific papers published in Sunway increasing, and the output of Sunway University now only behind the top five research universities in Malaysia, Professor Sibrandes is optimistic that it is only a matter of time before Sunway University will reach the peak.  
"But it is not just a matter of time, we also need to further enhance our brand as a modern, sustainable, research intensive and superb teaching university. Do well and talk about it," concluded Professor Sibrandes.
< Previous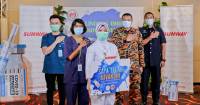 Injecting Hope – Sunway Steps Up to Keep the Nation Safe
Next >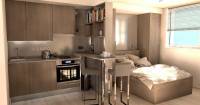 Best Student Accommodation in the UK