The efforts that made Sunway City Kuala Lumpur the self-sustaining city it is today
4
-min read
A sustainable city is defined as a city that's designed with consideration for social, economic, environmental impact, and resilient habitat for existing populations.
One such city is Sunway City Kuala Lumpur located in Petaling Jaya, Malaysia. It's also one of the only cities in the country that has managed to merge technology with sustainable ideas.
Although the city is located in one of the most busiest towns in Malaysia, it still manages to live up to its sustainable ideologies.
Let's find out how the city managed to achieve this.
Cutting down toxic emissions
The city saw the country's first Bus Rapid Transit or BRT which is an elevated highway made only for eco-friendly electric buses.
It connects the key locations within the city such as Sunway South Quay, Sunway Lagoon Theme Park, Sunway Medical Centre, Monash University, Sunway University, and a housing area.
It's an extremely efficient and possibly the best way to get around the city, as the bus frequents every five minutes.
The Canopy Walk is an elevated, secure, 1km walkway in the city that connects Sunway University to the Sunway Pyramid Mall. Not only is it shaded, it also has an array of CCTV cameras to ensure that students are safe when walking at night.
Rehabilitating a once broken land
Back in the 1990s, Sunway City Kuala Lumpur was a tin mining facility that produced up to 2,600 tonnes of tin metal.
However, just like all natural resources, it eventually depleted. Sunway Group Founder and Chairman Tan Sri Dr. Jeffrey Cheah bought the land and transformed it into the self-sustaining city it is today.
It was not an easy task. RM5 million was spent to replant 25,000 trees and now, the city consists of 150 species of flora and fauna. Sunway Group now plans to emulate this in its other townships around Malaysia.
Not a single drop of water is wasted
If you've been to Malaysia, you'll know that it rains often. Sunway City Kuala Lumpur took advantage of the wet climate by setting up water harvesting tanks in their Sunway Velocity Mall and the Sunway Lagoon hotel.
The water is then used back within the mall and hotel respectively to maintain the upkeep of their landscapes.
In addition to that, they have a large lake at South Quay which can hold up to 10,000 cubic meters of water. There is also a purification plant that cleans the water and feeds it back into the city.
Reducing the electric bills
Sunway City Kuala Lumpur might be a sustainable city, but no amount of sustainability will let you avoid electric bills. Let's take the Sunway University as an example.
The university consumes up to 40,000kW of electric per day. It might seem a lot but the campus consists of two buildings where classes are held, a gym, and residence for the students.
To reduce the energy consumption, the campus has installed solar panels on both the buildings alongside two 1,000kW batteries which will help to power up the campus.
The university has projected that with the combination of solar panels and batteries, it will save up to RM11 million in the next 30 years.
They have also installed facial recognition devices at the entrance of the library, eliminating the need for library cards as they plan to make do without plastic cards in the near future.
But they're not stopping there, all the light fixtures in Menara Sunway, Sunway Pyramid Mall, and its hotels have been converted to LED lights which will help them save even more energy.
Sunway City Kuala Lumpur has proven that a city filled with people from different walks of life are still able to live within a sustainable ecosystem. At the same time, it also proves that building a sustainable city is a real possibility.
Check out the video here:
The article originally appeared in Mashable SE Asia
< Previous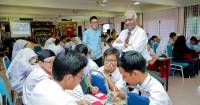 Teaching for a Good Cause
Next >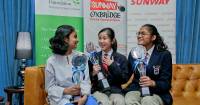 Vision on Education Transformation