The World is Our Play… Lab?
7
-min read
The very foundation of Sunway City Kuala Lumpur began on a tin mine. Through the transformative vision of Tan Sri Dr. Jeffrey Cheah AO, he has turned Sunway City Kuala Lumpur from a wasteland to a wonderland, and with it, has seen various technological and educational innovations and progress.

As the years roll on, the essence and objective have never wavered – to build a smart, sustainable city; and to bring about a lasting change.
If you have heard of the term "Living Lab" but don't quite get it, well… we get you! The term is becoming a new trendy topic in the innovation domain. Though it has no universal definition, a "living lab" is simply a concept used to test out different impressions and ideas in a real-life environment to create and to provide solutions to complex societal problems.
This concept has been replicated by bigwigs in various industries and institutions including Harvard, MIT, and the European Commission. Sunway is proud to join the list with our own living lab at Sunway City Kuala Lumpur.
Our flagship smart sustainable township, Sunway City Kuala Lumpur, is set to be the test bed; gathering prominent researchers, experts and academia to generate real-world solutions for the betterment of the environment and mankind.
Driving this initiative forward is none other than Sunway Innovation Labs (iLabs).
iLabs, under the tagline of "Inspire. Build. Launch.", was launched in 2017 with the aim to foster entrepreneurship and stimulate market-driven innovations, to help entrepreneurs become more competitive in this rapidly changing environment. What started off as a platform for start-up entrepreneurs to build their ideas, has now turned into a vision that could very well change everything that we know about Sunway City Kuala Lumpur.
"We created a platform (iLabs) to see what students were keen on doing, and types of markets entrepreneurs may want to focus on. Then we started to learn as a (Sunway) Group, and to see how we could leverage the existing facilities and capacities within the Group and business units and bolt on to any digital, skill and technologies so that in the future we will not only lead the industries that we have already been doing, but also create new industries," said Matt van Leeuwen, Chief Innovation Officer of Sunway Group.
Through the initiative made by Sunway iLabs, where ideas are generated to address the challenges facing humanity, five verticals were built upon this foundation to support the ceiling that is Sunway City Kuala Lumpur, as a living lab. These five verticals are – Smart Cities, Digital Health Tech, EduTech, Agri-Food Tech and e-Commerce.
"We have decided on these five because we have identified underlying trends in different industries," Matt added.
The five verticals
Smart Cities
The Smart Cities vertical looks to disrupt conventional real estate markets through the use of artificial intelligence, blockchain and Internet of Things (IoT) to reimagine and transform the use of space. Through technology and new innovations, we aim to build sustainable cities which are smarter and healthier, while improving consumer's convenience, connectivity and quality of life.
"We are talking to (Sunway) Property and Malls to really understand how to become smarter, to digitalise townships and see how IoT could be used to better understand customers," said Matt.
Digital Health Tech
This vertical looks at the customer journey, from entering the hospitals, to registration, to checking out, and everything in between. A lot of these can be digitalised while exploring new technologies to improve.
All in all, it is to cultivate and enhance the efficiency of healthcare delivery and patient journey through cutting-edge medical solutions. Harnessing the power of data and in-depth analysis, it looks to solve problems around preventive health such as non-communicable diseases (NCDs) and deep tech in healthcare.
EduTech
"Education is something that is very close to our hearts," said Matt.
Through the EduTech vertical, Sunway is looking to transform the landscape of education from impact-driven teaching and learning tools to disrupting traditional education systems by providing peer-to-peer, gamification, problem solving, hands-on learning education on our campus.
Sunway iLabs, through a partnership with Sunway Education Group, brought in world-renowned coding school – Ecole 42 which led to the launch of 42KL in July 2020.
The reason for bringing these was to curb three rising problems as identified by Matt, which are – a lag in new programmes offered by universities, a neglect of cultivating problem solving skills and a mismatch of supply and demand between graduands and job opportunities.
"We have chosen to locate the first 42 here in Sunway City Kuala Lumpur as we are envisioning it as a "living laboratory", an open innovation eco-system where research and innovation can take place within a public-private-people partnership," said Matt in an interview with Business Today.
Agri-Food Tech
"Three years ago, we saw a lot of students not just getting interested in farming per se, but also in technology and in IoT systems," Matt said.
Matt describes the process as interesting for students as they can connect something as archaic as agriculture to something as contemporary as digital software; answering questions like "how do I control the growth of plants?" and "how does humidity and temperature impact growth?" via IoT.
"A lot of the students got really excited because they could see the impact immediately – to grow something in a controlled environment and use technology to know exactly how it will grow," explained Matt
This vertical address challenges with tech-driven solutions throughout the farm-to-fork supply chain, is creating impact both upstream and downstream. The need to scale clean and healthy food production in Malaysia is vital and we are looking to build decentralised smart urban farms throughout our cities across the country, with the goal of improving Malaysia's national food security.
"This will effectively hit a few nails on the head as it does not only cultivate food security, but also incorporates sustainability by cutting out the entire supply chain process," added Matt.
eCommerce
Under the eCommerce vertical, Sunway iLabs is looking to empower businesses to adopt eCommerce and digital solutions to reach faster growth, new markets and explore additional revenue streams. Together with its partners, it aims to build a holistic ecosystem by providing innovative solutions such as in O2O enablers, logistics, omni-channel marketing, payment and security.
One initiative is Sunway iLabs' collaboration with Alibaba through the Global E-commerce Talent (GET) programme.
"It's great that we train them up and providing them a potential launch pad, but what's next?", described Matt, about the concept.
This is where Sunway iLab's accelerator programme comes in – by connecting selected start-ups to our Sunway Group business units as a testbed, providing them with mentorship, nurture talents on their e-commerce start-up projects connecting them to the ecosystem, and then potentially investing in their start-ups.
What's Next?
Since the year 2000, Sunway has already invested RM200 million in digitalisation, including improving our internal processes, enhancing customer-facing initiatives and business ventures. Now, we are geared further with a host of improvements to make Sunway City Kuala Lumpur a township that is smart, sustainable as well as innovative and digital. This is to improve our agility and dynamism in a rapidly changing landscape.
Sunway also categorises its journey in digitalisation through three components.
The first one is through investment in technology enablers and digital structure.
"We need to invest more in is the data infrastructure. How can we use that to further improve customer experience through further digitalisation," said Matt.
He further explains that through this data infrastructure, we can drive efficiency and productivity for our businesses.
The second component is on building digital platforms for closer customer engagement, with a view to expand market share and customer base.
"Once we have the data, we want to look at how we can use the data and make predictions to better the experience (of customers), and to make us (Sunway) smarter on where to invest (in digitalisation)," described Matt
The third component is transformative. Sunway looks to invest in new digital businesses that can help amplify the strengths and capture new markets that can potentially transform the group. With the rise of big data and the rapid adoption of financial technology, it opens a door to venture into digital payments and banking.
Though Sunway Living Lab is still a relatively new concept, there is a lot of innovation that can happen in each of the five verticals.
This is where the aforementioned accelerator programme can help.
"We do not want to do everything ourselves, and some industries can be done better by start-ups. We do not know what we do not know. Hence, we can engage more with the external ecosystem, start-ups, tech players, and even other industries to learn together and co-create new ideas," Matt concluded.
< Previous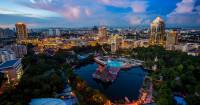 Sunway City Kuala Lumpur: Sustainable and Smart Through Technology
Next >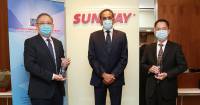 Double Wins at MSWG-ASEAN Corporate Governance Awards 2019

Warning: sort() expects parameter 1 to be array, bool given in /home/swysunway/public_html/stories/wp-content/themes/Avada/single.php on line 555