Business
Society
Sustainability
Thriving on Sustainable Living
Business
Society
Sustainability
5
-min read
In what was a challenging year for most developers, Sunway Property remained steadfast in enriching the lives of those who chose to call our properties their home.

Throughout 2020, Sunway Property delivered quality workmanship, experience and comfort through its various innovative developments, amassing monumental accolades and recognitions.
With deep roots in sustainability, we made it our mission to better the lives of our communities, one quality development at a time. Here are some of the accolades that made the start of the new decade an unforgettable one.
FIABCI World Prix d'Excellence Awards 2020
Sunway Property has been a frequent fixture at the FIABCI awards in the last few years.
Back in 2014, Sunway Palazzio took home the Silver Award in the Best High-Rise Developments and was recognised at FIABCI Malaysia and Singapore Property Awards for our monumental work for Sunway Medical Centre, Sunway Rymba Hills and Sunway Berhad.
Further cementing our conviction to drive the ambitions of the United Nations Sustainable Development Goals, our latest work with Sophia Hills, a modern and contemporary joint development by Sunway Development Pte Ltd and Hoi Hup Realty Pte Ltd, was awarded the highest honours at the FIABCI World Prix d'Excellence Awards 2020 – the World Gold Winner in the Residential (Mid Rise) category.
The award represents another milestone and underscores our commitment to set new standards in quality, value and innovative excellence with a focus on sustainable development.
EdgeProp Malaysia's Best Managed & Sustainable Property Awards 2020; The Edge Malaysia Property Excellence Awards 2020
At EdgeProp Malaysia's Best Managed & Sustainable Property Awards 2020, our very own The Banjaran Hotsprings Retreat was presented the Editor's Choice Awards of Malaysia's Outstanding Sustainable Resort 2020.
The Banjaran Hotsprings Retreat stands tall as a model sustainable resort for all our existing properties implementing organic gardens that serve the freshest produce to our guests as well as implementing waste management strategies and water saving measures.
Separately, Sunway Property also clinched two major awards – Best in Qualitative Attributes and third place in the Top 10 of The Edge Malaysia's Top Property Developers Awards 2020 at The Edge Malaysia's Property Excellence Awards 2020.
The Awards ranks the best property players based on their quantitative and qualitative attributes throughout the year – our wins in 2020 mark the 18th consecutive year that the master community developer has been listed in the Top Property Developers Awards since 2002.
The StarProperty Awards 2020
At another definitive awards ceremony for the Malaysian property sector, Sunway Property was the top winner at the StarProperty Awards 2020 with an impressive nine-award sweep for our various developments, including:
All-Stars Award – Best Overall Champion
All-Stars Award – Exceptional Community Builder
Excellence, The Proximity Award (Best Integrated Transit Oriented Development) – Sunway Velocity TWO
Excellence, The Proximity Award (Best Integrated Development) – Sunway Citrine
Excellence, The Southern Star Award – Sunway City Iskandar Puteri
Excellence, The Holiday Home Award – Sunway Onsen Suites
Honours, The Long Life Award – Sunway GeoLake Residence
Honours, The Northern Star Award – Sunway Onsen Suites
Honours, The Luxury Series Award – Sunway Emerald Residence
Sunway has been a recipient of The StarProperty Awards since 2016, which brings our track record of successive wins to an impressive five years.
"It is a privilege to have received the highest honours from StarProperty. As a master community developer, we will continue to masterplan smart and sustainable developments for urban communities and deliver value to all of our stakeholders. This award belongs to the Sunway Property team who had dedicated their time and giving their best in delivering value through exceptional quality, service and continuous innovation for our communities," said Sunway Property deputy managing director Lum Tuck Ming.
2020 Malaysia Real Estate Personality of the Year
2020 was also the year we celebrated Managing Director of Sunway's Property division Sarena Cheah's breakthrough into a male-dominated category, becoming the very first woman to receive the honour of being named the 2020 Malaysia Real Estate Personality of the Year at the PropertyGuru Asia Property Awards (Malaysia).
The prestigious title awarded to her by the editors of PropertyGuru Property Report Magazine paid tribute to her vision in leading one of Malaysia's most eminent master community developer.
Leading the pack in sustainability and digital transformation
Our other achievements stem from our tenacity in upholding our pillars of sustainability, responsible business practices, innovation and philanthropy.
Our award-winning Sunway City Iskandar Puteri (previously known as Sunway Iskandar) township is the first in Johor to be awarded the Green Building Index rating. This award recognises one of our efforts in integrating green technology in all 1,800-acres of Sunway City Iskandar Puteri, with renewable energy systems, green spaces, and other efforts to reduce carbon footprint towards decarbonisation.
Also, within Sunway City Iskandar Puteri sits record-holder Sunway GRID, for having the 'First Property Customisation System in Malaysia' and inducted into the Malaysia Book of Records in 2020.
In Cheras, Sunway Velocity and Sunway Velocity TWO have received MSC Cybercentre status from Malaysia Digital Economy Corporation (MDEC), making it the very first Cybercentre in Cheras. Encompassing a 30.42 area including both developments and Menara Sunway Visio, a corporate office tower, the Cybercentre will be developed as an innovation hub to build networking programmes for the business community and implement incubation programmes for start-ups.
"The accolades we have received are a testament to our commitment to enhance the lives of all Malaysians through our developments and could not have come to fruition without the hard work of the entire team. These acknowledgements will only inspire and propel us into more exciting things for Sunway Property as we continue to go the extra mile for our customers and ascend to greater heights, together," Sarena Cheah concludes. 
< Previous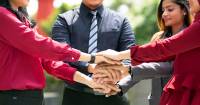 Safeguarding Workplace Health and Safety: A People-First Approach
Next >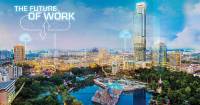 The Future of Work