A Guiding Light for Corporate Malaysia
5
-min read
Sunway will be celebrating its 50th anniversary in 2024!
In ancient times, stars were used as a guiding light by seafarers to navigate their voyages.
In the same vein, Sunway's 50th anniversary masthead of a five-pointed gold star alludes to Sunway founder and chairman Tan Sri Dato' Seri Sir Jeffrey Cheah KBE AO's vision for the company as a guiding light – to be Asia's model corporation in sustainable development and innovating to enrich lives for a better tomorrow.
Gold is used for the anniversary masthead to commemorate Sunway's golden jubilee anniversary, celebrating Sunway's five decades of achievement and commitment to the five brand pillars of Sunway – People, Sustainability, Business, Community and Leadership. Each pillar is represented by a point on the five-pointed star.
Guided by Sunway's core values of humility, integrity and excellence, Cheah, who was formerly an accountant in a motor assembly plant, founded Sunway Group in 1974 with the development of Sunway City Kuala Lumpur, transforming a tin-mining wasteland into an integrated smart and sustainable township.
In five decades, Sunway has grown from strength to strength, becoming one of Southeast Asia's leading conglomerates with business interests in real estate, construction, education, healthcare, retail and hospitality. Today, Sunway has 13 business divisions with 16,000 employees in over 50 locations worldwide.
Star of the night
Exemplifying excellence, Sunway emerged as the star of the night at the Putra Brand Awards 2022, clinching five wins including the Putra Brand of the Year as well as Cheah being named the Putra Brand Personality of the Year.
Cheah, the only Malaysian listed in Forbes magazine's 15th round-up of Asia's top philanthropists in 2021, was recognised for being an outstanding individual with creativity, perseverance and persuasion.
He has also been named among Forbes Asia's Heroes of Philanthropy four times, and has received Asia's Lifetime Achievement Award 2019 by Singapore-based business publication Fortune Times.
Sunway Education Group took home the top platinum award in the Education and Learning category, while Sunway Property and Sunway Lagoon were bronze winners in the Property and Entertainment categories, respectively.
The 2022 wins is Sunway's biggest haul since its inaugural participation in the Putra Brand Awards in 2010, culminating in a total awards tally of 32, to date.
The award wins are testament to Malaysians' trust in the Sunway brand and recognition for the group's continuous commitment to the five brand pillars, as well as corporate social responsibility that is aligned with the United Nations' Sustainable Development Goals (UN-SDGs).
Award winners are voted by 25,000 consumers nationwide via a survey conducted during an eight-week period from end-September to mid-November 2022.
The way forward
At the heart of Sunway's success as a corporation and brand is its raison d'être – to do well by doing good, and to set the example for others to emulate via People, Sustainability, Business, Community and Leadership.
Exemplifying leadership, Cheah's personal motto – "I aspire to inspire before I expire" – embodies his determination to make a difference and leave a lasting legacy beyond his lifetime.
Not one to forget his humble beginnings in Pusing, Perak, Cheah was determined to give back to society, especially in the field of education.
Walking the talk, Cheah transferred his equity ownership in Sunway Education Group worth an estimated RM700 million in perpetuity and donated RM200 million from his personal funds to establish the Jeffrey Cheah Foundation in 2010.
The largest education-focused social enterprise in Malaysia, JCF has awarded more than RM670 million in scholarships to thousands of deserving students in Malaysia, making education accessible for all.
Sunway has committed towards advancing the United Nations Sustainable Development Goals by aligning its environmental, social and governance (ESG) targets with the SDGs to ensure sustainability is incorporated into corporate strategy and social responsibility.
In 2016, Cheah gifted US$10 million via JCF to establish the Jeffrey Sachs Center on Sustainable Development at Sunway University, in a bid to advance the SDGs through education, policies and research.
By 2050, Sunway aims to achieve net zero carbon emissions, through a set of 19 targets in five goals. This includes transforming its portfolios to be low carbon sustainable cities, advocating a responsible value chain, developing a safe, equal and dignified workforce, investing in community exclusivity, as well as respecting ethical principles.
Over the years, Sunway continues to transform the business landscape in Malaysia.
Sunway was the only Malaysian conglomerate to win Malaysia's Best Managed Companies in 2021 by global consulting firm Deloitte for its strong brand management, progressive corporate strategy and speed of growth.
In 2023, Sunway REIT became the country's first Real Estate Investment Trust to introduce a Green Lease Partnership Programme for tenants and hotel lessees.
Sunway REIT, along with Sunway Berhad and Sunway Construction were among the first few Malaysian firms to join 1,700 organisations worldwide in supporting the recommendations of the Task Force on Climate-Related Financial Disclosures (TCFD).
In 2020, Sunway Education Group launched 42KL, the first campus of its kind in Southeast Asia with a disruptive peer-to-peer educational model.
Named as among the top 10 most attractive employers to work for in Malaysia by Randstad Malaysia in 2021, and the first Malaysian conglomerate to win three best employer awards at the Aon Best Employers Malaysia in 2018, Sunway has always put People first.
Having touched the lives of over half a million beneficiaries under the #SunwayforGood umbrella, Sunway will celebrate its 50th year in 2024 with four goals covering ongoing CSR initiatives in education, food security, healthcare and the environment.
By 2024, Sunway aims to build and refurbish minimum 50 libraries through the Sunway READ programme, pack two million meals for undernourished communities, set up urban farms for 50 orphanages and senior homes through Sunway SILK, as well as provide basic health screening for underserved communities. This will set a strong foundation for the next 50 years and beyond.
"I owe a great debt to my country for the opportunities it has given me. The success and growth of Sunway enabled me to set up a foundation dedicated to nation-building and giving back to society in an impactful manner. Everything we do now is for the future generation," said Cheah.

"It is my hope that what we are doing at Sunway and the Jeffrey Cheah Foundation will inspire others to join us in our mission to build a more progressive, sustainable and inclusive future for all," he said.
< Previous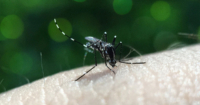 Beating the Buzz: Fighting Dengue this Season
Next >
Water Security for Business Continuity
This article first appeared in Berita Sunway Issue 77