To Code or Not to Code? 42KL's Piscine Survivors Sheds Light on Their Dive
8
-min read
Learning can take on different shapes and forms. 42 Kuala Lumpur (42KL), a product of the self-taught model of learning is making waves nationwide, with students – known as cadets – contributing to ongoing projects that require them to apply their learnings towards generating real-world solutions.

From students fresh out of secondary school to others who decided to explore the world of coding after years in a different sector, our cadets share their journey with 42KL thus far.
What does an engineer, accountant and a fresh graduate have in common? Perhaps not much at first glance, however this interesting bunch forms part of the 42 Kuala Lumpur (42KL) close-knit community in this one-of-a-kind learning institution located right in the heart of Sunway City Kuala Lumpur (SCKL).
As we approach the two-year mark since the start of the school, we speak to seven cadets who are currently forging their way through the Core Programme on how 42KL has proven to be a turning point in their journey of learning.
Mars, fresh graduate
For fresh graduate Almas – who goes by Mars – her journey with 42KL was a challenge as her family was more inclined towards the conventional options of tertiary education.  While she did face some challenges in the beginning, she has now found her stride as she continues to thrive in 42KL.
"At the start of the Core Programme, I struggled to figure out my projects which made me procrastinate, and I had a hard time trying to discipline myself to be consistent with my work. However, after my second project, I committed to be more disciplined. So far, I think I'm doing quite well!"
As one who enjoys drawing, painting and crafting, Mars opines that writing codes can be artistic too, and she intends to eventually pick up generative or creative coding as a hobby. She wishes to transfer to the 42 campus in Germany upon completing the Core Programme here.
"42KL can be life changing. It's not just limited to learning how to code with your peers or preparing yourself for the tech industry. You can apply your new knowledge to anything you choose. In 42KL you really do "learn how to learn". It's a once-in-a-lifetime opportunity, and an incredibly rewarding one at that."
Yee Jin, former process engineer
Joining 42KL was an eye opener for Yee Jin, who has a background of process engineering in a glove factory. Having been accustomed to  collecting data manually on a daily basis, she was gamed for a change and decided to delve into the world of programming.
"Being here has really opened my mind to how powerful coding is – it creates endless possibilities and dominates the tech industry."
The unique peer-to-peer learning style of 42KL did leave her feeling a little lost at times as the cadets had to figure out the solutions on their own, but it was this very hands-on approach that allowed her to push herself and step out of her comfort zone. Some of the lessons that impacted her most were learning algorithm through Push-Swap, computer graphics through FDF and process synchronisation through Philosophers.
"Don't hesitate to do something because you are too shy or think you could fail. Just get out and do it. You will be very, very glad that you did."
Eng Chuan, full time cadet
As one of the best cadets 42KL has seen, it may be a surprise to some that Eng Chuan only discovered coding just three years back in 2019. The 32-year-old chanced upon the school through a virtual digital event that introduced 42KL, which piqued his interest as he already had a vested interest in programming and computer science.
An avid believer in lifelong learning, Eng Chuan found that the concepts and values that 42KL held aligned with his beliefs, which further affirmed his decision to join the institution.
"Before this, I thought that coding was merely instructions for machines to follow. However, I now know that coding itself is more powerful than I could have ever imagined as it  dominates our everyday devices such as computers, smartphones, CCTVs, and the like."
Eng Chuan, who was born with hearing disabilities, intends to apply his new skills and knowledge to enhance an establishment or community. He is indeed a true testament to what resilience and hard work can bring, and is happy to recommend 42KL to those who simply want to learn.
"42KL is best for people who love acquiring new knowledge, enjoy shared learning and networking with awesome peers."
Nazrin Shah, full time cadet
Journeying through the Piscine and then entering the Core Programme was also one of self-discovery for Nazrin, who found it difficult to self-learn prior to joining 42KL. As he was put in a situation where learning, failing and learning from failure was central to the experience, he has since managed to apply this method to his daily life outside of coding.
As someone with experience in coding, Nazrin found the jump from purely doing full-stack web development to more unique and algorithm-oriented coding fascinating.
"My journey with 42 has been quite enjoyable, the only unfortunate bump in the road was during last year's MCO when we had to temporarily move online. During that period, I was very demotivated to do anything and 42KL was the only thing I could do non-virtually at the time. Thankfully after a while, campus reopened and I've been reliving the joys of coding once again. Aside from that, the people I've met along the way are definitely the most interesting part, as it's not often that we get to meet such a diverse group of people in any other environment."
To those who intend to try out for 42KL, Nazrin has words of encouragement, even for those who do not end up continuing on to the Core Programme.
"To those who are hesitant, just bite the bullet and join. Even if you don't end up joining the Core Programme, the experience garnered from going through the Piscine is already worth it. The people you meet may change your life."
Jaclyn, full time cadet
As full-time cadet, Jaclyn very much enjoys the camaraderie and experience being amongst like-minded peers who share the same goals.
After leaving school at the tender age of 14 to take on self-studying, she discovered a passion for robotics when she joined a competitive robotics team. The experience helped her become more independent but did not spark joy in the long run as she had to do everything on her own.
"The 42 experience itself showed me that by working with like-minded people, I gain perspective and insightful exposure of methods of the same subject. It made me more open-minded to other people's thoughts which I lack as I have always worked alone in the past. The structure of the gamified curriculum in 42 to me was also really fun and engaging which encouraged me to push myself to the limit."
Being in 42KL showed Jaclyn that coding was more than merely writing out instructions for a computer to execute, but that it also needs to be considerate to those who will read your code in the future.
"Programming is definitely the future; it will be a skill that will be widely used. The first 30 days would be the perfect opportunity for you to actually try out coding, by jumping into the "Piscine" along with others in the same boat as you, together experiencing a different way to learn, which is not the conventional way that you learned from school."
Teck Yuan, former accountant and ACCA affiliate
With the impression that coding was an alien language for the geeks, Teck Yuan is now an advocate for joining 42KL as well as a proud cadet who has built multiple cool projects, winning prizes in hackathons and currently working in a blockchain start-up NFT Pangolin. This change of heart came from him questioning his former career choice in accounting during the pandemic and decided to give 42KL a try following a recommendation from a friend working in Sunway XFarms.
"42KL has helped me achieve many things that I would not have imagined myself doing. I'm loving every moment of it, especially with every project that I have completed, I feel that I have gained yet another superpower. Often times we are given a project that requires us to come up with a plan to tackle the issues presented, and then share with our peers how it can be solved with code. Everyone in 42KL comes from a diverse background and we often catch ourselves exchanging a lot of interesting ideas and experiences."
One of his biggest takeaways from being at 42KL is that true learning happens when one does not merely focus on the outcome of a project, but when they are genuinely curious about how core concepts of a project can teach them and to look at problems from a different perspective.
"Akin to any other language, coding is an avenue of expression. It allows us to be creative in communicating well with other humans and machines via our codes written. Coding is beautiful and it is only as powerful as our imagination can conjure."
Wee Hean, civil engineer
For Wee Hean, one of his top gratifying moments of joining 42KL was completing a project that he had no idea on how to begin.  Hailing from a background in engineering and finance, he was drawn to programming as he had an interest and aptitude for mathematics and logical thinking.
"Despite having some programming background, there's actually a whole ocean of knowledge to acquire. We don't just learn how to program; we are also exposed to various topics of Computer Science in general. Without a doubt, the breadth of the knowledge is there, but it is really up to us to decide how deep we want to explore each topic…I can really appreciate how much I've grown since the start of the journey."
He has learned that anyone with rudimentary knowledge of a language syntax can 'code', but it takes hard work and experience to be able to 'program'. Wee Hean encourages anyone who has a month to spare to participate in 42KL, even if it is just to experience the month-long Piscine.
"During this time, you'll find out whether or not you have the interest or aptitude for programming. It's also a great chance for you to experience the self-teaching and peer-to-peer learning system employed by 42KL and assess whether such a learning environment is suitable for you."
Inspired by their stories? Beginners – come try your hand at coding, and coders – find out if you are 42KL worthy with their upcoming Piscine programmes. Visit 42KL's website to sign up or learn more about their latest updates.
< Previous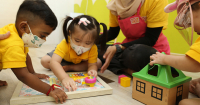 Sunway Spreads a Little Sunshine!
Next >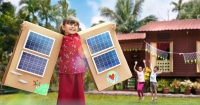 A Beacon of "Light" this Raya Season