Tossing with a Purpose
3
-min read
Little did Seremban's Loke Ching Fatt know that his creation would become a significant element to welcome prosperity during the Chinese New Year.
A multiracial and multi-religious Malaysia may also be known for its shimmering skyscrapers, amazing street foods,  potpourri of cultures, and etc. However, for some, the success of this peaceful nation could be owed to another tasty and delightful sensation!
What might that be? It's the enjoyment of the Yee Sang (raw fish) dish during the Chinese New Year season, an age-old custom steeped in tradition and culture.
The Yee Sang is basically a salad dish, comprising raw fish, pickled vegetables, special sauce, seasoning and other colourful condiments. When ready, everyone gleefully gathers around the dish to toss it (Lo Hei) as high as possible using chopsticks while wishing for luck, prosperity and all good things to happen in the coming year!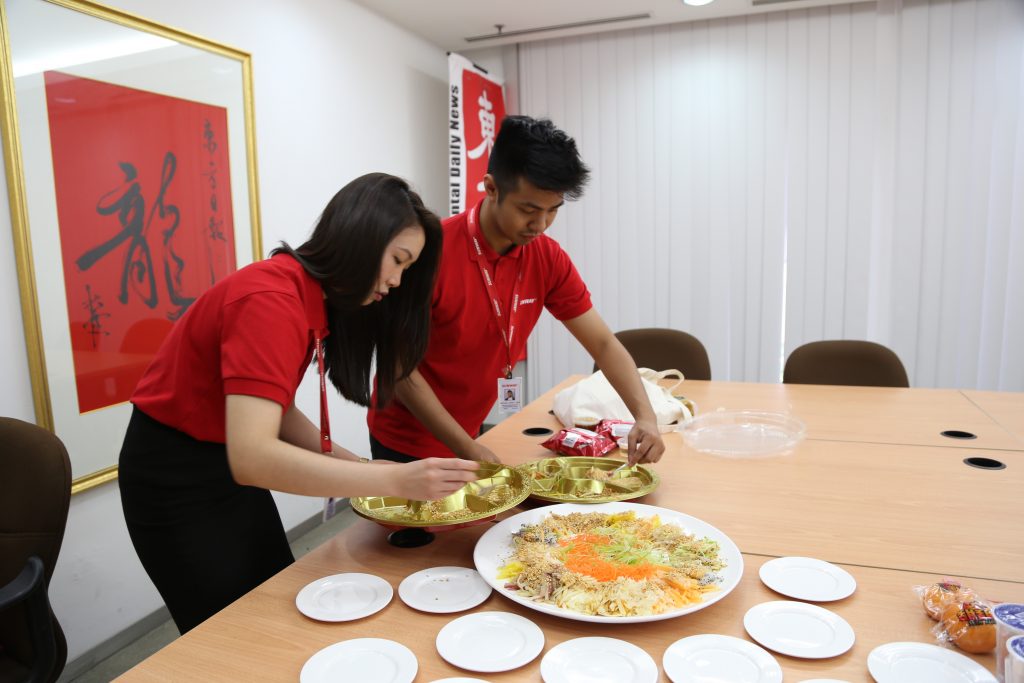 This popular dish has become a regular feature in many Muhibbah gatherings during the Chinese New Year.
Here's what you should know about the humble Yee Sang.
Origins
Loke Ching Fatt, a Chinese immigrant who came to Malaya and settled down in Seremban in the 1920s. From a catering business owner, he ended up adapting the Yu Sheng recipe, which the Cantonese were so fond of eating during the seventh day of Chinese New Year.
What's in a plate of Yee Sang?
Salmon fish slices, plum sauce, peanuts, sesame seeds, crackers, lemon, pomelo, carrot, green radish, white radish, and oil.
What do you chant during the Lo Hei and what do they mean?
Each ingredient below has its own meaning.
Ingredient #1: Raw Fish
Phrase: 年年有余 (Nian Nian You Yu)
Meaning: Abundance throughout the year
Ingredient #2: Pomelo
Phrase: 大吉大利 (Da Ji Da Li)
Meaning: Good luck and smooth sailing
Ingredient #3: Pepper
Phrase: 招财进宝 (Zhao Cai Jin Bao)
Meaning: Attract wealth and treasures
Ingredient #4: Oil
Phrase: 一本万利 (Yi Ben Wan Li)
Meaning: Make 10,000 times of profit with your capital
Ingredient #5: Carrot
Phrase: 鸿运当头 (Hong Yun Dang Tou)
Meaning: Good luck is approaching
Ingredient #6: Green Radish
Phrase: 青春常驻 (Qing Chun Chang Zhu)
Meaning: Eternal youth
Ingredient #7: White Radish
Phrase: 步步高升 (Bu Bu Gao Sheng)
Meaning: Reaching higher levels with each step
Ingredient #8: Peanuts
Phrase: 金银满屋 (Jin Yin Man Wu)
Meaning: Household filled with gold and silver
Ingredient #9: Sesame seeds
Phrase: 生意兴隆 (Sheng Yi Xing Long)
Meaning: Prosperity for the business
Ingredient #10: Crackers
Phrase: 满地黄金 (Man Di Huang Jin)
Meaning: Floor full of gold
Ingredient #11: Plum sauce
Phrase: 甜甜蜜蜜 (Tian Tian Mi Mi)
Meaning: Sweet and loving relationships
It is also believed that the louder you chant and the higher you toss, the greater your fortunes will be!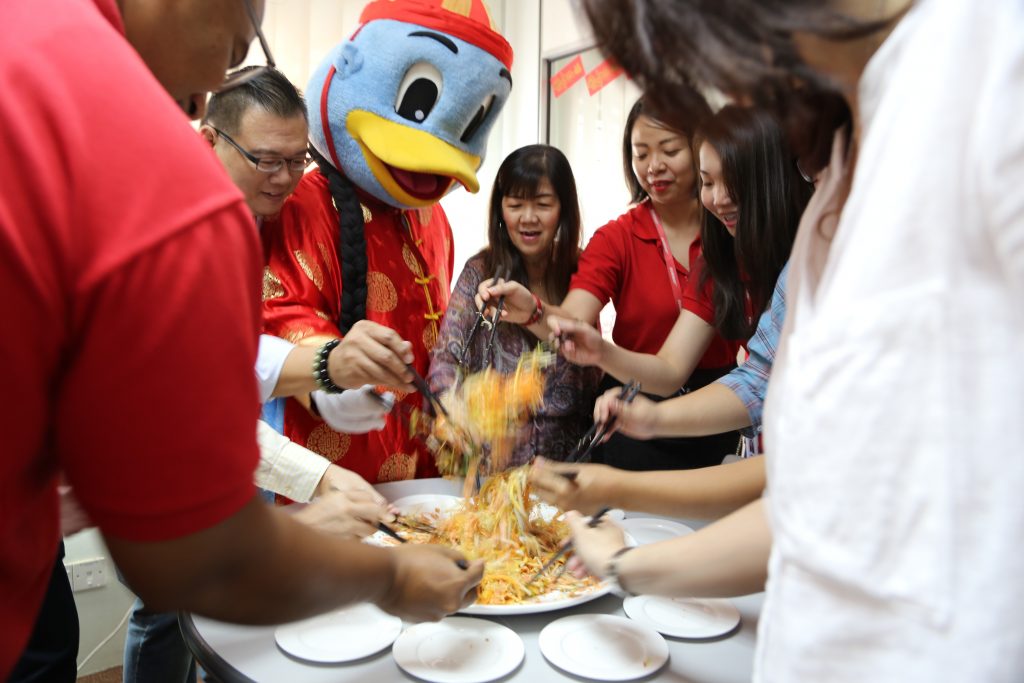 Who do you share this tradition with?
Malaysians generally toss the Yee Sang with their families, friends colleagues, business partners and dear ones. It is something shared with all, and it is no different with us at Sunway, sharing our Yee Sang and welcoming prosperity for the entire group and all our valued stakeholders.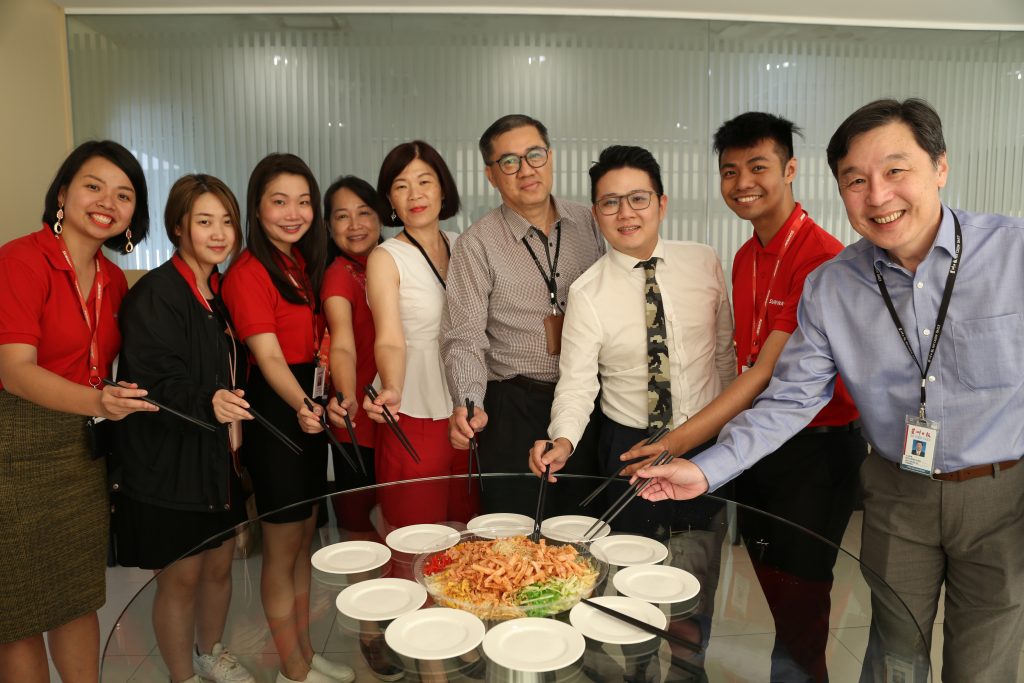 < Previous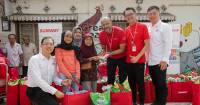 In the Spirit of a Great Heart
Next >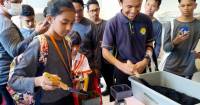 From Food to Garden

Warning: sort() expects parameter 1 to be array, bool given in /home/swysunway/public_html/stories/wp-content/themes/Avada/single.php on line 555