Workplace Inclusiveness and Diversity: A People-First Approach
7
-min read
At Sunway, we recognise the value of our people and the impact of inclusiveness

Employers who prioritise an inclusive work environment attracts passionate individuals to fuel the success of an organisation
For Sunway Group, the motivation to do the right thing the right way is deeply rooted in our culture, underscored by the core values of Integrity, Humility and Excellence. To keep that motivation and foster the right culture, a team of bright, talented individuals from diverse backgrounds will add to a brand's appeal.
As a 'True Blue Malaysian', founder and chairman of Sunway Group Tan Sri Sir Jeffrey Cheah envisioned Sunway to be an organisation that demonstrates inclusion through strong corporate governance in a diverse community.
Pairing the tenacious drive of our emerging leaders and the wise council of senior management teams, inclusiveness has been a key ingredient to the success of Sunway. Intergenerational collaborations have become a culture as the Group fosters a well-balanced and diverse age group of staff as part of its organisational growth.
Integrity Paves the Way
People are a brand's greatest asset. In order to bring ground-breaking innovations and exemplary talent to the pool, employers have to cultivate an inspiring, responsible and inclusive workplace to ensure sustainable business growth.
Governed by a set of robust policies to address diverse perspectives, Sunway is committed to fostering inclusiveness in the workplace through the Anti-Discrimination Policy – on the back of our core values of integrity, humility and excellence that are closely aligned with the our ESG targets.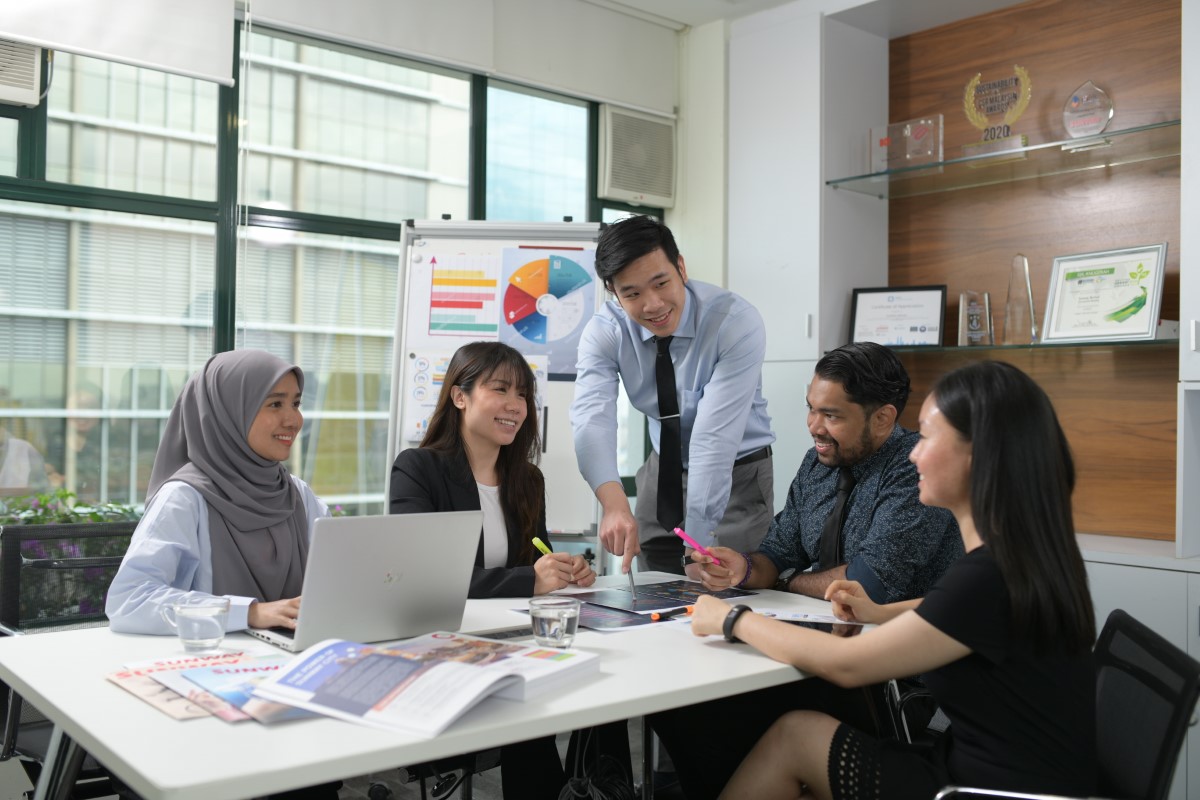 The policy protects the wellbeing of our staff against direct or indirect discrimination, victimisation, intimidation, bullying and harassment. Irrespective of physical or internal differences, setting the bar for impartial judgement is paramount in protecting the rights to equal treatment and opportunities despite age, skin colour, upbringing or even physical abilities.
Women in the Workplace
The voice of women is contributing more towards decision-making processes today. However, within the Malaysian corporate sector, female representation in boardrooms is at a mere 15.4%, according to Deloitte's Women in the Boardroom: A global perspective report. Grappling with societal expectations of women to sacrifice their dreams and careers to stay home, true change must first begin from the top, shared Sarena Cheah, Sunway Berhad executive director.
Paving the way for young women to rise in the workplace, we are playing a part in shaping worldviews to recognise the importance of women's voice as a force to be reckoned with.  Empowered by a strong conviction, Angelicia Anthony Thane, lecturer in the Sunway College Foundation programme, expressed her passion in using her voice to build the next generation.
"During lectures, instead of telling our girls to speak up and downplay their beauty, perhaps we should reconcile the fact that femininity is both a beauty and a privilege," she said.
In the same way, Angelicia sparks clarity in thought to the struggles of her colleagues as she shares that embracing what comes naturally to us will eventually create a reality that we desire to live in, instead of denying who we are in order to fit into a mould of "success":
"I know a handful of female employees who would cringe at the thought of being identified as feminine – including myself. I have often encountered female lecturers who convince themselves to go barefaced although they are experts when it comes to make-up. We swap our decent, bright dresses for powerful grey suit trousers, subconsciously attempting to imitate our male counterparts. In our quest to be seen as strong, independent women, we subtly conjure a stereotype for femininity," she said.
 Breaking the Glass Ceiling
The commitment to equality from our leaders has evidently motivated our people, with both women and men experiencing greater opportunities to pursue their passions in roles that are gendered as masculine or feminine. Saimah Abdul Jalil, security officer in Sunway Control, shared that equal representation is essential for every field as both men and women bring unique skills to their jobs and complement one another.
"I had absolutely no fears or concerns when joining the control unit because everyone here has a mutual respect for one another. My male colleagues are open-minded and everyone made it very easy to integrate within the force. Also, it is more appropriate for a women officer to manage female suspects and victims as compared to a male officer."
While nurturing and caring is often perceived as feminine, the innate desire to be kind and caring should not be suppressed, but expressed as a common human behavior. Jeremy Tan Shin Ming, a wound care nurse at Sunway Medical Centre, shares the experience of facing rejection as a male nurse in the industry:
"In my department we are required to treat all types of wounds for every kind of patient. However, more often than not, male nurses tend to face greater rejection as most patients prefer a female nurse."
He expressed that staying humble to ask for help and acknowledging the differences between both genders in the industry is essential to remain adaptable in all situations. Being a male nurse in a "female" job has never tainted his superiors' view of him to grow or learn. Instead, his willingness and humility continued to expand his opportunities for learning:
"My superiors are always challenging me to grow and take the lead when they have considered my competency in the task. Besides providing me with a platform, they also cover me in situations when I encounter mistakes in my learning experiences."
Growth Has No Exceptions
While many still hold unto stigmas and generalisations of job labels and race, life at Sunway is different for our people. We look for talents that fill what the organisation needs, rather than who and what a person's background is. This leaves ample space to expand on new possibilities for talents to flourish.
Mohammed Dawoud, a Palestinian immigrant, spoke of his once in a lifetime opportunity to serve as an Arabic interpreter in Sunway. Despite being a foreigner, his chances to grow in his career was neither limited by his differences nor was he discriminated by people in the workplace:
"Sunway is fair when it comes to my rights as a foreign employee. I believe it is easy to grow in Sunway if you have the ambition to grow. In every phase, I had people who stood by me and assisted me in achieving my goals," said Dawoud.
With the encouragement of his direct managers and senior management, the 31-year-old applied to join Sunway as a full-time Arabic interpreter even though there was no such job position then. Dawoud said:
"The management heard me and believed in me. I'm grateful that they created a new position to fit me in, under a six-month training contract as a guest relations executive. They recognised my hard work and promoted me to a full-time guest relations manager."
Forging One's Own Path
While many continue to flourish in corporate settings, talents with unique passions and job scopes have equally thrived at Sunway. Within the city of endless possibilities, lies an inspiring story of a sculptor with a peculiar background in culinary and engineering. With just one year left to complete his studies, Infantino Fernandes left his engineering course to pursue his true passion in culinary.
He found a deep interest in ice carving as a chef for the Royal Mirage in Dubai, which eventually led him to a new path as a sculptor crafting some of most magnificent artworks around Sunway's townships. Today, Infantino has marked parts of Sunway with one of the most remarkable sculptures with stories that aim to touch lives through art.
"I believe art when used as a platform should be at a level more accessible to the common person, more relatable to everyone who stops by and takes the time to observe and appreciate. Art has the potential to sow the seeds of transformation in our society. Hence as an artist, one should be aware of the power that comes with that responsibility," he said.
When we mention inclusiveness, we mean it for all backgrounds, people and passions. Sunway became home for Infantino to hone and develop his passion as a sculptor out of the regular office environment to develop works of art.
What we're Made of
The success of Sunway Group is only possible through the support of a strong workforce that is passionate and open to differing views and opinions. As we value and protect inclusiveness through a series of codes and policies, shaping a culture that embraces healthy interactions builds an environment of high-impact transformation and individual growth for both employees and employers alike.
We have come a long way in building the foundation of a conducive and healthy workplace for our talent. Committing to meritocracy and diversity in operating our businesses, we are honoured and will remain zealous to encourage, inspire, and respect one of our most important stakeholders – our own people, said Tan Sri Chew Chee Kin, Sunway Group president.
< Previous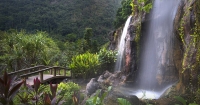 What's Your Wish for 2022? How about a Better Planet?
Next >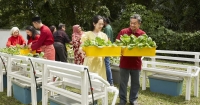 Sowing Seeds of Kindness this Lunar New Year