We define stakeholders as parties who are impacted by our organisation's business decisions and activities, and as groups whose actions and decisions will influence our business growth. Stakeholders are also those with a vested interest in our corporation. We maintain regular engagement with our stakeholders, enabling us to identify and align their key priorities and concerns with organisational business practices and strategies.
We have mapped our stakeholders' concerns and our responses against our sustainability material matters, which has allowed us to identify any associated risks and opportunities arising from these concerns.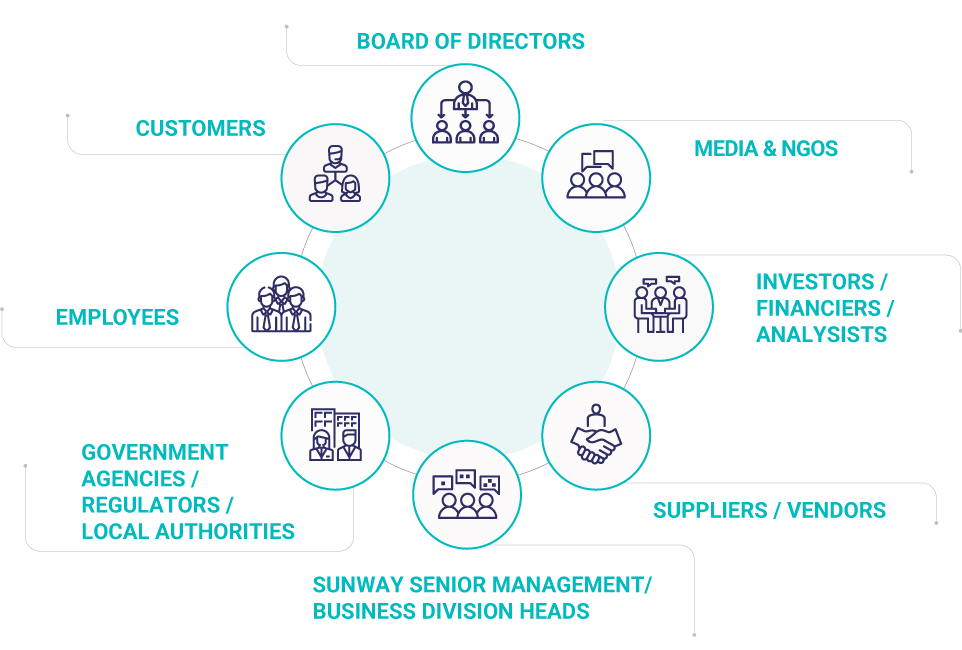 Identifying and managing our risks is vital for sustainability of our business. As a conglomerate, our business operations, management and growth are influenced by a wide range of risks, ranging from local to regional and global risks.
We identified the risks and potential consequences of these trends, which guide us in better managing our Company's material issues in the economic, environmental, social and governance areas.​
The global economic recovery from the recession caused by responses to the COVID-19 pandemic continues but is slowing. Inflation has accelerated in many countries as a result of pandemic-related disruptions to supply chains combined with resurgent consumer demand and higher commodity prices​
| GLOBAL MEGATRENDS | Shifting Economic Power | Globalisation | Industrial Revolution 4.0 | Digitalisation |
| --- | --- | --- | --- | --- |
| GLOBAL ISSUES | Supply Chain Disruption | Economic Crisis | Financial Crisis | Recession |
MATERIAL ISSUES

Company's Economic Performance

Macroeconomic Issues​

Responsible and Sustainable Financing

Capital Allocation Strategy (Build – Own – Operate Business Model)

Brand and Reputation

RISK

Economic uncertainties​
Political uncertainties​
Competition
Supply chain disruptions

Economic uncertainties
Supply chain management
Public perception
Compliance with regulations
Unemployment

Environmental-related costs​
Business ethics

Economic uncertainties
Globalisation
Competition
Public perception
Asset and liability management
Climate action failure
Human environmental damage
Natural resource crises
Products and services
Labour issues

Public perception
Business ethics
Human rights

OUR RESPONSES

Implementing strategies to enhance business and financial resilience through innovation and technology.
Incorporating global megatrends into business planning.
Timely and transparent dissemination of financial performance.
Active investor relations activities to engage with the investment community.

Implementing strategies to enhance business and financial resilience through innovation and technology.
Monitoring and mitigation of risks that may adversely affect business operations and financial performance.
Implementing prudent cost management and proactive capital management.
Upholding good corporate governance and ensuring adherence to all applicable laws and regulations.
Developing and upskilling employees' capabilities to improve productivity.

Sustainability-linked bond, sustainability sukuk, and collaboration with financial institutions.
Diversifying sources of debt.
Optimising cost of debt.

Developing strategies that strengthen business model resilience.
Active investor relations activities to communicate Sunway's business model to the investment community.
Monitoring and mitigating risks that may weaken business model resilience.

Ensuring high product and service quality.
Upholding good corporate governance and business ethics.
Ensuring compliance with all laws and regulations.
Leading in sustainability stewardship.

UN-SDGS
The health of humans and our planet is interconnected, and this is acknowledged by the Rockefeller Foundation-Lancet Commission on Planetary Health. The wealth of our civilisation depends on the proper management of our natural resources and ensuring that our natural systems continue to thrive.
| GLOBAL MEGATRENDS | Rapid Urbanisation |
| --- | --- |
| GLOBAL ISSUES | Planetary Health: The Planet Cannot Wait |
GOAL
Goal 1: Transforming Our Portfolios to Low – Carbon Sustainable Cities​
MATERIAL ISSUES ​
Climate Action: ​

Physical impacts of climate change
Energy management
Water management

Protection of biodiversity and ecology
Pollution management:​


Waste management
Effluents, air emissions, and noise monitoring

RISK

Climate action failure
Extreme weather
Human environmental damage
Natural resource crises

Biodiversity loss
Natural resource crises

Human environmental damage
Natural resource crises

OUR RESPONSES

Prepared Climate Report in line with the recommendations of TCFD.
Ensuring environmental impact is disclosed in a comprehensive and transparent manner in the Sustainability Report.
Strengthening our climate action to mitigate climate risks by establishing an Internal Carbon Pricing framework.
Bolstering our risk management by conducting a Value at Risk (VaR) assessment on the Group's properties' risk exposure to climate change.
Supporting the government's climate ambition to achieve net zero carbon emissions by 2050.
Implementing energy and water-saving initiatives to reduce energy and water consumption and lower the Group's environmental impacts.
Investing in sustainable water supply systems, including a water treatment plant and rainwater harvesting systems, to reduce dependency on municipal water supply.
Investing in renewable energy to reduce the Group's GHG emissions and carbon footprint.

Establishing a Biodiversity Policy to guide the Group in integrating biodiversity considerations into its business activities and decision-making processes.
Established Green Building Policy to guide us in producing sustainable designs and managing our resources effectively, while minimizing the impact of our operations on the surrounding communities and the environment.
Established Green Township Policy that ensures the diverse needs of the community are met, while minimizing the developments' impacts on the environment and society by regenerating the areas surrounding the built environment.
Striving to build integrated developments that contribute to urban revitalization and urban brownfield redevelopment.

Applying a waste management hierarchy to prevent, reduce and minimize waste.
Managing effluents, air emissions, and noise pollution at relevant sites.
Established Sustainable Events Management Policy to help event organizers plan and deliver successful events that minimize negative impacts on the environment and foster positive community relations wherever possible.

UN-SDGS
We are committed to promoting the well-being of our employees by prioritising a safe, inclusive, diverse and respectful workplace to secure our talent pipeline. In time to come, we are also prepared to adapt to changes within our organisation as workplaces continue to evolve.​
GLOBAL MEGATRENDS

Demographic & Social Change ​

GLOBAL ISSUES

Workforce Trends

Health and well-being

Future of work
GOALS

Goal 2: Advocating a Responsible Value Chain​

Goal 3: Developing a Safe, Equal and Dignified Workforce​

Goal 4: Investing in Community Inclusivity​

MATERIAL ISSUES
Value Chain Improvement:​
Value Chain Improvement:​
Employee well-being:

Employee engagement
Learning and development
Occupational Health & Safety

Human Rights
Community Investment 
RISK

Labour issues
Products and services

Livelihood crises
Mental health deterioration

Social cohesion erosion
Livelihood crises

OUR RESPONSES

Established a Sustainable Procurement Policy that serves as a communication and improvement tool for a responsible and sustainable procurement process.
Having in place a Supplier Code of Conduct to ensure that our suppliers comply with all the applicable laws, rules, codes, and regulations.
Implementing digitalization and embarking on decarbonization across our supply chain.

Established a Sustainable Procurement Policy that serves as a communication and improvement tool for a responsible and sustainable procurement process.
Having in place a Supplier Code of Conduct to ensure that our suppliers comply with all the applicable laws, rules, codes, and regulations.
Ensuring suppliers and vendors are committed to respecting human rights as set out in the UN Guiding Principles on Business and Human Rights and UN Global Compact (UNGC) Principles. We also recognize the International Labour Organization's (ILO) eight fundamental Conventions.
Maintaining a good customer satisfaction score.

Establishing family-friendly policies and providing better-than-industry-average benefits.
Providing work-life balance programs and health and wellness activities.
Having in place My Performance Focus Areas to assess employees' performance. 100% of employees received career development reviews in 2022.
Investing in the learning and development of employees to ensure delivery excellence and maintain high customer satisfaction scores. In 2022, the average training hours for each employee were 40.2 hours.
Having in place Occupational Health, Safety, and Environment (OHSE) Policy and establishing a five-year OHSE Strategy to provide a safe and healthy work environment.

Upholding zero tolerance for discrimination against race, religion, gender, age, disability, and nationality.
Established Diversity and Inclusion Policy that emphasizes our commitment to creating a culture that values and respects differences.

Continuously enriching and empowering the local communities in which we operate through #SunwayforGood corporate social responsibility (CSR) initiatives. Invested more than RM6.29 million in community inclusivity programmes in 2022.

UN-SDGS
Sunway Berhad strives to practise good corporate governance to maintain transparency in its records and procedures to appeal to shareholders and stakeholders. This includes establishing clear rules and controls, providing guidance to leadership and aligning the interests of shareholders, Directors, management and our employees to build trust with our investors, the community and public officials.​
| GLOBAL MEGATRENDS | Emerging Environmental, Social and Governance (ESG) mandate in corporate governance ​ | Technological Breakthroughs​ |
| --- | --- | --- |
| GLOBAL ISSUES | Increased ESG regulations​ | Connectivity blind spots ​ |
GOAL
Goal 5: Respecting Ethical Principles 
MATERIAL ISSUES ​
Group standards and operating procedures 
Innovation and technology 
RISK

Delisting
Insolvency
Bureaucratic obstacles
Discouraging private sector development

Digital power concentration
Cybersecurity failure
Digital inequality

OUR RESPONSES

Upholding good corporate governance by having in place robust policies.

Upholding good corporate governance by having in place robust policies.
Ensuring updated and robust IT security systems to mitigate cyberattacks and protect data privacy.
Ensuring products are produced in accordance with safety standards.

UN-SDGS