What Does Malaysia's Next Smart Sustainable City Look Like?
6
-min read
In the southernmost region of Peninsular Malaysia, the city of Iskandar Puteri co-anchors Iskandar Malaysia – the nation's first economic corridor established in 2006 to be a catalytic international metropolis by 2025.

Located strategically within the robust city of Iskandar Puteri, Sunway City Iskandar Puteri is proximate to primary attractions in Medini, Johor as well as Singapore via seamless connections to major highways.
As one of the largest developments in Southeast Asia, Iskandar Puteri is a natural hinterland comprising a greenfield area primed to be 'the world in one city' from a humble palm oil plantation, established to foster synergies between Malaysian and Singaporean economies. Today, Iskandar Puteri is the second-largest city in Johor after Johor Bahru and is administered by Iskandar Puteri City Council (MBIP).
As one of the latest smart sustainable townships cultivated by Malaysia's Master Community Developer Sunway Property, Sunway City Iskandar Puteri in Johor is modelled after the flagship sustainable integrated townships of Sunway City Kuala Lumpur (SCKL) and Sunway City Ipoh (SCI) in Perak.
Adhering to Sunway Property's standard philosophy, the development of Sunway City Iskandar Puteri is similarly centered around five key pillars of accessibility, connectivity, environment, community and security. While remaining environmentally sensitive and ecologically conscious, its blueprint is designed not only to complement but also accentuate its geographical makeup.
Sunway City Iskandar Puteri is a low-density eco township development underscored by Sunway Property's unique Build, Own and Operate (BOO) model, thus creating the Sunway City Iskandar Puteri Golden Triangle – a thriving commercial hub anchored by a sizeable shopping mall, nature-inspired activities and world-class entertainment, education as well as medical hubs.
Where City Meets Nature
Dubbed as Nature's Capital City, Sunway City Iskandar Puteri is surrounded by a riverine estate and pristine mangrove forest whilst traversed by the majestic Pendas River, all of which are preserved and kept in its natural state during development.
Throughout the township, one is constantly connected to nature in the form of eco-parks, green pockets, water bodies, and green corridors.
With more than 14,000 trees across 60 species sprinkled throughout the township, Sunway City Iskandar Puteri embodies the perfect balance of yin and yang where world-class architecture perfectly complements nature's design.
Its nursery in particular is a green haven with 7,500 trees replanted thus far to enhance the township landscape, on top of the 172-acre mangrove forest reserve along the seven kilometre Pendas river that not only balances out the ecosystem but also enhances the landscape.
Planting the Seeds of Community
Sunway City Iskandar Puteri was conceived in 2012 to nurture a vibrant, engaged and resilient community within the primary development corridor of Iskandar Malaysia.
The township comprises six spectacular districts namely the Lakeview Precinct, the Parkview Precinct, the Marketplace Precinct, the Seafront Precinct, the Capital Precinct, and the Riverside Precinct; each befittingly named and meticulously fashioned as a self-sustaining integrated city.
This 1,800-acre world-class development with a gross development value (GDV) of more than RM30 billion sees the hallmark of Sunway's seven synergistic components of education, hospitality, theme park, retail, residential, commercial and healthcare. All within one secure, transit-oriented, master-planned development. Sunway City Iskandar Puteri remains Sunway's largest integrated township yet, and will be home to some 200,000 people.
A 'Fully-Furnished' Township
As one of the earliest developments of the township, the Sunway Citrine Residence and Hub in the Lakeview precinct comprises a collection of residential, designer offices and retail space overlooking the 20-acre Sunway Emerald Lake, as well as the Events Gallery and Sunway City Iskandar Puteri's nursery.
Meanwhile, Sunway Emerald Residence marks the first landed development within the vicinity, followed by Sunway Citrine Lakehomes as an extensive development accommodating a gated and guarded community with a community centre equipped with indoor and outdoor facilities to foster a healthy and active lifestyle.
Also nestled within the Lakeview precinct is Sunway International School (SIS) Iskandar, sister campus to the flagship RM300 million Sunway International School in Sunway City Kuala Lumpur.
Moving on to the Marketplace precinct which doubles as the township's cultural and commercial melting pot, Sunway Big Box Retail Park is the first-of-its-kind in Malaysia. The hybrid retail park is a 24-acre engagement space offering both open-air strip mall environment as well as the comfort of an air-conditioned mall experience with direct access to X PARK Iskandar Puteri and Sunway Hotel Big Box.

Poised to become the one-stop recreation centre for locals and tourists alike, Sunway Big Box Retail Park is strategically located just five kilometres away from the Malaysia-Singapore Second Link via the Coastal Highway Southern Link (CHSL).
As the largest outdoor sports premises sprawling over 32 acres, X PARK Iskandar Puteri caters to the needs of sports enthusiasts and adrenaline junkies with a variety of action-packed adventure and extreme sports such as go-kart, ATV, watersports, mountain biking, motocross, rock climbing, archery and paintball; on top of housing 40 glamping villas ideal for ecotourism and short getaways.
Meanwhile, Sunway Hotel Big Box offers the answer to family vacations or a quick weekend getaways.
Located within the central Marketplace is Sunway GRID, an up-and-coming innovative mixed development comprising an amalgamation of retail, flexi-suites and residential units devised to become the next hip and happening hotspot in Iskandar Puteri.
Bearing a name inspired by construction gridlines, it is also worth mentioning that Sunway GRID Residence is Malaysia's first property development that is fully customisable based on individual preference and is certified by the Malaysia Book of Records. The development also won the Creative Space Award (Excellence) at the StarProperty Awards 2021.
A True Protégé
Following the glory of its predecessors, Sunway City Iskandar Puteri also leads the sustainable development movement in Johor, with the township being among the first of its kind to be awarded the GBI silver rating. The StarProperty Awards has crowned Sunway City Iskandar Puteri the title of Best Comprehensive Township Award for three consecutive years, on top of recognising it as the Best Southern Developer just last year and Best Earth-Conscious Developer this year.
In addition, the launch of Sunway GRID has placed Sunway City Iskandar Puteri on the map as the first development to be featured in the Malaysia Book of Records under the category of Property Customisation System.
The recent Malaysia Green Building Council's Leadership in Sustainability Awards 2020 also sees the township receiving Special Awards on Sustainable Development Goals and Best Green Product and Technology for incorporating town-wide use of solar panels alongside other sustainable initiatives implemented within Sunway City Iskandar Puteri, such as the solar panels fitted atop Sunway Big Box Retail Park and Sunway International School's rooftops.
Likewise, Sunway Citrine Hub is Johor's first environmentally-friendly community hub to be certified GreenRE Bronze in October 2019, while Sunway GRID followed suit with a GreenRE Silver rating, soon after.
Sunway Citrine Residence was crowned Best Integrated Development (Excellence) at the StarProperty Awards 2020, while the Sunway Emerald Residence development won Best Luxury Series (Honours). In addition, Sunway Citrine Lakehomes bagged the coveted Family-Friendly Landed and Cornerstone Development while Sunway GRID Residence took home the Creative Space Award by StarProperty Awards 2021.
Watch This Space
One may anticipate with enthusiasm the opening of Sunway Big Box Hotel – the first Sunway hotel in Johor, by end of 2021.
In 2022, Sunway City Iskandar Puteri will be focusing on eco-tourism initiatives, X PARK expansion, a global learning village (medical and education hub) in the township, its latest landed series as well as the completion of Sunway GRID Residence, alongside the township's first government Chinese school SJK (C) Cheah Fah and Sunway Big Box office tower.
The facilities and amenities offered within Sunway City Iskandar Puteri are community-focused, where everyone can live, learn, work and play in a healthy and connected environment.
< Previous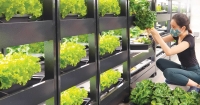 Age of the Farmer
Next >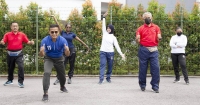 Putting People First in Trying Times