Education
Healthcare
Sustainability
Research Institute at Jeffrey Cheah Biomedical Centre Leads Global Efforts in COVID-19 Fight
Education
Healthcare
Sustainability
5
-min read
Jeffrey Cheah Biomedical Centre is at the forefront of the UK's research on coronavirus (COVID-19)
Over 150 scientists and clinicians at the Cambridge Institute of Therapeutic Immunology and Infectious Disease (CITIID), housed at the Jeffrey Cheah Biomedical Centre (JCBC), is leading the University of Cambridge's response against the Coronavirus (COVID-19) pandemic.
Located on the Cambridge Biomedical Campus, the largest biotech cluster outside the United States, JCBC is situated in a group of state-of-the-art laboratories and hospitals including the world famous Laboratory of Molecular Biology (16 Nobel Prizes), the Royal Papworth Hospital – the most illustrious Heart and Lung Hospital in Europe – and Addenbrooke's Hospital.
CITIID is home to the largest BSL (biosafety level 3) Containment facility in the UK, and was established to study the relationship between infectious diseases and human immune systems. Research institutes with Containment Level 3 Facilities are allowed to work on lethal and dangerous pathogens such as the coronavirus.
"The world is facing an unprecedented challenge, with potentially millions of lives at risk, which is why over 150 of my colleagues at our new institute are focusing their expertise on the fightback against COVID-19," said Professor Ken Smith, director of CITIID, in an official statement on the University of Cambridge website.
"Together with our partners in the NHS and NIHR, we aim to identify those patients at greatest risk and understand why the coronavirus makes some people so sick while leaving others with only mild symptoms. Ultimately, we hope this will lead to the development of new treatments against this dreadful disease."
Sunway-Cambridge Collaboration
Opened in 2019, JCBC brings under one roof the CITIID, the Wellcome-MRC Stem Cell Institute and the Milner Therapeutics Institute, which allows greater collaboration between scientists and clinicians, transforming pioneering research into effective therapies. The three institutes are now collaborating intensely in tackling the COVID-19 threat.
Named after Sunway Group Founder and Chairman Tan Sri Sir Jeffrey Cheah, the establishment of JCBC is one of a number of partnerships between Sunway and Cambridge to expand and bolster research capabilities, knowledge and skills.
Sunway's partnership with Cambridge began in 2015 with the establishment of Jeffrey Cheah Professorial Fellowships in Gonville and Caius College, University of Cambridge and a Jeffrey Cheah Scholar-in-Residence programme whereby two Sunway academics each year may reside in the College for one month to undertake research and scholarly study.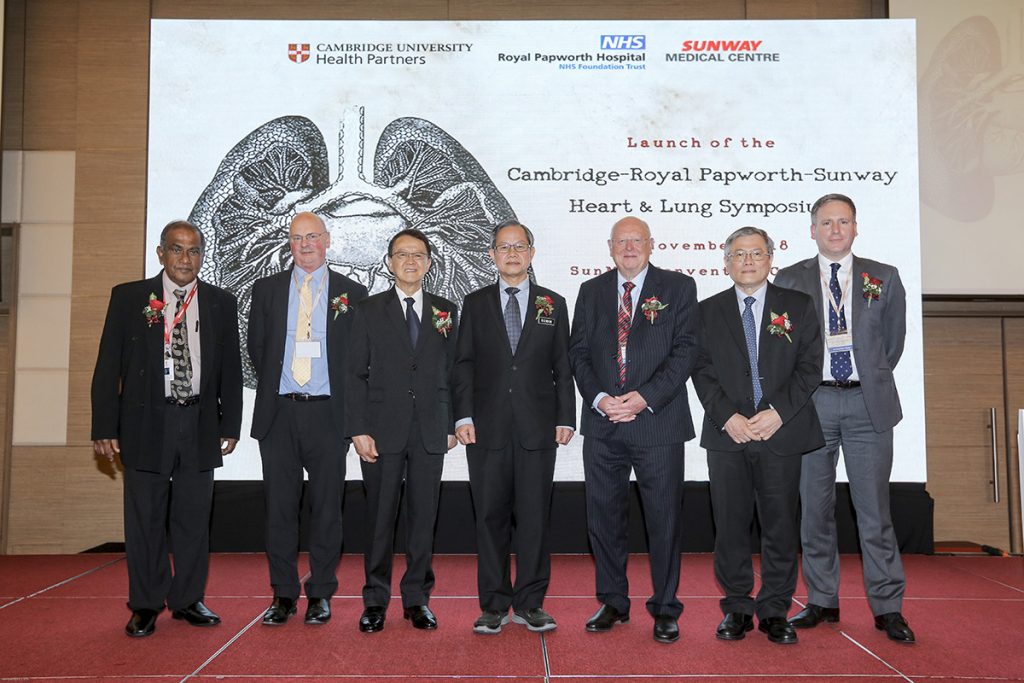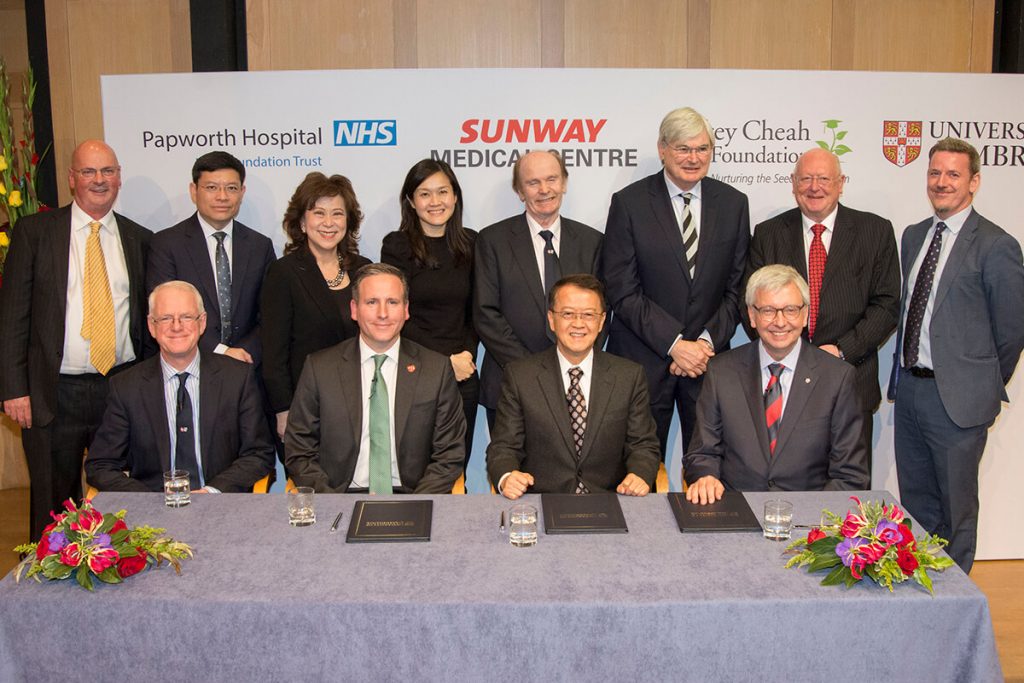 The naming of the JCBC has its origins in a 2017 agreement with the University of Cambridge to establish a major collaboration in biomedical sciences. The result was the creation of the Sunway Clinical Research Centre in Sunway Medical Centre as a Regional Site Partner of the Cambridge School of Clinical Sciences, an extensive visiting leaders programme, and a series of medical education programmes.
Sunway and Cambridge are currently exploring more collaborative ways to combat COVID-19, with talks of potential technology transfer and testing on the table. However, a feasibility assessment will be conducted first before forming a collaboration model for the project.
Professor Stephen J Toope, vice-chancellor of the University of Cambridge, personally thanked Tan Sri Sir Jeffrey Cheah and Sunway for JCBC's contribution to national and international efforts in fighting COVID-19.   
"The Jeffrey Cheah Biomedical Centre has become absolutely pivotal to our clinical medicine response to COVID-19. On the Biomedical Campus we are launching multiple pre-clinical and clinical research studies and trials (spanning improved diagnostics, experimental treatments, vaccine candidates and large-scale observational studies), many in close partnership with our teaching hospital, Addenbrooke's," he said in an email to Tan Sri.
"CITIID is now focusing entirely on COVID-19 research. It is clear how important this new facility (including the CL3 biocontainment capacity) is in enabling us to make a substantive contribution to national and international efforts. While no one could have anticipated this immediate and pressing role for CITIID, we are so glad to have it, and profoundly grateful for your visionary support in its creation."
The Epicentre of the Cambridge response to COVID-19
The research team at CITIID has successfully set up a Point of Care (POC) test system, implemented rapid diagnostic testing for patients at Addenbrooke's Hospital, and developed tests for frontline healthcare workers treating COVID-19 patients. It also hopes to recruit consenting COVID-19 patients at Addenbrooke's Hospital for further studies.
Recently, the team of researchers at CITIID also developed a new test for infection of SARS-CoV2 – the virus strain that causes COVID-19 – which also happens to inactivate the virus at the point of sampling. It is now being used to test and screen frontline NHS staff. With a four-hour detection rate, the CITIID team is able to diagnose the infection much faster than the current regular tests, which takes over 24 hours to return a result.
Addenbrooke's is also utilising Samba II machines, a rapid diagnostic testing solution that produces results in under 90 minutes as opposed to the regular 24 hours, when testing for COVID-19. Developed by Diagnostics for the Real World, a University of Cambridge spin-out company, Professor Ravi Gupta from CITIID, is leading the 'COVIDx' clinical study to evaluate the impact of this test.
CITIID is also taking a front role in the £20 million COVID-19 Genomics UK Consortium, a major effort by the UK government to help understand and control the infection.
"Our institute, positioned as it is on the thriving Cambridge Biomedical Campus, is perfectly suited to lead Cambridge's response, working with research and health partners locally, nationally and internationally on this urgent problem," said Professor Gordon Dougan, a renowned figure on vaccines, genomics and the epidemiology of infectious diseases and professor at CITIID, in an official statement.
< Previous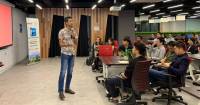 Looking to Scale Your Business Online? Get started with eCommerce Jump-start Programme
Next >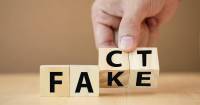 Five Coronavirus Myths You Need to Stop Believing
This article first appeared in Berita Sunway Issue 69