Sunway Walks the Corporate Responsibility Talk with Triple Wins at NACRA 2020
3
-min read
The National Annual Corporate Report Awards (NACRA) Excellence Awards, jointly organised by Bursa Malaysia Berhad (Bursa), Malaysia Institute of Accountants (MIA) and The Malaysian Institute of Certified Public Accountants (MICPA) is the epitome of corporate reporting excellence and accountability, encouraging corporates to communicate their value creations to the public

Amidst intense competition, Sunway walked away with several top awards at the NACRA 2020
Held virtually in lieu of a gala dinner due to the pandemic, NACRA 2020 saw 32 winners in different categories, out of a pool of 48 participating organisations.
Celebrating its 30th year, the NACRA Excellence Awards 2020 continues to spur excellence and improvement in corporate reporting across Malaysia. Reworked to ensure guidelines are in line with current requirements and the latest global development, NACRA introduced a new framework last year, integrating elements of sustainability and adopted a new awards structure and assessment criteria.
One key revision to the awards was that all organisations competed for the Excellence Awards according to market capitalisation for listed companies, with a separate category for non-listed organisations.
Notwithstanding the changes to the framework, Sunway emerged top with three awards.
Sunway Construction Group emerged as sole Platinum winner for the Excellence Awards for companies with less than RM2 billion in market capitalisation category, while Sunway Berhad and Sunway REIT were awarded Silver and Gold respectively for the Excellence Awards for companies with RM2 billion to RM10 billion in market capitalisation categories.
The wins continue to cement Sunway's commitment to sound corporate sustainability reporting, as 2020 was not the only year we have been recognised at the NACRA.
From a NACRA finalist in 2009 to consistently wining the Industry Excellence Award for the Properties & Hotels category, Real Estate Investment Trusts and Investment Funds category and even nabbing the Platinum Award for Overall Best Designed Annual Report, this track record is testament to our efforts in doing well by doing good.
A collaborative effort of Bursa Malaysia Berhad, Malaysian Institute of Accountants (MIA) and the Malaysian Institute of Certified Public Accountants (MICPA), NACRA was conceptualised to promote effective communication by organisations through publication of timely, informative, transparent and reader-friendly annual reports to raise the bar for quality corporate reporting in Malaysia.
"It is always an honour to be recognised for the hard work and effort of our various teams, not just for the company, but also for the communities that we serve. This trio of awards at such a milestone year for NACRA is a great achievement, and one that was made possible with the continuous support of our stakeholders and our commitment to excellence in fair, transparent and effective corporate reporting," says Tan Sri Chew Chee Kin, President of Sunway Group.
< Previous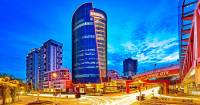 Urban Living Lab: The Key to Unlocking the Future of Cities
Next >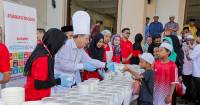 How Sunway is Fighting the Battle Against Food Insecurity