Triple triumph at the HR Excellence Awards
3
-min read
Sunway bagged three accolades at the HR Excellence Awards 2023, where organisations were acknowledged for their contribution in workplace excellence and initiatives that brought about positive impact to their communities.

As we approach our 50th anniversary in 2024, we remain committed to providing and maintaining a safe workplace for our people to grow and thrive.
First established in 2013, the HR Excellence Awards (HREA) has evolved from showcasing exceptional milestones into a benchmarking practice that has given rise to new industry standards.
Fast forward to its 11th edition, these prestigious awards are now present throughout the region, including Malaysia, Thailand, Indonesia, Hong Kong, Singapore, and the Philippines. Through a rigorous process of peer reviews led by an esteemed jury panel, these awards shine spotlight on the finest HR practices across Asia.
Standing Out Amongst the Rest
Sunway's Gold Award for "Employer of the Year" is testament to our position as industry leaders who champion employee satisfaction, productivity, and retention, in addition to fostering a positive workplace culture, talent management, and commitment to employee well-being.
This is further amplified with initiatives such as the Diversity and Inclusion Policy, that ensures individuals of different backgrounds, experiences, and perspectives are empowered to thrive.
At Sunway, our people's health and safety are of paramount importance, adhering to multifaceted local and international standards. With the Occupational Health, Safety, and Environment (OHSE) council established within the workforce, our people's voices and feedback are heard so that further improvements can be made to safeguarding our well-being.
Beyond the workplace, our Employee Assistance Programme (EAP) serves as a comprehensive support system for our people – offering confidential counselling services, assistance in maintaining work-life balance, financial and legal guidance, crisis and conflict resolution, as well as opportunities for growth.
An Innovative Approach wins Gold
At Sunway – ethics, sustainability, and social impact are not just buzzwords; they are the guiding principles that inform every decision and action in the business. Ethical practices ensure that every aspect of business is conducted with integrity and in accordance with the highest moral standards.
Sunway clinched the prestigious Gold 'Excellence in Employee Volunteerism Award', the first of its kind at the HR Excellence Awards, for our innovative strategies that drive employee volunteerism, generating a double win for our organisation as well as our community.
Working Responsibly for the People and the Planet
Sunway's dedication to Corporate Social Responsibility (CSR) has also won the brand Excellence in CSR Strategy Award. Our meaningful CSR initiatives are a testament to our commitment to doing business with a conscience.
Sunway Group chief human resources officer Foo Shiang Wyne said, "Sunway Group will be celebrating its 50th anniversary next year, which would not be possible without the dedication, commitment and hard work of our people. These awards reaffirm our people-first organisational culture that promotes well-being and community engagement. We will continue to focus on robust and progressive talent development strategies that improve job satisfaction and engagement to engender loyalty and a genuine sense of purpose."
< Previous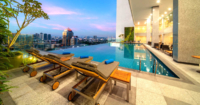 Home Away from Home
Next >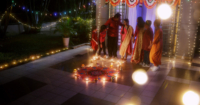 Glowing Beyond Horizons