Yee-Haw Off the Ranch – An A-Moo-Sing Good Time
4
-min read
Sunway Lagoon and Farm Fresh have inked a partnership that will incorporate fun new ways of learning and entertainment for visitors to the theme park beginning December 2022.

The Education Zone and other Old West-themed set ups are part of Sunway Lagoon Night Park, which promises park-goers the best day ever – even at night.
What do cattle and cowboys have in common here in Sunway City Kuala Lumpur (SCKL)? They are both now a permanent fixture in Sunway Lagoon's Wild West-themed Night Park, thanks to a newly minted partnership between our theme park and Farm Fresh, Malaysia's largest dairy manufacturer.
Signed early December 2022, the Memorandum of Understanding (MoU) will combine the best of both worlds by uniting two proudly homegrown brands – combining Sunway Lagoon's multi-faceted elements with Farm Fresh's advanced educational components for a brand-new take on learning. Both organisations also aspire to represent untapped potential for business and leisure travel developments that can be further explored in this unique partnership.
"This partnership signifies our confidence in the dairy and tourism industry. It is a practical step forward towards our next milestone, which is to provide a more tailored experience to a new generation of knowledge-hungry adventurers, while maintaining our environmental conservation efforts." – Kong Beng Kuin, chief financial officer and head of business development of Sunway Theme Parks
His sentiments are echoed by business counterparts at Farm Fresh.
"Since the launch of Farm Fresh at Universiti Putra Malaysia, we have received throngs of visitors – young and old – all excited to visit the cows and immerse themselves in our farm-vibe home. Farm Fresh is excited that we have this opportunity with Sunway Lagoon Theme Park to showcase our "ladies" home more up close and personal, bringing edutainment to the next level, and providing a new experience to visitors to see how fresh milk is produced and created to innovate new products that caters to today's lifestyle, just like our latest boba drink brand, Jom Cha." – Loi Tuan Ee, group managing director & group chief executive officer of Farm Fresh Berhad.
Have an a-moo-singly great time in Sunway Lagoon
Through the collaboration, Sunway Lagoon Night Park will feature a spacious area dotted with rustic makeshift barns and buildings inspired by the Old West, allowing visitors to get the full Wild West experience.
At 8pm every night, visitors can make their way to the 'Farm Fresh Milking Experience' zone where they can speak to rangers who will explain in detail the process of milking cows.
The newest members of the team – which happen to be our bovine friends Holly and Koci are also there to welcome visitors to learn more about fresh milk. A "Jom Cha" counter has been set up for those looking to quench their thirst with our dairy drinks. Named after Farm Fresh's lifestyle beverage brand, "Jom Cha" is available at the park – where you can choose from 20 flavours of boba drinks with six categories of star ingredients such as fresh milk, yoghurt and even plant-based milk!
Fun after dark
Sunway Lagoon is the ideal place to experience the best day ever – and now the excitement lives on till dusk! The Sunway Lagoon Night Park proves that the sun does not have to set on a wonderful day here – and with games and activities galore, there is now so much more to enjoy!
Walk amongst cowboys and gunslingers as you experience each of the seven thrilling rides in the Old West, dance along to live country music or simply enjoy the night with an abundance of eateries such as Cubes Pizza, Crispy Fried Chicken and cool down with some ice-cream from Nestle or refreshments from Sunway Lagoon's Beverage Counter.
"Sunway Lagoon Night Park will be your newest entertainment hub blending world-class attractions and first-class entertainment. Our Night Park will take guests through an immersive multi-sensory experience with our Wow Wild West theme unlike any have seen before in this country. This also marks our confidence in the post-COVID recovery of the tourism industry where this is the only destination that guests can enjoy with childlike reverence!" – Kong Beng Kuin, chief financial officer and head of business development of Sunway Theme Parks
Sunway Lagoon Night Park opens from 6pm to 11pm daily, with fun shows and activities such as 'Meet & Snap with the Cowboys "Yee Haw"' sessions, bow & arrow and can toss activities. These activities change from week to week – so you can always come back for more. See you there!
< Previous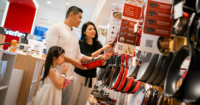 Are Malaysians Spending Less?
Next >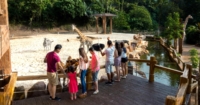 How Can We Travel "Greener"?