#YouAreHeroku – Celebrating Our Extraordinary Heroes in Extraordinary Times
6
-min read
Our relentless workers on the frontlines have been battling the invisible enemy that has turned the world upside down for the past year or so.

Despite their gallant efforts to protect the nation, they are neither immune to exhaustion nor to the COVID-19 virus itself. Many have fallen while on duty in this exhausting fight.

To pay homage to our extraordinary heroes in these extraordinary times, Sunway Property created an avenue for Malaysians to share their stories and express gratitude to these frontline heroes.
This year is truly dedicated to all our frontliners – be it medical practitioners, police officers, food delivery riders, and other essential service workers who have worked tirelessly day and night to help flatten the curve and keep our country safe. It takes courage to put up a brave front at times like these, let alone to put others above their own safety and convenience.
Sunway Property's #MyCommunityHeroes campaign has been set up to celebrate their kind sacrifices. Here are some of the most heartwarming posts received under #TogetherWeStand and #MyCommunityHeroes hashtags.
Instagram user @kokoi_lagends82 shared a photo of various frontliners donning Personal Protective Equipment (PPE), showcasing the perseverance and collaborative efforts between the Ministry of Health, fire department, police force and immigration department to work towards one goal. In the user's own words, he says: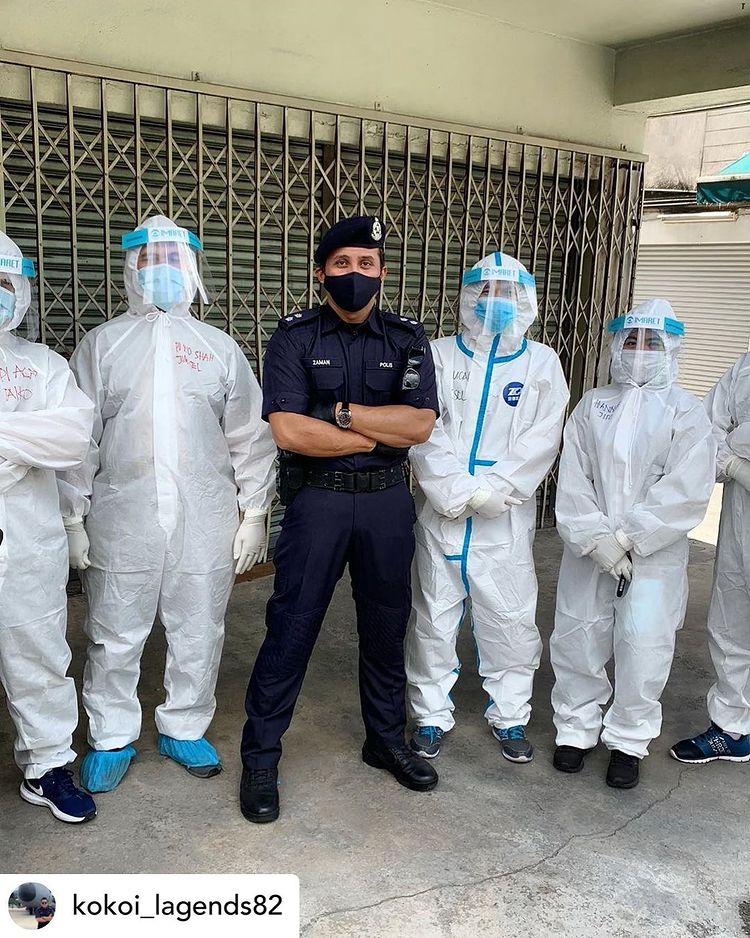 "Satu pengalaman yang indah bila semua badan uniform berganding bahu menyelesaikan satu misi visi yang sama."

Source: My Community Heroes
In another frontliner post, Dr. Kasturi Bhai expressed her sense of duty to the people of Malaysia in the fight to keep Malaysia safe from the virus.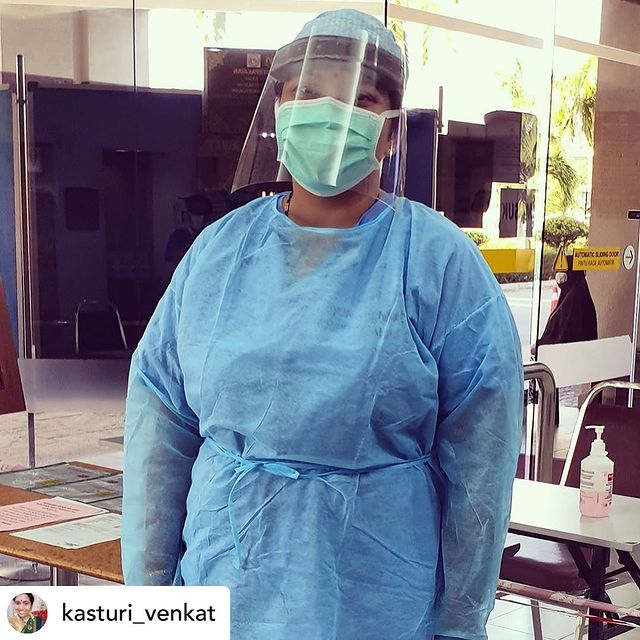 "I joined my colleagues at the forefront of this war against COVID-19. They say the COVID-19 virus knows no boundaries, well so do we. In extraordinary times like this, the lines dividing race, religion and ethnicity are blurred. Together, we strive to break the Coronavirus Disease chain! My beloved friends and acquaintances, please stay home for us and let us work for you. We will get through this together!"

Source: My Community Heroes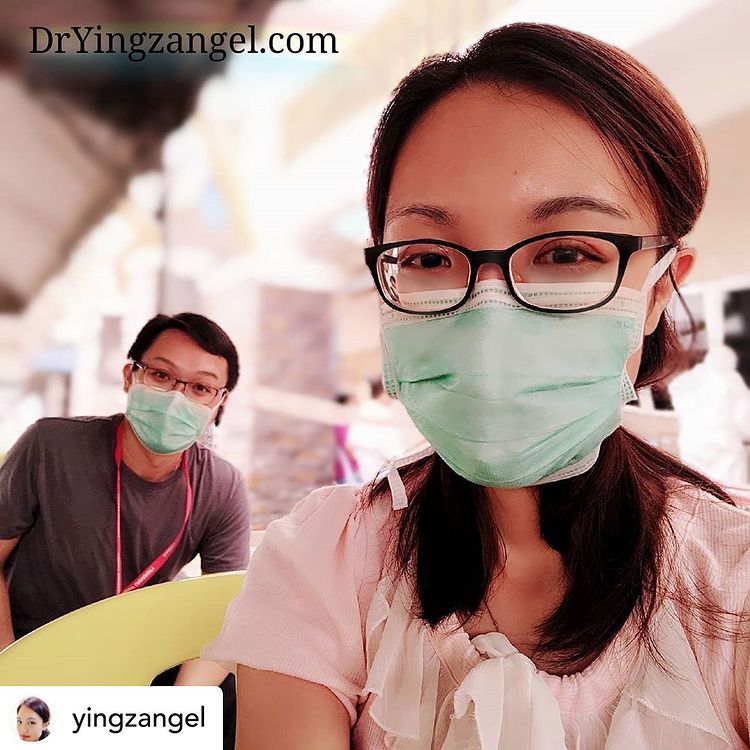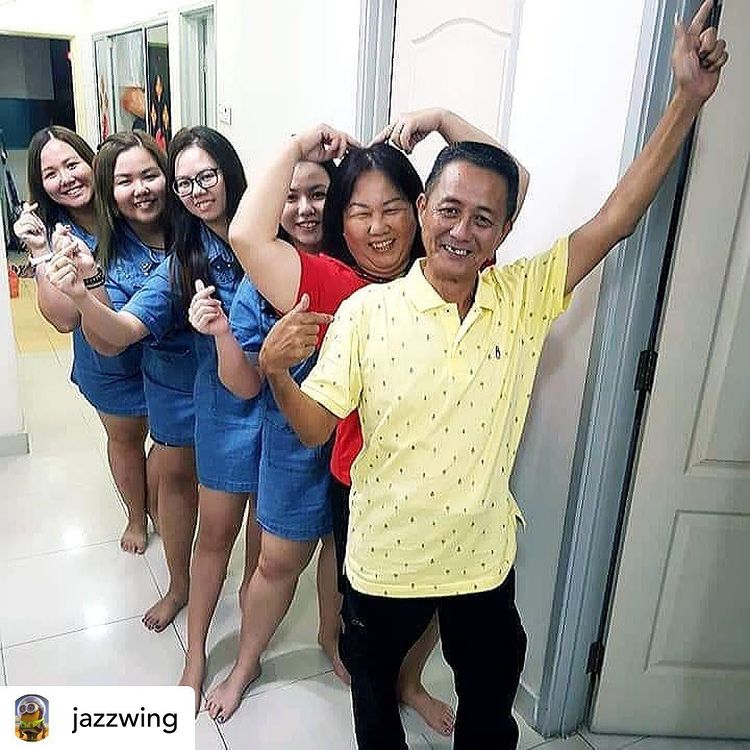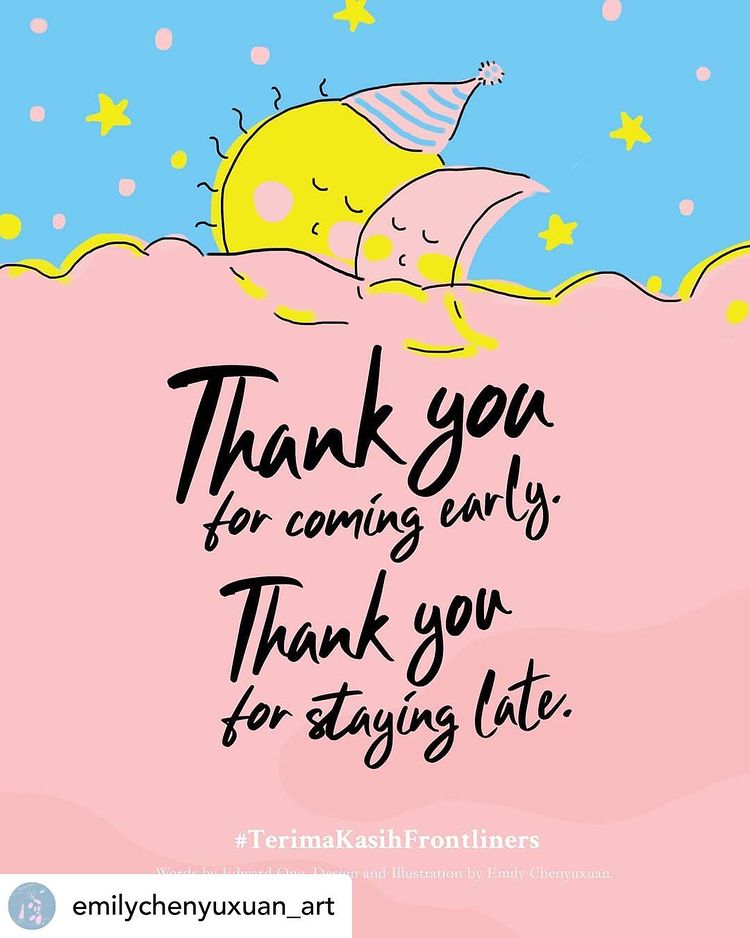 Source: My Community Heroes
Dr. Yingzangel shared the struggles she faced alongside her husband who is also a medical doctor. The couple attended to non-COVID-19 patients who did not seek treatment earlier for fear of contracting the virus in the hospital. The delay in doing so had worsened their health conditions.
The photo she shared was taken when they were both waiting to be tested for COVID-19, and she urges Malaysians to do their part to help save lives.
"This is a #ThrowbackPhoto of us waiting to be swabbed. The doctors became patients at this point. Therefore, we urge the public to #StayHome, #SaveLives. Avoid going out even though the cases are dwindling and the MCO is partially lifted."
Besides all these heart-tugging stories and experiences from our brave frontliners, there were also gratitude posts.
Digital artist, Emily Chen dedicated a series of delicate artwork to frontliners, in appreciation of their efforts.
Instagram user @jazzwing took a creative approach in sharing her pride and appreciation for her family members. Although they are not typical frontliners in the health or defense ministry, they contributed by volunteering their time and effort to make 1,000 face shields in two days for Sungai Buloh hospital's personnel. Hats off to all of you!
Najjua Zulkefli shared a snapshot of health workers in front of a wooden house during a mass screening test at Chow Kit, Kuala Lumpur during the peak of the pandemic. Working from dawn to dusk, these workers put their lives on the line, carrying out their duties – he later took a selfie showing the bright smiles beneath all the PPE even after a long day's work as a gesture of thanks.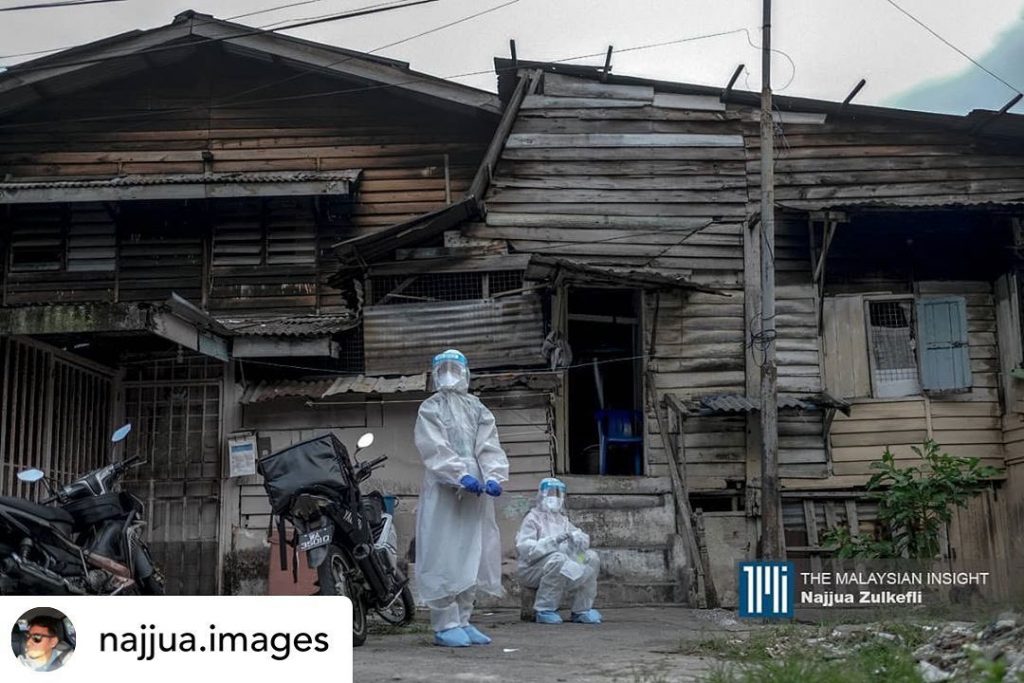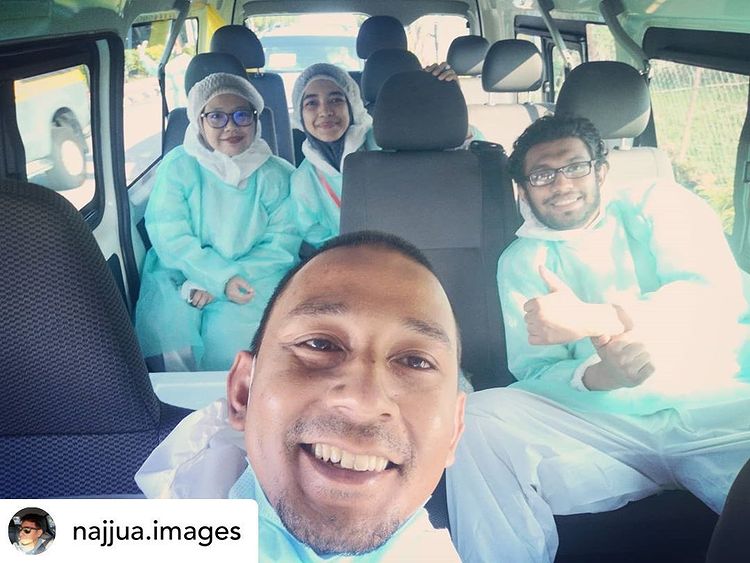 There's nothing like being with family and hearing laughter of little ones to brighten the day, and Daixuan did just that – cheerfully thanking the doctors, nurses and others working around the clock, spurred on by signs of love and peace from her two toddlers. How precious it was!
The overwhelming response has sparked Sunway Property to run three more #YouAreHeroKu contests in conjunction with Hari Kebangsaan and Malaysia Day celebrations, offering bi-weekly prizes. In one of the contests, participants were asked to submit either a picture of themselves or with others holding the #YouAreHeroKu sign on Facebook or Instagram. Here are a few heartwarming submissions.
First, we have Jack, who enlisted the help of his family members to express their thanks: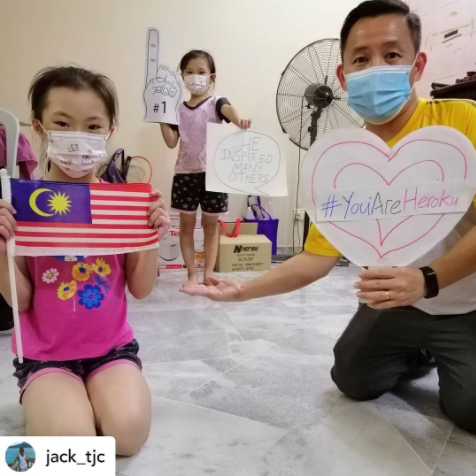 Source: My Community Heroes
"Dear all frontliners and health care staff, thank you for your dedicated service in safeguarding our family and Malaysia during this pandemic. #MyCommunityHeroes, we hope you always stay healthy, safe and strong so everyone can reunite with their families to celebrate victory. We may all be apart, but we are always close at heart."

Source: My Community Heroes
In true Malaysian spirit, Ramzi added words of encouragement such as "Malaysia Boleh!", "Stay Strong" and "Be Positive" in his submission that reads: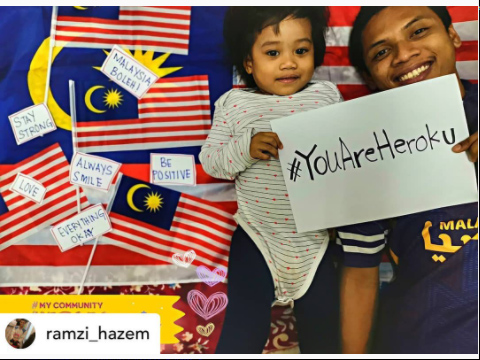 Source: My Community Heroes
"I will never know how it feels to be in your place as one of the community who hopes for your help. Thank you very much to all FRONTLINERS that keeps fighting against COVID-19. For all your sacrifices towards the community, I hope there's lots of blessings in your life. Stay strong because we need all of you!"

Source: My Community Heroes
Nizao Solari displayed his Malaysian pride with the Jalur Gemilang as his backdrop with his message:
"Thanks to all frontliners who have contributed priceless efforts from the beginning until today, working non-stop especially the healthcare service, police and army, and not forgetting our beloved Prime Minister, Tan Sri Muhyiddin Yassin and Director General of Health, Dr Noor Hisham Abdullah. While we are staying at home, you are sacrificing to serve your country, to make sure everything will be safe for us here. Thank you very much, YOU ARE HEROKU!"

Source: My Community Heroes
Chin added a little artistic flair in her thank you post, with pops of colours complimented by the bright smiles of her children.
Among the winning posts was a poem by Teresa Lee, who penned her thanks in two thoughtful stanzas.
"Steadfast in their duty, They wow me with their energy, They're sacrificing their time and energy tirelessly, They are the perfect heroes I've got, They are my role models, no doubt, A special dedication is a must, As they had always made me proud.

We will get through this, and when we come out on the other side, Malaysians will look back and say: 'We were all in this together' and 'our strength was shown through kindness', and in this we can take pride! ❤"

Source: My Community Heroes
Another winner, Adella Aisy submitted a creative photo with words of encouragement.
Posing with big smiles in front of a local landmark, @mamanaz09 also expressed her gratitude in BM prose.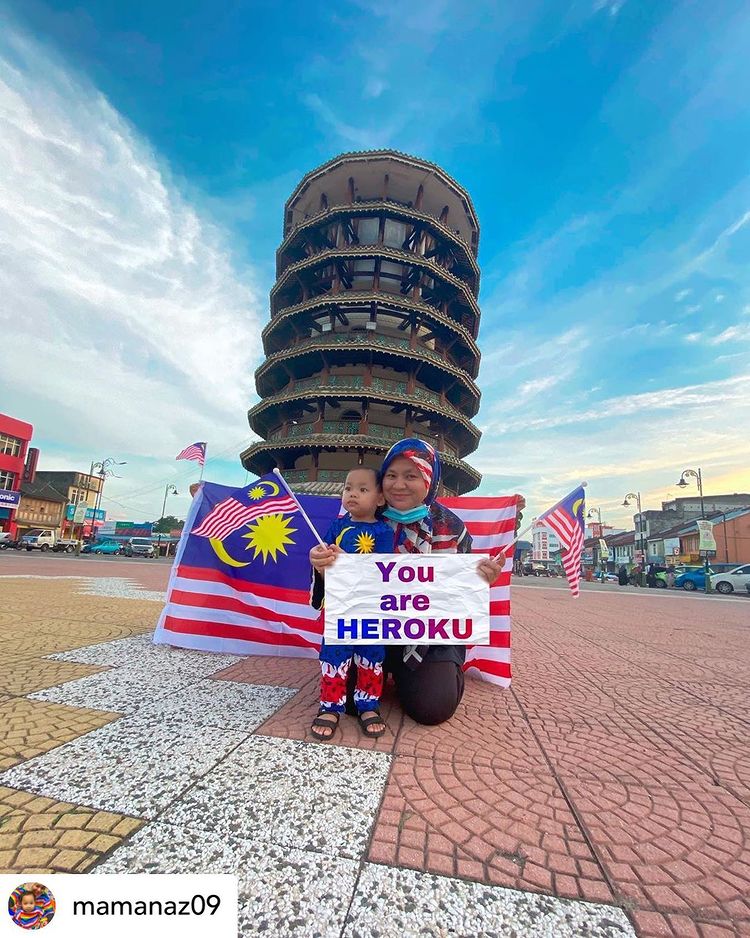 Source: My Community Heroes
"Terima kasih Hero Malaysia, Kerana menjaga kami semua, Tak kira hari dan juga masa,Tanpa rehat memerah tenaga… Setiap hari anda dalam doa, Semoga kalian selamat sentiasa, Membantu rakyat nusa bangsa, Untuk kesejahteraan demi negara."

Source: My Community Heroes
Last but not least, here is #YouAreHeroku's grand prize winner, Yana Hamid, conveyed this short yet powerful message: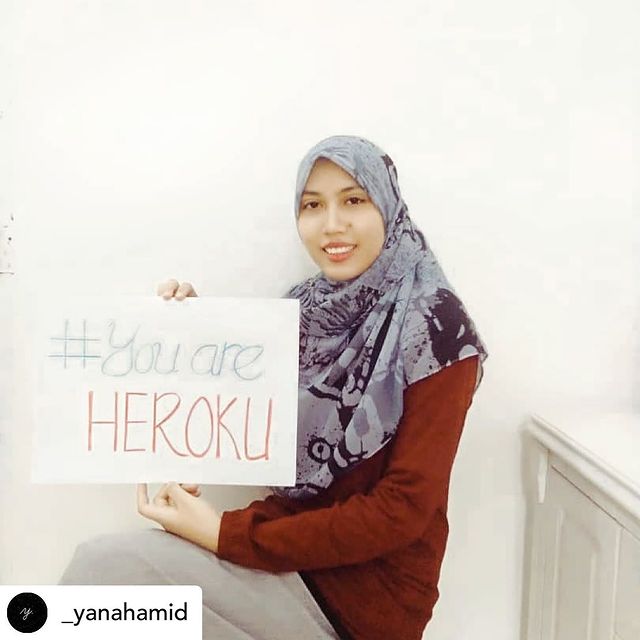 "Thank you frontliners for your dedication, bravery, selflessness and compassion. We appreciate you, our modern day heroes❤".

Source: My Community Heroes
Alongside winning submissions, a selection of photos with #YouAreHeroKu hashtag was displayed at a photo exhibition at Sunway Pyramid throughout September.
Thank you everyone and to our frontliners, may you have the strength and resilience to carry on the good fight. We are all in this together, and only then can we overcome this great challenge and get on the road to recovery.
If you wish to share your stories or your appreciation to our frontliners, feel free to hashtag #MyCommunityHeroes on your Instagram posts and we will repost it on the My Community Heroes platform on Instagram.
взять займ безработномузайм с 16 летбыстрый займ чебоксары
< Previous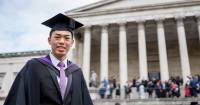 Scholars Today, Nation Builders Tomorrow
Next >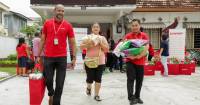 This is the Sun-Way: Giving to Touch Lives